Big blue eyes. Black brows, penciled in, and thin. Translucent skin, dark hair pulled back from the face, and just the slightest hint of age around the neck, that softening of skin that immediately signals four decades behind or possibly five, and still, her beauty is unmistakable.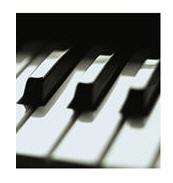 She is simultaneously subdued and friendly though some core of sorrow lurks in her voice and her stance. She greets visitors from her seat behind the reception desk at the small hotel. She smiles and answers phones. She hands out card keys. She is pleasant.
Pleasant seems like a word she could have invented, ambiguous and enveloping. It is a veil that suits her.
* * *
I traipse back and forth nightly, in part because I am restless and though my son is in the room he barely speaks a word. I am living inside our pauses.
Each time I see her I am kindly accorded what I request – an extension cord for my laptop, change for the vending machine, a map of the local area, directions to the nearest mall.
I am received graciously. Pleasantly. I take solace in the five or ten minutes of conversation when there is a lull in the stream of visitors to the desk.
* * *
She is a widow with four grown children who live nearby. She hobbles on a crutch after some sort of surgery about which she provides no specifics. The sound of her voice is soothing and she speaks of her son who is musical, of her other three children, and of the coffee business she ran with her husband for fifteen years until he passed away. She tells me she enjoys managing the small hotel, but she surprises me when she says:
"My dream is to open a little piano bar."
For a moment, her sadness seems to lift.
* * *
It is a standard Quality Inn at the crossroad of two interstates with rooms that are clean and functional. My son and I share our space and there is no drama.
I type and read on my laptop. He appropriates the remote and zaps. He is lost in his thoughts and I'm attempting to decipher my own – here – pushing down the awareness of my imminent departure and instead, trying to stay afloat by memorizing details, afloat in a few more hours of mothering, conflicted over the quiet between us.
I remind myself that this is independence, not abandonment.
* * *
Bedding is insufficient; we find a comforter in simulated down and the sale price is a marvel.
Sweaters are insufficient; we select a dark V-neck that is reduced by 50%, and with it, we choose a thermal vest.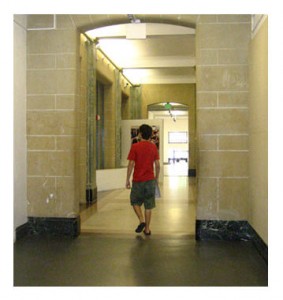 We wander the campus, this – our first opportunity to see it. There was no money for college trips.
We are leisurely in our strolling through the empty corridors of the architecture building. To me, this silence of discovery feels sacred, and we both respect it. An exhibition of last year's thesis projects remains on display in an accessible hall. We enter and take our time, examining each model, reading the signage, thumbing through accompanying publications.
We peek into a small auditorium and the angular walls and ceilings are pleasing, as is the warm wood they are made of. My son explains the joining of form to function and the purpose of this particular geometry. I know his body language and his tone of voice. He feels at home in this place, and I feel relieved.
* * *
We add shoes to the list of items purchased, once again visiting the mall that could be anywhere, the mall of a sort that I hope he will not design, and we discuss the old red brick building with two spires that we passed earlier, an unexpected find when I am lost again and searching for the expressway.
We return to the room tired, and I take refuge in my laptop as my son settles for a time on South Park. 
I run the tab through my calculating brain: airfare, car rental, gas, hotel, food, clothes, shoes, comforter, pillows, lamp, fan, minimal supplies, and there is more of course. And more to come.
I spread out the receipts and then set them aside. The total is an appalling amount despite every effort. Then again, it seems a small price for the granting of dreams.
* * *
I imagine her opening her mouth and belting out a Broadway tune but then it doesn't quite fit. I revise the image, and picture her crutch relegated to the wings of a small stage as she comes into her own: a 50-something Susie Diamond, black haired and irrepressibly sensual, long past pleasantries, and singing the blues.
You May Also Enjoy