There is a couple frolicking in the Paris rain.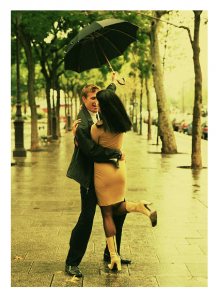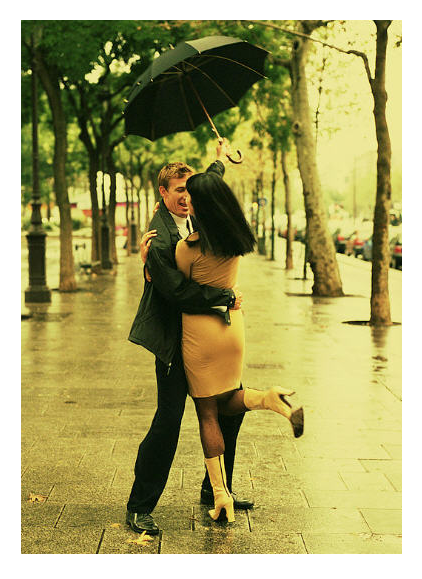 They are strangers and young and they disappear, laughing. Though the neighborhood is familiar I cannot place the location. The intersection is like many in this city – a star formed of five narrow roads and a café or bar marking three of its corners. Nearby are the requisite boulangeries and grocers, the nondescript storefronts, and what appears to be an exposition hall across the street.
The couple has vanished, but the rain continues.
I choose quickly: I am dressed in a green sweater and a gray skirt, so I enter the bar with the green awning. I order a martini and drink it fast to warm up. The trip from Brussels was wearing. There were meetings and dinners and shows. There was too little sleep.
He's hard to miss, a crumpled dead ringer for William Macy, seated at the end of the bar and deep in discussion that seems to grow heated, more noticeable after the girl storms off and he doesn't even flinch.
He sees that I'm watching and appears unperturbed, so I don't look away and I order a second drink. He stands up, moves over beside me, and remains standing as I take a swallow, and then another.
He's fifty if he's a day and whoever the girl is or was, he's unconcerned. He's close enough for me to smell the scotch, to note the stubble on his chin, to wonder about the small scar on his upper lip. Something about him reminds me of Jean-Marc, or maybe it's just the vodka performing predictable tricks.
"Je peux?" he asks in French with a noticeable British accent and I nod as he sits.
He motions to the waiter who turns to me and says "Madame?" and I nod again as a third drink arrives.
"Je m'appelle Henry," he says and I reply in English "Hello, Henry."
"You're American," he says, and I nod again.
"Here on business?" he asks, and I say yes.
"What sort of business?" he inquires and I sip my drink as he downs another scotch. I turn toward the window and point to a banner stretched across a formidable building. It announces an art fair beginning the following day.
"Buyer?" he asks.
"Writer," I say. "You?"
"Sales," he replies and I want no further clarification and apparently neither does he, and we both turn as the sky explodes and rain – green rain – pelts the awning outside and the proprietor exits to roll it up quickly.
We exchange cards.
"You heard the fight I suppose," he says.
"Not much," I say, and he makes no attempt to explain.
My mind is drifting to a small park a few blocks away, and now I remember where I am and why I'm here. In the morning I will meet René and Françoise at the gallery, we will visit the expo and then split up, in the evening there will be a long and noisy dinner – collectors, curators, journalists.
I will shake hands, I will kiss cheeks, I will take notes, and then I will write all night to make my deadline.
But for now I am alone and there is only Henry. For now I am alone and there is green rain.
"You don't say much," he remarks.
"Fatiguée," I concede.
He asks if I want another drink and I shake my head no and so he pays l'addition and I'm happy with the haze as it is, happy with the assurance of his opening gambit, happy with the color of the rain and the shade in his eyes and happier still that desire builds after an empty summer and a crumbling autumn and a winter that began bitterly and may now be at an end, if only for a March afternoon as it swells into evening.
Transitional seasons are never a given.
There is a small hotel down the street and we run so as not be soaked and the transaction is quickly accomplished at the desk. The wall paper is red and Henry's hair is sandy. His body is stout but strong and he makes no remarks about mine whatsoever. He tastes of scotch and his fingers know their métier. I think to myself that the girl was wrong to take off, but then what do I know except we're stupid when we're young and of course stupid differently when we're older, and I settle into his rhythms and our rhythms and allow my words to scatter as I drift into a comforting starry intersection.
When the storm lets up we dress and descend and exit, without frills or formality. We walk two blocks to the park as the sky brightens. The benches are wet and three old men in woolen coats and caps play boules nearby – as if it never poured and as if they never stopped.
Henry pulls out a handkerchief and dries a spot for me to sit, a gesture that is old school and elicits a broad smile.
"You didn't ask about the girl," he says.
"No," I reply.
He pauses. "Tomorrow?"
I say, "If I can."
"You look like someone I know," I add.
"I am someone you know," he says.
He reaches out a hand and helps me up, another gesture that is surprisingly sweet. He kisses both cheeks as we exchange a goodbye, and I take my time walking away.

Flash fiction is a very short story of anywhere from 100 to 1,000 words. This is a quick writing exercise from dream, closing the eyes and letting the words flow – for a little flashing fun in forty.