It may have been the second or third time I saw the show that I realized: communal living – family, friends, once-upon-a-time strangers – maybe this is the answer.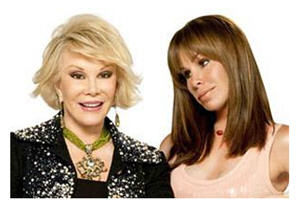 The answer to keeping excitement in a household. The answer to empty nest. The infusion of energy and array of attitudes to fight the urge to close up shop or grow more stuck in my ways. The answer to believing in the possibility of a fulfilling future.
What was I watching?
Joan and Melissa: Joan Knows Best.
Yes, you heard me.
It's a television show that offers scenes of Joan Rivers moving in with her daughter Melissa, bringing with her a very particular brand of managed chaos. And it's impressive stuff – this never-say-die (and sometimes overbearing) comedic talent, 77 years old and going strong. Frankly, she puts my levels of activity to shame – not to mention my ability to deal with change, and take a chance on something new.
What else came to mind as the realization crystallized?
This intermixing of generations is exactly what I experienced – and have continued to experience – when I am in Europe visiting friends. Not only do the generations not abandon each other, but these extended families – as in Melissa's household – result in rich, caring, and yes, complicated living arrangements.
Aging Gracefully
But isn't living alone complicated? Isn't it especially challenging as we age? Isn't it difficult for some even in our thirties or forties, when we long for company and conversation, not to mention a helping hand with the caulking around the tub, or holding the ladder steady as we repair a light fixture?
Living in a communal fashion, in what I believe to be a healthy fashion, might make an excellent model for the future. Economically, logistically, and emotionally. While I need my alone time, I also recognize that when I am engaged with others, I feel more alive. I feel more beautiful. I feel valuable.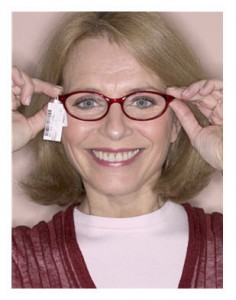 It isn't just on reality TV that I imagine this connective model for the future – even the near future. I am a fan of a writer by the name of Barbara Hannah Grufferman – a woman in her 50s who simply refused to accept that she couldn't do more and be more as she was hitting the half century mark. And so she went about gathering the best of the best, the finest advice that experts could offer on aging well, and she wrote her book – The Best of Everything After 50.
But if you read her most recent article on the Huffington Post, dealing with the angst that women face in their mirrors – inevitable as we come to grips with certain aspects of aging – you are likely to find lessons that make sense for all of us. Lessons to do with regular attentiveness to physical health – and the benefits of connection.
Connecting Keeps Us Healthy
We all know that connecting through technology is easier than ever. And while I have my concerns (as do we all?) that sometimes we sacrifice important tasks to our (addictive) virtual pastimes, overall, I believe that these communities serve us well. They provide channels that teach us, console us, make us laugh; we consider views we might not otherwise encounter, and exchange ideas with those who are both older and younger.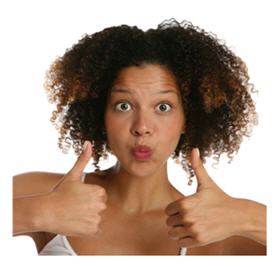 This virtual cocktail recalls the stuff of family and friends who once socialized in mixed groups – men and women, children and teenagers, elders telling their stories with a rapt audience of all ages – while still allowing for our specialized get-togethers with those of like age and interests. These are my memories of gatherings at my grandparents' homes – and as I already mentioned – more recent experiences in Europe.
I am reminded that when we are engaged with life, we're less likely to sweat the small stuff, less likely to be utterly self-absorbed, and more likely to be attentive and respectful to the face that gazes back in the mirror, without obsessing.
And if we can reach out to each other online, can't we do it in person?
If for some reason we cannot, then shouldn't we avail ourselves of the pleasures of participating in connective communities?
Facing the Mirror and the Future, With Energy
Returning to Grufferman's words, and where she found herself at 50:
I looked in the mirror and thought, "Okay, this is it. This is what being middle aged is all about, and I'd better just accept it." Then, I mentally tucked myself under the proverbial blanket and was getting ready to stay there — until I pulled myself up by my bootstraps, declaring, "Giving up is not an option."
Inspiring at any age – isn't it?
As for Joan and Melissa, while I realize the television cameras are rolling and showing us only what some savvy director thinks we want to see, what I love about the arrangement is what we can take from its message. A valid message, even if we aren't living in the privileged world that these women inhabit. And that message is one of opening our doors to those who may need us – to give them a hand and room – in our spaces as well as our hearts – if we don't give up on trusting.
Trusting our ability to continue evolving. Trusting others – judiciously. Trusting that we have the guts not only to survive, but to flourish.
I encourage you to stop over and read the article on Huffington Post. Be sure to watch the clip from the Today Show. I also encourage you to let go of preconceived notions of "conventional" living – something I'm trying to visualize for my own life.
If you have space in your home to share, wouldn't sharing make sense? If you have knowledge and skills to contribute, why wouldn't you? If you have love still to give, why give up? Doesn't connection offer purpose, enhance engagement, and remind us all that we need each other, that we thrive on interaction, and that we remain valuable – no matter what our age?

Big Little Wolf's Daily Plate of Crazy