You know what they say. Truth is stranger than fiction. Reading about the devil ball at the Master's tournament, I certainly thought so. (New sort of lap dance? I suppose the condom dress qualifies as well.)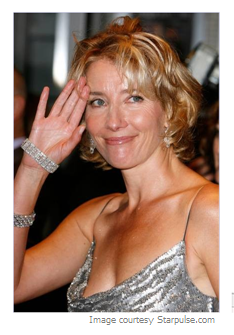 As I reflect on a few recent events (none I care to share at the moment), I flash. A little grin. Ah, but the enchantment of the unexpected, that never fails to amuse and amaze.
I also find myself recalling a charming 2006 film with Emma Thompson, Dustin Hoffman, Will Ferrell and Maggie Gyllenhaal, called Stranger Than Fiction. If you haven't seen it, pick it up or download it. It's a whimsical tale of a novelist who seems to have the power to invent characters.
The dilemma?
She tends to kill them off, unaware that she may be the reason for the demise of real people – in real life.
Assuming the requisite "suspension of disbelief," what in the tale of her hero IRS auditor (Ferrell) is true? What is fiction in this fiction? Who creates whom? How can we not ponder the recreated parts of ourselves, and the fictional faces that we offer to the world, and even those close to us?
I must admit, I love the playful premise of the story, delight in the depiction of the quirky and isolated writer, and I adore the odd, affectionate chemistry between Hoffman and Thompson when they're on screen together. It is a chemistry that appears in some measure in this film, but in particular, in 2008's Last Chance Harvey. It's another poignant movie that suggests it's never too late for a romantic connection to be established, even involving an unlikely pairing, and yes – over the age of 40 or 50.
Perhaps that romance fitness concept isn't such a bad one after all? Or the notion that we are capable of perpetually recreating our lives – even if in subtle ways?
If you were the protagonist of your novel-life, what might you be like?
Any strange tales to tell, tall or otherwise, as we enter the weekend?
Astounding antics that most would never believe?
(You already know I dangled from a harness 80 feet in the air… by choice. Must I really add to the list?)



© D A Wolf

Big Little Wolf's Daily Plate of Crazy