Oh, for the eccentricities and entertainment of just the right request to go to Prom! (Yes, it really is that time of year. Again.)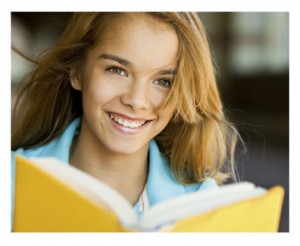 Last year, I seem to recall my younger son being encouraged (make that coerced) into repeated prom-asking-behaviors that personally, I found to be a bit much. There was a considerable Butterfly Effect on his moods – and schoolwork.
This year, however, he pulled off a more polished "ask," and fit it into his hectic schedule. He wrote some lyrics to his desired date's favorite tune, performed it on a piano in the school theater (for real), and YES – it was a GO for lift-off!
Of course, now it's the Tuxedo-Rental-Rigamarole, and the guesswork involved in what his date will be wearing. A critical question, as the two are required to be somewhat coordinated, or so goes the traditional wisdom.
And on that note, I couldn't resist this nifty number nabbed from searching on the strangest prom dresses around. I'm guessing my Kiddo's date won't be wearing the chocolate dress, or the hamburger dress. Then again…
As delicious (and apparently edible) as these outfits are, might my son's prom partner be so personable as to invite the intrigue of the little number we see here? The Condom Dress? It's certainly festive and colorful (and well, don't we want our teens to "be safe out there?")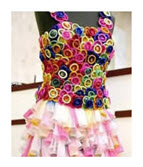 Now with the right dress, it goes without saying that the right shoes would be de rigueur. Thank you, Oddee.com, for all things strange and wonderful! (Check that link. There are spider shoes and remote shoes and fish flip-flops and steel heels!)
Now, as long I'm tempting your tempestuous teen party persona, shouldn't we vibrantly, vivaciously (vicariously?) voraciously veer into the viral video, Rebecca Black's Friday Partying, because, after all, agile adolescents flourish on a flurry of fun, n'est-ce pas?
So let's wiggle! Let's wriggle!
And speaking of wiggling and wriggling – consider yourselves fortunate I'm not indulging in my perverse verse affliction-addiction, but – who isn't dying to know the meaning and origin of the term "rigamarole?" So, compliments of dictionary.com:
any long complicated procedure; a set of incoherent or pointless statements; garbled nonsense
And its origins:
from ragman roll, a list, probably a roll used in a medieval game, wherein various characters were described in verse, beginning with Ragemon le bon (Ragman the good)
Returning to the matter at hand, it is time to rouse my sleeping son, crawl to the mall, and reserve a tux for the Big Event in a few weeks. And hopefully, whatever he chooses will work for the Date-of-his-Dreams, and not ruffle her feathers.
And no, I don't think he'll be opting for the Chicken Tux.
But I can't resist one last excruciating tidbit – here is the worst set of lyrics ever – compliments of Rebecca Black's latest… Prom Night!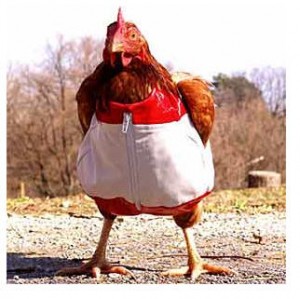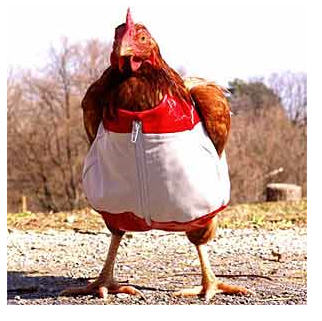 Thumbnail Dress Detail courtesy Oddee.com