I look in the mirror and blink. I stare at the face staring back. Who is she?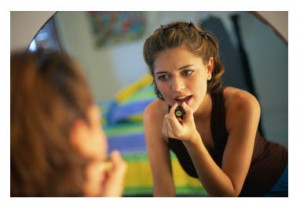 No wide-eyed adolescent, that's for sure. Nor is she a young woman, though I might like to pretend otherwise. These days, I hardly recognize myself.
Yes, it's fatigue. But something more is going on. Something we think will never happen to us. We dread it. We don't talk about it. Especially if we're women.
Aging.
Facing it
I used to have a favorite mug. I put it away years ago, but this morning, I dug it out from the back of the cupboard, washed it lovingly, brewed my Italian Roast as usual, poured it into the mug, and sipped.
Bliss.
I don't know that I can articulate how good I felt – feel – and all because of a festively painted, slightly stained, gently crackled mug. It fits just so, between my palms. It holds the heat better than any cup I've ever had. It's vividly colored, and boldly patterned with stripes, dots, and leaves. It is handmade, imperfect, and beautiful.
Why this morning?
With another crazy, busy week ahead, I seem to need a bridge from a simpler life and a younger self to this one. Connecting a time before marriage, before children, before divorce – to here and now. To the reality of my aging mug.
Women and aging
Last week I came across a piece in The Huffington Post that touched a nerve, an article by Barbara Hannah Grufferman, addressing alternatives to plastic surgery for women over 50.
I've expressed my views on cosmetic surgery several times, and to be frank – I'm conflicted. After all, it's easy to be against something when it's not an option, or it simply doesn't concern you. Yet.
Sure, the Heidi Montag example is extreme, and those Beverly Hills Housewives? Though my Bravo-in-the-background policy is still in effect, I'm averting my eyes, then zapping to another channel in their case. The fact is, I find it painful to look at these women. Is a wrinkled brow such an affront to society? Is surgical intervention the only option for the maturing woman who wishes to compete? For jobs? For men?
Aging in a competitive culture
Returning to the Grufferman article, I realize that I'm troubled by women who say "it's no one's business but the person involved." I don't believe that's true. While we each own our bodies (and ought to be allowed to make these choices), cosmetic procedures alter our expectations, and worse – subtly shift what we find "normal." Those of us who do not indulge in surgery – or cannot – find ourselves at a competitive disadvantage.
And Ms. Grufferman hits the nail on the head when she writes:
The problem is when a woman feels that she must look younger to compete for a man, a job, a place in the world without feeling invisible; it's then that she does things that she may not want to do, like plastic surgery.
She goes on to refer to a lecture she attended, and says:
The lecturer acknowledged that women in their 50s (and over) are in a "beauty bind." In the past, women (like our grandmothers) aged together. The playing field was level. Very few of them had the option to have any kind of plastic surgery (that was the domain of Hollywood movie stars), so they all aged together.
A level playing field. Exactly.
Mirror, Mirror: Self-esteem

And then there's my mug. The one in the mirror. The one in my hands. Both are familiar – worn but functional, faded but colorful.
As for the coffee mug, I recall the years it was part of my morning ritual – good years, in my single life and when I first married. I know this to be a touchstone. A link to more innocent times. A reminder that what is used well is not necessarily used up.
We know that self-esteem comes and goes, taking a hit when we lose a job, a lover, or when we divorce. Illness or accident can take its toll, and self-esteem takes another dive. But for a woman, looks remain the initial currency of exchange. Not our value – but our currency for entry into the game. With age, it dwindles.
And if we find ourselves alone?
Will I opt for a tweak at some point in the future? Never say never. For the moment, I'll take my reflection, refill my cup, and get on with the day knowing I'm a little worse for wear, but still useful. And in my own way, still vibrant.
You May Also Enjoy