Vegetative states
While it was an article on French Yahoo several days ago that alerted me to this story, CNN Health is now reporting the news that for the first time, a man in a persistent vegetative state (since a car crash in 2003) was able to respond to questions about his life, by thinking yes and no.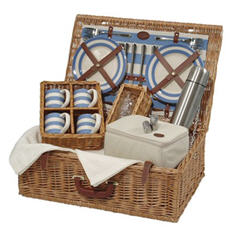 The patient's brain activity was monitored by Belgian and British physicians, and visible via a special sort of MRI.  I found this story to be fascinating health news, so check it out. It certainly raises a host of ethical and other issues around the approach to patients who are considered irretrievably lost, following severe injury to the brain.
After yesterday's discussion, and the various sources of health and well-being which we have available to draw upon (and my own irrefutable evidence of mind-body connection), I wanted to share this story. It shows once again how mysterious these health issues remain, how much more there is for science to pursue in this arena, and perhaps – that many things we believe are forever beyond our grasp are, simply put, not.
Great (Cheap) Dates
For those dealing with their own version of the UnBudget, compliments of these interesting recessionary times, that doesn't mean that you must endure a lifestyle of UnRomance! If anything, what better way to keep your creativity tuned up?
There are plenty of options for affordably adding spice to the upcoming holiday Love Fest, or any other time. Here are a few inexpensive date suggestions I've enjoyed over the years. Several should raise the temperature, without increasing the electric bill.
Movie & popcorn is a cozy combination. You can rent or order online, or pick up a few pre-owned films at Blockbuster for little more than $10. Microwavable popcorn at the supermarket? Add another $3, and for Lucky 13, you've got a traditional date for a stay-at-home pairing that is always fun. Extra points if you manage a flirtatious foreign film you can both enjoy.
Still want dinner out? Try finding a cozy, ethnic restaurant off the beaten path. Middle Eastern, Asian, Mexican, Indian – the food is delicious, the ambiance often casual (and thus conducive to being yourself and taking a bite… off your date's plate). Feed him or her with your fingers. Mmm, that's sexy.
Stir in one dose of sparkling conversation. Allow to simmer. And I know this woman melts. I have to think I'm not the only one, gentlemen. And as for the women? If you turn your nose up at a good man on a tight budget, but with loads of caring, creativity, and smarts – excuse my bluntness, but you're damn fools.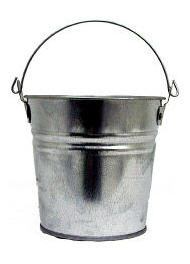 Snowed in but craving a romantic dinner that might lead to some (necessary) bundling? I love a good picnic on the floor, in front of the fire if you have one, but even if you don't, you can always find something to rub together to generate a few sparks. Forgive me. I'm, um, plunging ahead. That's dessert.
First, you need to get that picnic going. All it takes is an old blanket or table cloth, a picnic basket, sandwiches of cold cuts or salads, and something lovely and refreshing to drink.
A gourmet picnic basket is very elegant if you have one, but most of us do not. Any kind of container will do. You can use a small scale plastic laundry basket (lined with a nice towel), which gets a laugh along with getting the job done. Or try a galvanized bucket – the sort you see in flower markets. They're very inexpensive (outside fancy-shmancy stores), and again, you'll get extra points for ingenuity.
The illustrated bucket above I found for literally a few bucks. Again, line it with a kitchen towel, throw in some great sandwiches, some sexy fresh fruit (strawberries, cherries and red grapes come to mind, and oooo, those grapes are fun to play with in bed) – and you're set!
Don't forget that investing in a few ever fashionable and classic Necco candy hearts is good form. Pick some out with messages you'd like to convey, and scatter them on the blanket or in the basket or picnic bucket. You should enjoy a pleasurable time on the floor, over the main course. The dessert? That's up to you.
Need a few sandwich recipes beyond the usual? I found wonderful picnic fare at TheDailyGreen.com, but tweak as you like, remembering that the surprise and intimacy of a picnic indoors and on the floor should entertain your dinner companion immeasurably. It's all about quality – and that doesn't necessarily mean a high price. It does require thoughtful preparation.
No mate?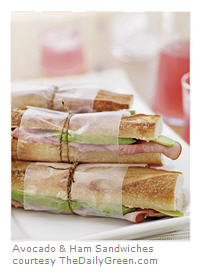 I'm not currently involved, but that doesn't mean I can't enjoy the upcoming holiday – or any other day for that matter. My lifestyle may come with its particular set of constraints, but that applies to all of us.
I prefer to be fashionable in my own skin, make "play" while the sun shines, and all it takes is knowing what I love, and what ignites my sense of health and well-being. Surely you can do that as well, no?
If you have kids, show them your love by cooking or baking together, or making a mess as you work side by side on a project – building, crafting or exploring. As for the picnic dinner on the floor? Your knees may be getting creaky, but theirs aren't. They'll love it because it's unconventional. So go for it!
Life with teenagers has all of you busy and scurrying in opposite directions? Then write your kids a note. Leave the letter on their pillows. Tell them what they have done lately to make you proud, and why you love them. The pillow trick avoids teenage embarrassment, but I don't know a kid who doesn't genuinely need to hear that they are loved and valued by a parent.
Living alone and loving it, but sometimes, not so much? My best afternoons and evenings with myself and for myself?
I love a walk through my favorite, gloriously overpriced department stores. I'm fortunate to have Nordstrom's, Saks, and Neiman Marcus nearby. While I admit to being tempted by all the fabulous merchandise, they do have sales at times. That aside, the feel-good effects of strolling through their displays and taking in the colors and fabrics and styles is a spirit lifter nearly without equal, for me.
What do I do? You got it. I may indulge at the perfume or makeup counter, but more than likely, I try on shoes. They always fit, they make me feel breathlessly beautiful. And, um… I leave the credit cards at home.
My alternate dream destination at no charge? I settle in at my local bookstore with a tiny cup of coffee, and almost any book of poetry. It is peaceful and delicious private time. When I am surrounded by books, I feel happy.
These are just a few examples of gifts I try to give myself, from time to time. And you probably have your own versions, if you take a breath and think about it. Sometimes it is as simple (and tricky) as a bit of time, a reminder that you are a "person" inside all the other roles you play. And it's reaching in to that most core part of yourself where you respond to questions about your own life – with yes, and with no.
Don't forget how much there is to do, to be, and to share – with or without money. The essence of any celebration is in the people who come together, and the quality of their engagement. That includes you, being there for you.
Big Little Wolf's Daily Plate of Crazy