Thinking about Valentine's dating already?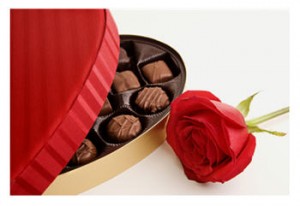 Those of you who are single are surely feeling the pressure. And if you're "lightly" involved, you may be wondering if things will heat up for the robust red romantic holiday. And for any who are happily in love, you may be lubricating your love machines for a night (or day) of daring delights.
How can we ignore the pleadings and pangs of the open heart? Our love longings? Or at the very least our chocolate addictions?
Big little date with Big Little Wolf
In a brief exchange, a reader-becoming-email-pal suggested that I offer a "date" giveaway. Well, not exactly, but close enough, and that one made me laugh! And it got me to thinking. About the upcoming commercialization of concupiscent coupling known as Valentine's Day! And of course, the dating dilemma of the 40+ (and dare I say 50+) crowd. Lions and tigers and bears OH MY but I've slugged my way through a dirth of dates in recent years. And others, I've never experienced, and would thoroughly enjoy.
Here are a few dates I could live without, despite an adventurous spirit that does not involve a dare to shave my head:
fly fishing or deer hunting
conch tasting
alligator wrestling
bungee jumping
Here are a few dates I've always wanted to experience:
Hot air ballooning
Romantic picnic on the floor in fiction aisles of Borders
Anything, anywhere in Paris (I know, I know, but it's always fresh)
Romantic rendez-vous on a train (sexy stilettos de rigueur)
Your "no thanks" and "always dreamed of " date lists? Aw come on. I know you must have some. . .
Reality, reality TV, reality Restless Legs
Yes, I have the wardrobe and footwear for all those "dates I'd like to have" (complete with jeans and stiletto sneaks for the book-nic on the floor). But I don't have a guy to do them with these days. And to be frank, until I've got this brain-drain sleep saga licked again, the best I can do is profit from my imagistic imagination, both through words – reading them, writing them – and whatever I can see on cable.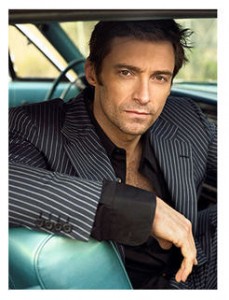 Yes, there's plenty to set my more-than-maternal mind on fire (Hugh Jackman, give me a buzz. . .), but I'd like to challenge you to engage your manly mantras and womanly wonderings.
Let's play, shall we? Valentine's is only a few weeks away. And it's all in the imagination, right? Take your hot-hottie-hotness from revving up the intoxicating imagination impulse and apply it (seductively) to your spouse or beloved, or store it up in ample amorous anticipation of when you next meet a woman or man who sends shivers up your spine and tingles to your toes. Then let the sparks fly!
I will say that when I watch Reality TV, whether the (oh-so-over-the-top) OC housewives or the quality-quipping New York version, I'm astounded at the glitz (and expense) of their social soirées! But then that's part of why we watch, right?
Dream dates and celebrity dream dates
So let's go with real reality, and then unreal reality ramblings.
If you could pick a "real" person to date  – someone you know, or maybe know only a little – one date (to last as long as you'd like, mind you) – who would it be, and what would your date day / evening be like?
Now Part Deux. Conjure all the hotties who attract you – film, music, sports, politics – select a celebrity (or two) for a delicious day or enticing evening. Who would it be? What's your ideal celebrity date?
My dream date(s): Betty White, will you be mine?
Real person. Hmmm. Can't think of anyone offhand. That's bad right there. A sign of the times, or at the very least, my ongoing battle with chronic fatigue (laptop lover, you are my lifeline).
Or maybe I just need a good kick in the butt – though more likely I need these restless legs to stop kicking me awake every night after three hours of sleep!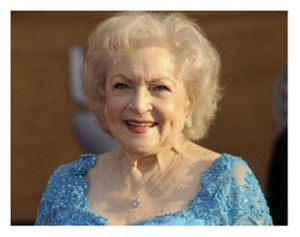 On the celebrity side, however, I could name the obvious – Jon Hamm (yes, you knew that was coming), or another longtime hot heart throb, Hugh Jackman. Or better yet, Betty White. Yes, I did indeed say Betty white!
Watching the SAG Awards 2010 last evening, she was utterly delightful. Betty White accepted a Life Achievement Award with such graceful humor, and for doing what she does best – entertaining us with that dimpled and delicious naughty, bawdy talent, impeccable comic timing, and I suspect – a heart of gold. She's one smart, saucy babe I'd love to meet. Check out Huffington Post for her hysterical and poignant SAG tribute and you'll know exactly what I mean.
A class act and 88 years young, Betty White would do me a world of good about now. There's no doubt she was the best part of the SAG Awards ceremony yesterday. The power of laughter? What's better than that – on a date, or in life?
Come on. . . Your dream dates for Valentine's?
So spill. Who would you love to take on a dream date for Valentines? Gerard Butler? Penelope Cruz? Your "real" person, and your celebrity heart throb? And what would your date involve? Hey – you've got a couple weeks to make it happen, or at the very least, enjoy the fantasy.