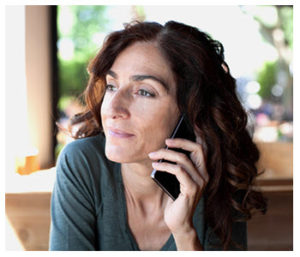 I thought she was calling to say hello, to ask about my sprained ankle, and inquire about the recent visit by one of my sons. The "she" in question is a casual acquaintance. One who has something to say… on every subject.
I imagine we've all known people like this. They are "fixers" to some degree — a subject that came up in conversation around here not long ago — fixers that genuinely see their offered "solutions" as help, and fixers who see everything as better with their input, commentary, and suggestions.
Others? Not fixers, exactly. But classic "know-it-all" types who can't keep their thoughts and opinions to themselves.
People Who Talk Too Much
After this latest phone call, I gained some insight from this Psychology Today post on people who talk too much. Describing those who never seem to shut up — not exactly the same issue — therapist F. Diane Barth refers to the "give and take" in good communication, and reminds us:
… it seems that so many people who talk "at" us have difficulty learning how to be more related. This is not to say that all people who talk incessantly are not deeply connected to others. But it does seem to make it difficult for them to recognize different moods and responses in their listeners.
My personal experience confirms that those who are listening-challenged may struggle to connect. But I chalk that up to their gabby ways being off-putting enough to narrow connection opportunities.
So what do we do? Especially if we feel our irritation growing, yet we know the person is well intentioned?
Noting that people may talk talk talk to not confront their own feelings, Ms. Barth suggests we listen carefully to try to discern their motivation, and that we not feel unwilling to interrupt. Ideally, we interrupt politely if we can.
Using language to cover emotion is something I hadn't considered with regard to the woman I was chatting with. Come to think of it, I've never experienced her expressing any emotion of any sort, but I don't know her well enough to assume that she uses talk as a means to protect her emotions.
My own tendency to talk too much at times? My instructions to myself: Just stop talking! And the origin of my bouts of bountiful chatter? Generally a matter of nervousness or fatigue.
Stop! I Don't Want Your Opinion!
Now, those I've known who have something to say on everything — certainly the woman I mention isn't the only one — often offer advice and criticism where none was ever requested. This goes for the nosy neighbor, the fixer boyfriend, the opinionated great aunt…
Surviving a phone call packed with prescriptions for fixing this and fixing that — almost none of which I care about or need — is easy to manage when it comes from someone I'm not close to. Besides, on the phone I can scowl or roll my eyes without consequences. And occasionally, however unsolicited, I garner a useful nugget or two from what is said. Moreover, knowing this individual is well meaning, most of the time I can shrug off the impatience I feel when she goes on and on, whatever the subject.
If she were a close friend?
We would never reach that point. I wouldn't be able to tolerate the constancy of not listening. But what happens when it's a spouse or a significant other? Don't these "fixing with good intent" behaviors sometimes creep up on us?
I can envision a scenario whereby one spouse has more life experience than the other — maybe Hubby is a few years older than his wife — and the stream of "how-to's" and "you should's" may be instructive and appreciated. When you're inexperienced. For a time.
However, once you've learned to navigate the logistics of your life without need of an opinion on everything you undertake… doesn't this know-it-all behavior become intolerable?
People Who Don't Listen
How much of this challenge is a simple need to talk, talk, and talk some more? How much can we stomach from people we run into who have an opinion on everything we do, don't do, or say? How much is a deficit in the ability to effectively listen?
Given how many of us live in isolation — working remotely, living alone, and no longer near family — is erosion of social skills at play? Is loneliness a factor? What about neediness? What if the unyielding, unsolicited opinions or tiresome chatter comes from an aging, emotionally needy parent?
Clearly, responding to an acquaintance or coworker is different from responding to a relative. And, finding behaviors to manage unsolicited opinions isn't necessarily the same dilemma as dealing with difficult people. Nor is it the same as trying to argue with someone who is always "right." But it's one of those issues that becomes a significant barrier to friendship — certainly for some of us — and a downright damaging communication style when you're part of a couple.
Interrupting? Repeatedly calling out the behavior?
Maybe it works; maybe it falls on deaf ears.
You May Also Enjoy