Sometimes I think they had it right back in my grandmother's day. A passel full of troubles? Don an outrageous hat. One with a big, beautiful brim. Embellish your lapel or collar with two brooches, maybe three.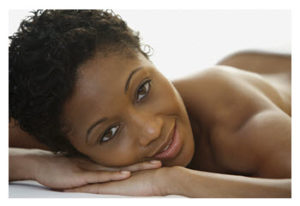 Then you can go out and face anything, head held high.
No hat? No pins? No mid-century options?
Okay. Here's the contemporary Plan B… a little pampering at the day spa.
Now, I can't say I've ever been much for the usual girly-girl preoccupations or self-care, though I certainly have nothing against it. Manicure, pedicure, facial… they're just not my thing. And the one time I went to a day spa (it was a gift), as sparkly and pretty as everything was, I was wildly uncomfortable, I couldn't relax, and all in all, I'd rather be shoe shopping.
On the other hand, if I could avail myself of full body massage (by someone who knows what to do with all the spots that ail me)… I can't help but think that would be heavenly. Or, maybe a soaking tub, a few tea lights, a bit of jazz, a great book…
My mother wasn't much for pampering either, and neither was her mother; my grandmother was a woman I adored and looked up to. So presumably, like many women, I "absorbed" the behaviors of my closest female role models, and consciously or not, I made them my own.
And the affinity for hats and brooches? Though I wear neither, I'll chalk that up to some vague and wistful homage to my grandmother, who, in the 1940s, surely did.
Speaking of fabulous forties looks, check this out! It's a screenshot of an old film I saw a few months back. I'm drawing a blank on the actors and title, but get a load of the hat! The brooches! Imagine the attitude! (And since this is early forties, I'm certainly hoping I'm not violating copyright with my screen capture.)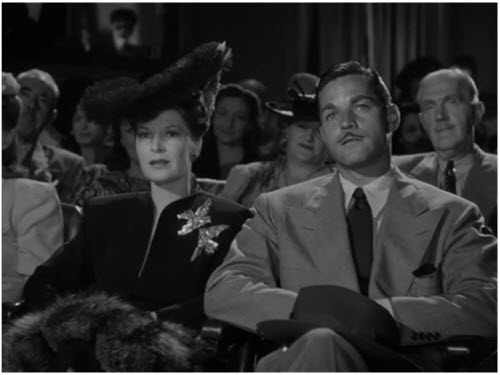 I suspect my mother, as a teen and young woman, enjoyed her share of those same accessories. I know she had a passion for pearls, and she had two drawers full of costume jewelry.
Still surrounded by boxes after my move last year, I continue to unearth objects I didn't know I had, including odds and ends that were hers. For instance, I found an unopened box three weeks ago that was jammed with smaller boxes of brooches and pins, charms and bracelets, gloves and hankies. Remember hankies? They were often monogrammed, lace-trimmed, neatly folded and tucked in a purse.
There were no hats among the found treasure, sadly, though I have foggy recollections of hat shopping with my mother as a child, especially around Easter when selections were plentiful, and trying on every manner of veiled, feathery, straw or felt variation in the local department store. However, I did come across this pin (or brooch), which I'm now madly in love with. It's a sort of dragon I think, quite heavy, and certainly serves up attitude!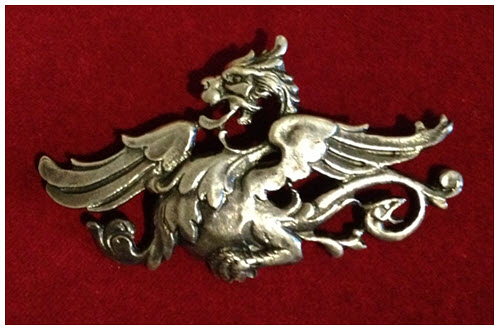 But oh, the hats. My mother looked stunning in hats — she had one of those gorgeous, symmetrical faces that bore them impeccably — though by the mid-1960s she rarely wore them. Times were changing, styles were changing, women's priorities were shifting, and with them of course, the appropriate garb.
Clearly, finding that box with its accessories going back to the forties and fifties has brought a flood of memories, enhanced by the occasional black and white photo that captures my mother or my grandmother when they were younger than I am now.
I've often wondered what they would be like if they were alive today — my grandmother especially, as a woman for whom I have so much affection and admiration. How would she spend her time? How would she unwind?
I also wonder about women of my age who are comfortable in salons and spas, with their mani-pedis utterly routine, and entirely at ease spreading themselves out under a white nubby towel as a stranger works through the kinks in their necks and backs, hands scented with fragrant oils. I confess, I envy the ability to indulge and enjoy. Are they at home with these activities because of a maternal behavioral legacy? Or did I somehow miss the mani-pedi-pampering gene?
Well, these days I wish I hadn't. I could use the relaxation. And spa services are easier to find than grand and glittering brooches, not to mention big, beautiful, audacious hats.
You May Also Enjoy