Recently I visited the fictional Southern town of Peachtree Bluff, where I was warmly welcomed by its leading local designer and her three grown daughters. In a world where caring connections are rarely easy to establish, even in fiction, this is no small feat. Yet this is precisely what author Kristy Woodson Harvey so expertly achieves with her latest book, "Slightly South of Simple," to be released in April 2017.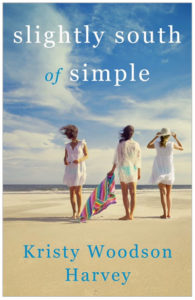 "Slightly South of Simple" tells the story of fifty-something Ansley and her three adult daughters. The spotlight focuses primarily on her eldest, a very pregnant Caroline, who is fleeing a once fairy-tale Manhattan marriage with her nine-year-old daughter in tow.
Headstrong, outspoken, and fiercely loyal to those she loves, Caroline takes refuge in a place she views with disdain, the coastal community of Peachtree Bluff. Her mother may hail from Georgia, but Caroline prides herself on being every inch a New Yorker. It is there that she was born and raised until high school. It was only after her father's death that her mother moved the family south.
While Caroline hopes to escape her problems in tiny Peachtree Bluff, it isn't long before she is joined by her two younger sisters who head home for reasons of their own. This quickly complicates Caroline's situation as well as her mother's.
Unlike her first-born, Ansley is very much a Southern woman, despite the life she led in New York throughout her marriage. When her children and grandchildren seem to take over her home, she adjusts to the disruptions in her routine with both pleasure and irritation. And any mother of adult children, especially a single mother, can relate to these (and other) conflicting feelings when twenty-somethings and thirty-somethings suddenly, even stridently, return to the nest.
What follows are the conversations, the discoveries, and the choices these women make — choices that are anything but simple. Each character is, in her own way, at a crossroad, seeking to understand and repair relationships, to do what's right for the family, and to accept life-altering events that no one can change.
And it is Ansley who finds herself faced with what may be the most challenging decision of all — whether or not to reveal secrets that could break apart the family she has worked for so many years to protect.
In "Slightly South of Simple," Kristy once again shows herself to be an accomplished novelist. She possesses a genuine affinity for exploring the bonds between mothers and daughters, she conveys the emotional landscape of raising children with enormous finesse, and she creates thoroughly relatable characters who hook our hearts and hold them — cover to cover.
It is worth noting that Kristy Woodson Harvey is often described as a Southern voice, and indeed she is. But to leave it at that is to underestimate the power and nuance of her storytelling gift — her mastery of dialog to move plot forward, her insights into what makes women tick, and her wit. Rest assured that regardless of where you live or grew up, you will find yourself in Kristy's writing. "Slightly South of Simple" will have you at turns teary, beaming, and nodding in recognition — as a daughter, a mother, a sister — cheering on her protagonists, Ansley and Caroline.
* * *

Kristy Woodson Harvey is the author of Dear Carolina, and Lies and Other Acts of Love. She blogs at Design Chic about how creating a beautiful home can be the catalyst for creating a beautiful life and loves connecting with readers at KristyWoodsonHarvey.com. She is a Phi Beta Kappa, summa cum laude graduate of the University of North Carolina at Chapel Hill's school of journalism and holds a Master's in English from East Carolina University. Her writing has appeared in numerous publications and websites, including Southern Living, Domino magazine, Our State, Houzz, the Salisbury Post and the New Bern Sun Journal. She lives in North Carolina with her husband and four-year-old son where she is working on her next novel.

For more information on ordering Kristy's books, visit her author pages at Barnes & Noble, Amazon, and elsewhere.
Images reproduced with permission of Kristy Woodson Harvey.

You May Also Enjoy