Sharon Santoni's new book, "My Stylish French Girlfriends," is pure pleasure for every lover of authentic French interiors, every admirer of creative passion, and every woman who cherishes her friendships.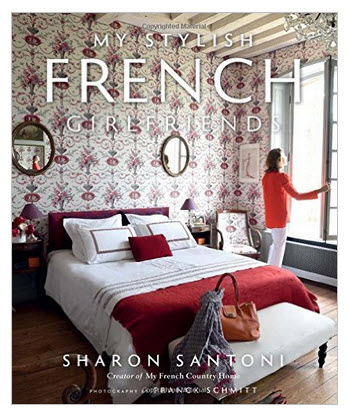 In profiles of twenty exceptional women, readers are treated to an insider's peek at French family life. But these aren't ordinary women who get up each day and walk, drive or metro to an office. Nor are they looking back from a quiet retirement. Rather, these women heartily combine family life with a passion for creating personalized spaces which they lovingly nurture, meticulously restore, and richly decorate — often with witty and highly idiosyncratic style — while still honoring architectural and historical integrity.
Now, you might consider that your own residence and a Mediterranean manse have little in common. However, this book is more than the usual collection of cozy cottages, upscale apartments and elegant chateaux. The women Sharon calls friends are creative spirits, and entirely relatable. We see them with their children, grandchildren and beloved animals; we see them in their workplaces; we see them entertaining guests. Sharon tells us just enough so that we sense they have faced challenges, as do we all, and they have met them with determination, resourcefulness and an unwavering desire to live life fully.
That desire to savor what life has to give — the bountiful table, the lyrical canvas, the lively debate — is surely part and parcel of the French mystique. It is precisely what struck me on my very first trip to France as a young teen, and that impression has not been altered in the four decades that have passed since. And I imagine that any of us pouring over Sharon's pages would love to have criss-crossed the French countryside with her, certain we would be warmly welcomed chez Cornélie or Clarisse or Nathalie or Ysabel, just as we would in the homes of all these dynamic women.
As much as I keep returning to the façades and décor that Sharon describes, beautifully photographed by Franck Schmitt, it is the women themselves that are the heart and soul of this book. Yet were I asked to choose one whose story touches me more than the others, or for that matter, a single space that has me transfixed, I would be unable to do so. And this excerpt about Evelyne and her husband, Christophe, owners of Boizel Champagne, is an example of why that is the case.
Sharon writes:
Evelyne and her husband, Christophe, were not originally destined to the family business. Boizel has always been passed down from father to son, but the premature deaths of her father and her older brother pushed Evelyne unexpectedly to the top of the family hierarchy, and she and Christophe became responsible for the continuation of her family name.

At the time, Evelyne was studying art and Christophe had just started his career as a engineer… Today, forty years later, their hard work and continually imaginative management has brought Boizel champagne firmly into the 21st century.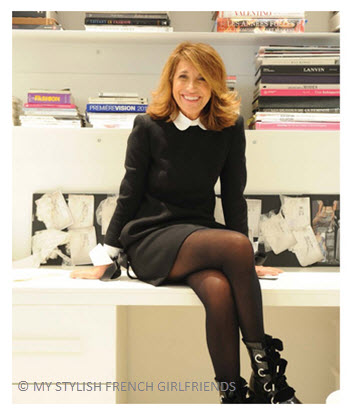 Of course, much as I would be tempted to linger à table with Evelyne, Christophe, and their grandchildren, I couldn't remain for too long. There are nineteen other women whose worlds I feel compelled to discover.
How could I not fall in love with artist Claire's lush botanical canvases, or lose myself in the 14th century chateau she and her husband restored? How could I not confess my delight in her irreverent spaces that mix traditional antiques with mid-century modern, and all against a surprising backdrop of moody floral walls painted by her own hand?
How could I not marvel at Marie-Christine and her husband's 10-year renovation of a chateau in Provence? How does a couple sustain so much energy, while still living their everyday lives? And the beauty they have created in the process! Shall I admit that I ran my fingertips over the glossy page as if I could touch the textures in its photographs of gleaming crystal chandeliers, cool stone mantels, silvered antique mirrors, and luxurious velvet fabrics?
I would be unable to pass on a visit to Celestina, a wedding dress designer whose glamour and warmth shine through her bright smile. Couldn't we stop at her boutique to admire the gowns? I may not be in the market for bridalwear, but her couture is, without question, art.
As long as we are in the City of Light, might we make a few minutes for a stop in the 7th arrondissement to see stylist and designer Stéphanie? Her apartment is located in the one of the oldest neighborhoods in Paris, and its kitchen is an unexpected, exuberant and irresistible red.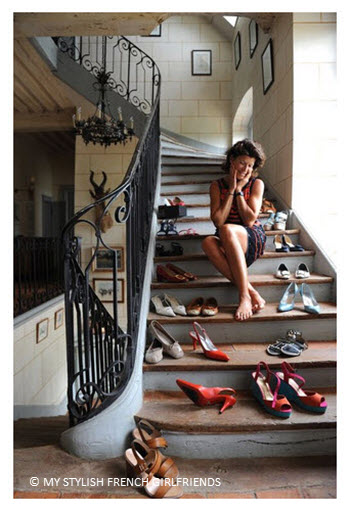 I may know nothing of the equestrian lifestyle that is such a part of Frédérique's life — her chateau doubles as a luxury bed and breakfast — but how can I not relate to a woman with a deep love of family, flowers, friends and… chaussures?
While the French have a reputation for being difficult to get to know (and Parisians may be perceived as prickly), my own experience has taught me otherwise. Sharon's French friends are women most of us would like to get to know. They lead busy lives. They make choices. They work hard. They understand the necessity and satisfaction of marrying form to function, the exquisite tension in placing old alongside new, and the wisdom of seeking simplicity over complexity. They do not worship at the altar of an artificial standard of perfection. This last, for me, is quintessentially French; we have only to observe it in these lovely faces and marvelous rooms.
Sharon writes of the joyful process of putting together this gorgeous compilation of verbal and visual vignettes:
In the company of my girlfriends, I toured vineyards; sat at family dinners; shopped at Provençal markets; swam in mountain rivers; walked beside the ocean; ate dinner al-fresco in central Paris and rode horseback. I stayed in châteaux, country cottages, mountain homes and happy beach houses. The whole experience was a privilege that I shall never forget. The result is a big beautiful book, with a chapter about each of these lovely women, and an insider view on to their daily lives.
If "My Stylish French Girlfriends" is intended to be a big beautiful book, and it certainly is, then surely its author must herself possess a big, beautiful heart — exactly the sort that so many of us have encountered in France. Sharon's words and images are both reminder and invitation: They bring me back to my own wonderful French friends who balance a deep commitment to family, an appreciation for life's gifts, and an innate sense of style. Ultimately, what I find on the pages of Sharon's book is a love letter to these women, to their values, and to a rich heritage that encourages creative passion.

Sharon Santoni is an English writer who lives deep in the countryside of Normandy with her French husband. She is passionate about style, authentic living, and as the mother of four, the importance of family life. She is the author of the popular blog, My French Country Home. Visit her Facebook pages, My French Country Home and My Stylish French Girlfriends, and follow her on Instagram @SharonSantoni. Find both hardcover and Kindle versions of her latest book, My Stylish French Girlfriends, on Amazon.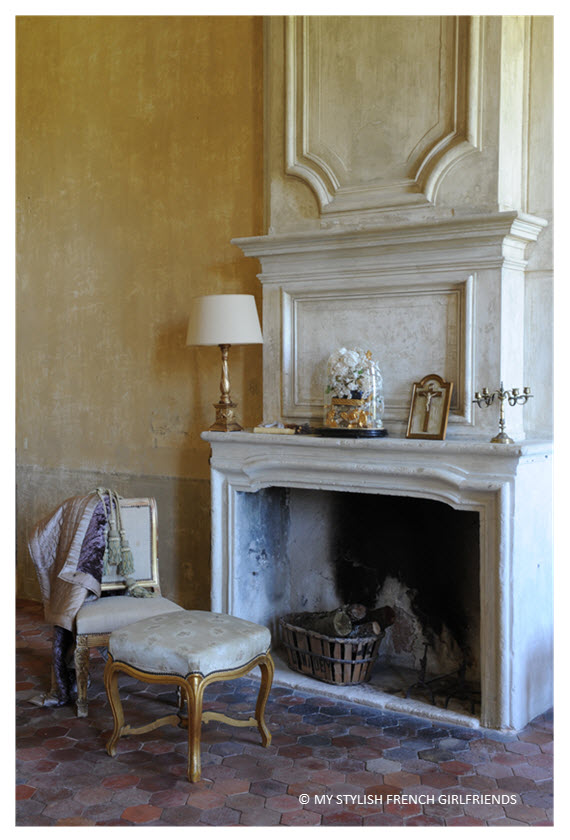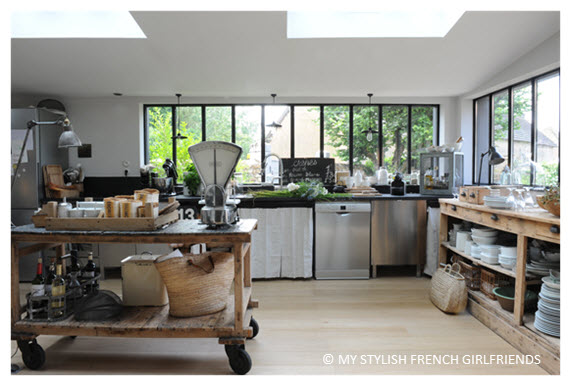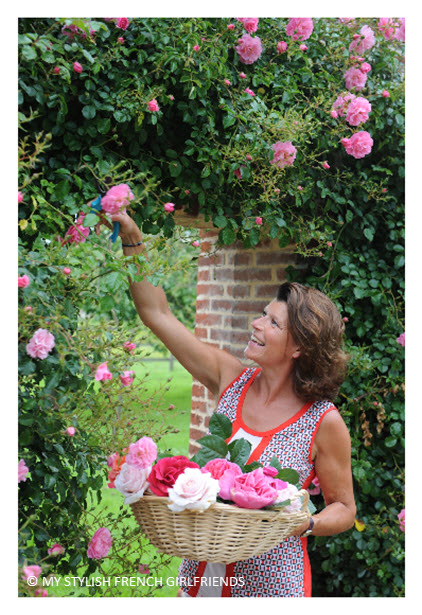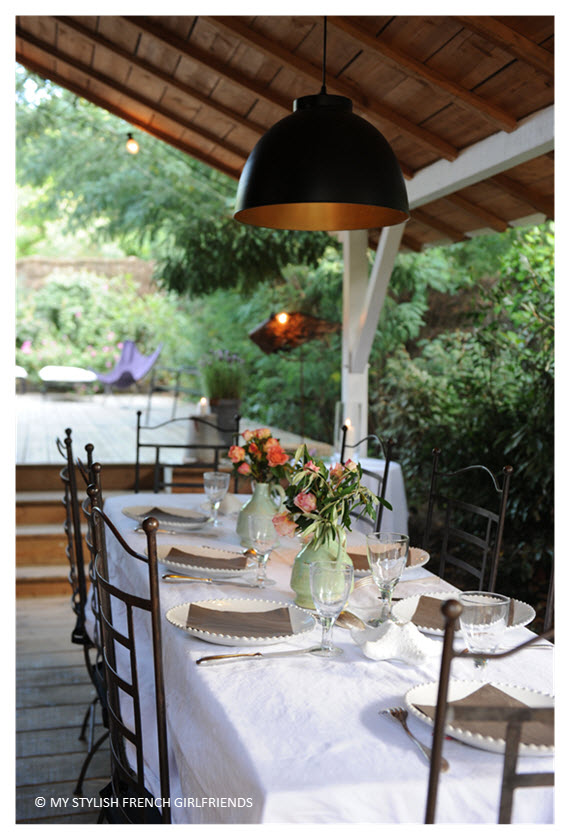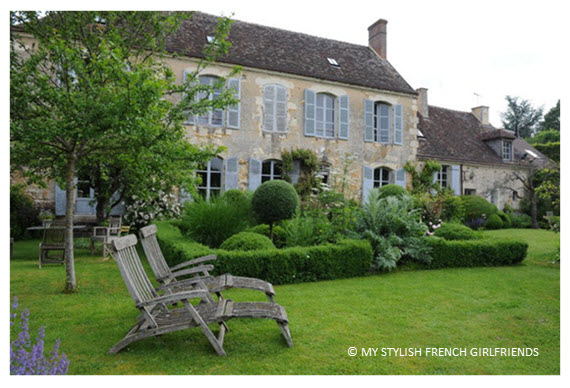 You May also Enjoy