In a week that seems to be all about the pleasures of interior design, and in conjunction with the Makeover Series, I am delighted to host a guest post from Kristy Woodson Harvey with room makeover tips for any space and any budget.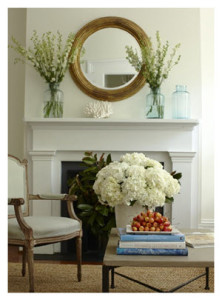 Kristy is an accomplished interior designer, and along with her savvy recommendations, she provides beautiful illustrations to underscore her points. I will add that Kristy is a novelist, and having recently read her first book, "Dear Carolina," may I say that I fell in love with her characters and her gorgeous prose. I'm anxiously awaiting the publication of her second novel, due out in Spring 2016.
So please enjoy Kristy's take on updating your space. And do visit her at Design Chic for her stylish posts and updates on her writing.
Room Makeover Tip: Simplicity
1. Simple is the New Black. That candle you got as a hostess gift. The trinket that your mother-in-law gave you for your birthday. Your friend's book that you have to keep on the coffee table… Sometimes sprucing up a space is as simple as paring it down! Here's what we do: Every so often, pick a surface in your house and take everything off of it. Everything. As you're restyling, try to leave an accessory or two off to make it feel fresh and clean!
Room Makeover Tip: Trends
2. Embrace a Trend. We know. You aren't supposed to go with trends or buy things that are trendy. We would agree with not investing in things that are trendy. But, sometimes, there's nothing like a trendy piece to spice up your space. Loving agate bookends but not sure if they mesh with your style? Pick up a pair at Home Goods. On the fence about metallics but want to try just a hint of gold? That tray at your local gift shop might be perfect.
Trends are fun and some of them have staying power. But, until you're sure, it's nice to know you can try them out without committing—or breaking the bank! And it's amazing how well those cheap thrills can blend with your nicer pieces!
Room Makeover Tip: Reimagine What You Have
3. Shop in Your Own House. This is such a fun exercise that you simply must try! Every once in awhile take all the accessories on your surfaces from three or four different rooms and put them in a central location. Then redecorate. It's amazing how different that piece of coral can look as you move it from the family room to the formal living room. Or the fabulous juxtaposition of Grandmother's sterling candlesticks with that lacquered console instead of the antique sideboard. Reimagining the things you already have in a new way is so, so simple. It creates a brand-new look without costing a dime!
Room Makeover Tip: Inspiration
4. Make it Feel Inspired. Especially in offices, playrooms, or any other spaces that need to feel creative, simply gather up things you love and hang them on the walls! We love collecting things that catch our eye—beautiful photos from a magazine, that shell you found on the beach over the summer, a particularly amazing finger painting from your toddler, that candid shot of your mom, that quote your best friend wrote out and mailed to you.
Get some inexpensive frames and shadow boxes of all different shapes and sizes, spray paint them if you want them a fun color or metallic, and put them on the walls! Nothing makes us feel more inspired in short order than being able to glance up from the desk and see things we love. We're huge fans of Wexel Art frames for changing it up often.
Kristy Woodson Harvey blogs at Design Chic about how creating a beautiful home can be a catalyst for creating a beautiful life. She is the author of "Dear Carolina" (Berkley/Penguin Random House, 5.5.15) and the forthcoming "Lies and Other Acts of Love" (Berkley/Penguin Random House, 4.5.16). You can also visit her at kristywoodsonharvey.com. Be sure to follow her on Facebook, on Twitter @KristyWHarvey, and on Instagram at @KristyWHarvey.
Images have been reproduced with permission of Kristy Woodson Harvey.
You May Also Enjoy