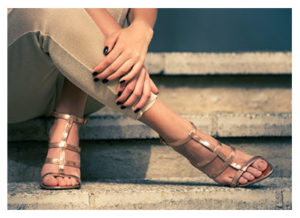 It wasn't the first time I relocated to France that was most challenging, but the second. I had stored two rooms of modest furnishings, grabbed a journal and some pens, and packed one bag of clothes. Yes, with several pairs of heels. And I set out across the ocean with only a vague plan, nowhere to stay, and barely enough money to survive if my sketchy vision didn't materialize.
I was young, vital, and had nothing to lose.
I was also persistent, determined, and open-minded. Though it wasn't easy, I made that adventure work.
Recently, I emptied my house.
No. Correction. I emptied my home.
I watched 27 years of life — the most significant 27 years of my life — inventoried, wrapped, packed, stacked, crated and loaded onto an 18-wheeler.
Then I watched the 18-wheeler drive away.
Relocating in middle age, on your own?
I can only share my personal experience.
I am a mess, and not.
I am numb, and I'm functioning.
I am running on auto-pilot, just as I have through every other major life event that required me to be adult, efficient, responsible.
The week is a blur: signing documents for the sale of my house; two extraordinary 20-somethings, friends of my sons, sweeping and lifting and hauling off trash; packing alongside three cheerful women whose good company improved my mood; my younger son's arrival to say goodbye to our home; a 13-hour drive, my son at the wheel; subsequent arrival at my temporary residence — temporary because it is a 12-month rental, previously sight unseen, arranged last minute by a kindly woman who, I hope, will become a friend.
I have been trying to dig out for what seems an interminable period, though it is only days.
I'm hurting. I'm exhausted. Advil and caffeine and heating pads are keeping me upright and productive.
Stairs — terribly hard on my back and legs — are a considerable challenge. And the only places for rent in this area have stairs, so I will learn to manage, over time, because I must.
If these paragraphs lack cohesion (and I'm sure they do), it is because I'm having trouble hanging onto a thought for more than a few seconds, which I attribute to weeks of impaired sleep, physical discomfort, multitasking overload, and yes, the loss of my all-critical "visual map."
I am not here. Not exactly.
I am back behind myself somewhere. Behind my eyes and ears, and behind my impressions and instructions. I can feel myself chasing down thoughts, catching up to them, and grasping one just long enough to act on it as the others seem to skitter away. Those of lesser importance, that is. Perhaps this isn't a bad thing.
As for any item of significance, I am emailing myself notes and lists, despite my currently elusive grasp on language that disregards my desire for precision. And I tell myself not to worry too much since I know this state of affairs. Sustained stress and sleep deprivation obliterate easy access to nouns and verbs.
At moments, the disorientation that results from an absence of familiar markers feels overwhelming. A few days back, I succumbed. I curled into a ball on the floor behind two chairs and a wall of picture cartons, and wept. I had been holding it in for weeks. I couldn't hold it any longer. I'm uncertain how long I was there, like that. Men were in and out, and suddenly it grew very quiet. My son, who rearranged his plans to stay with me an extra 48 hours, came over and stooped down, put his arms around me, and told me it would be alright. I cried until I felt wrung out, depleted, just a skin. This can be a useful state. A skin without organs to protect.
Then I got up. I returned to my duties. To slicing through packing tape with a can opener, to rummaging through boxes.
At present, it is hard for me to sleep, to read, to write. Hell, it's hard to speak. It's just too damn much effort. Besides, I'm fine for now inside a bubble of silence. In fact I prefer it. Perhaps because I know it will not last.
Good moments: a nice lunch with two new acquaintances; a nice dinner at a steakhouse with my son; a pleasant evening of take-out pizza before his departure.
This is a soundless place until thunderstorms break the silence. I gaze out the window and see mountains. Where am I?
Naturally, there are stories explaining the move, rationale for the general location I chose, and careful consideration of the usual risks. I tell myself I've faced far more unsettling events than starting over in a new place — because I have. I tell myself I've faced far more frightening challenges than disorientation — because I have. And I tell myself I am fortunate in my undertaking of so much complicated change — because I am.
I have the benefit of time to dig out, to orient, and to re-establish myself in a new region. Selling my home bought me that time. I have food in the fridge, an Internet connection, and a pleasant place to live until I figure out what comes next. And when the waves of "what the fuck have I done?" hit, I switch on the platitudes:
You are strong enough for this, you are smart enough for this, you are brave enough for this.
And so I am.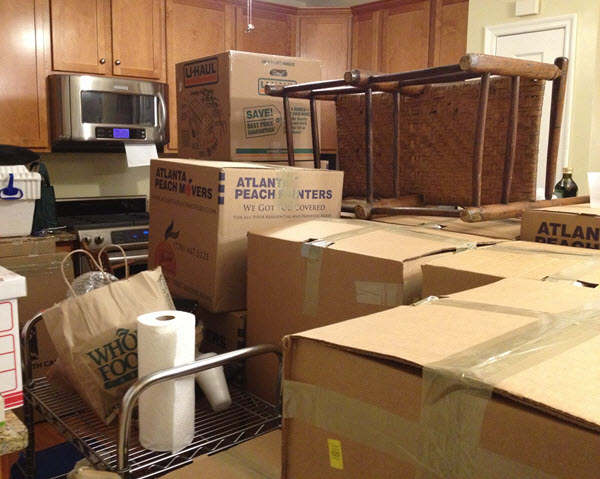 A friend said to me recently: "Aren't you excited?"
The answer is no.
Excitement will come in time; these moments are about physical, mental, logistical, and emotional work.
Climbing a ladder to reach cartons. Unwrapping objects to see if they are "keep" or "shed." Establishing new systems in a challenging space. Searching through clothing and linens to find a pillow for the bed. Scanning return addresses on envelopes from parents and grandparents now passed. Organizing kitchen cabinets.
Looking for the pepper mill, the hair dryer, the good heels.
Sleeping in the stillness of pitch black skies.
I recall how exciting it was to start a new life at 24, in Paris — scared, but convinced I could do it — with only that vague plan, a small sum of money, my one bag and pretty shoes and journal, the sounds of the city singing to me at night.
I can't help but make comparisons, and most concern my physical state rather than emotional territory. We are foolish if we don't acknowledge that aging typically involves constraints — however wholeheartedly we embrace aging "gracefully." Of course, it also entails gifts that come with the years — perspective, self-knowledge, and life skills we can't possibly master in our youth.
If I am emotionally "letting down," here and elsewhere, I do so in part in preparation for gearing up — to learn, to explore, and to meet new people, warmly — open to who they are, to what makes them tick, and to the ways in which they choose to live.
There is much more complexity involved in relocating at this stage than most of us imagine, and while I tell myself the worst is behind me, I won't deny the challenges to come: new doctors, new service providers, a vast number of new visual maps to establish — after the gargantuan task of unpacking.
God knows, I'm tired. My concentration is spotty and my nerves are raw. Before the move itself came months of shedding and organizing and cleaning and painting and storing and packing up… to be expected when putting your house on the market.
So many memories.
So many goodbyes.
But I will not be a coward.
While I wouldn't say that I'm emotionally fearless, I have far more stores of personal strength than I sometimes realize. I know I am resourceful and resilient. I am singleminded and resolute in pursuing goals, once I can identify them. Humor, even in my off moments, saves me from the worst parts of myself. I will refashion my life in a new place because I have chosen to do so.
Because it is time.
Just now, another migraine is looming behind my eyes, close to a locale that will knock me down. I must hurry to corral these words while I can, accept that my To Do list will be scuttled, and borrow gratefully from another resilient woman who is quick to remind us:
"Tomorrow is another day."
Sometimes this is how we must end a story — hastily, of necessity — in order to make way for something new.
An update about two weeks later: 12 Days, 11 Nights.
You May Also Enjoy