Have you seen the Motto Gender Pay Gap Calculator? Just how extreme is the difference in your job or field? How much more would you earn if you were a man? How much less if you were a woman?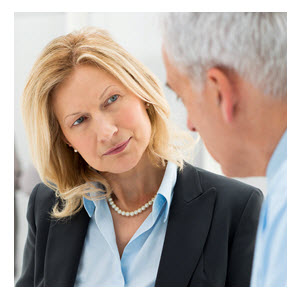 The World Economic Forum Gender Gap Calculator has been around for several months now. It provides a window into a variety of factors illustrating the gender gap — earnings, workforce participation, literacy rates, life expectancy. In fact, we are told that the economic gender gap won't be closed for more than 100 years.
In 2133, to be precise.
But Time's Motto Gender Pay Gap Calculator is the one that has me mouth-agape and eyebrows raised. You're likely to find yourself in a similar state. Now come on…
Aren't you curious to see if you're paid anywhere near parity with your other-gender colleagues? Interested in seeing the extent of the gap at various ages? Shouldn't you contemplate what that means in terms of financial responsibilities at each stage in life?
The Time-Motto collaboration points out:
According to a new analysis by TIME and Motto, women earn less than men at every age range, from 15% less between ages 22 and 25 to a staggering 38% less between ages 51 and 64.
Seriously? That bad? And the 51+ age range?
This places us squarely in the years when many of us are attempting reinvention, reeling from gray divorce, struggling with aging parents, and still trying to cover the cost of kids in college… or hoping they're willing to shoulder significant loans, and willing to pay rent if they move back into their old bedrooms.
Sample Job Categories; Interesting Results
Let's take some examples. If you're a marketer as I am, consider the category labeled "managers in marketing, advertising and public relations." In my age demographic, 51 and over, were I male, I would be paid 53% more. 53%!
I also make my living in part through writing. A glance at "writers and authors" in the 51+ demographic shows that were I male, I would earn 49% more. Simply stated, for every $1.00 I'm paid, a man is paid $1.49 for the same work.
Let's try teaching. It seems to me that the gap should narrow or be non-existent. Well, it turns out that the gap isn't quite as bad for secondary school teachers. However, while we are almost at parity (hooray!) in the 26-30 age segment with a 1% advantage to the guys, in every other age group, the range is anything from 9% to 19%.
Do I even dare look at teaching in the fields of STM (Science, Technology, Math)?
Here's a comparison that I find staggering. I looked at "retail sales" which seemed to me that salaries ought to be closer to parity. I was stunned to see this result: In the 41-50 age group, men are paid more than double what their female coworkers are paid. 110% to be exact.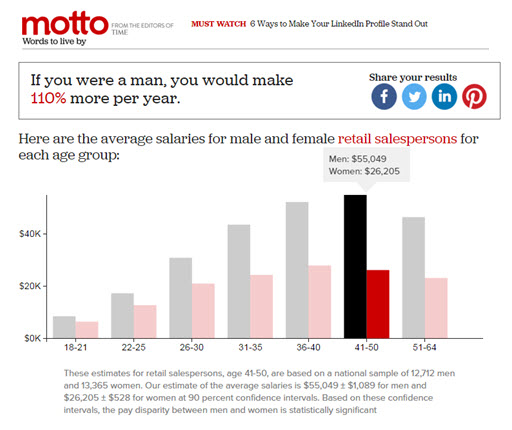 Can anyone explain that to me? Any rationale at all for why female salaries for this category and demographic average $26,205 and the corresponding male figure is $55,049?
You can also view all occupations, which I did initially. We often throw around the 77 cents figure — that women in the US make 77 cents to the male dollar. In fact, the Time Motto Pay Gap Calculator indicates that it's worse; it's more like $.62 to the male $1.00.
Just How Bad Is the Gender Pay Gap Overall?
Using a national sample of more than 970,000 men and 960,000 women, the reported pay gap overall is as follows: Men make 61% more than women. With an average female salary reported as $41,247 and the average male salary, $66,282, the math delivers this: Women are paid $.62 to the male $1.00.
Did you get that?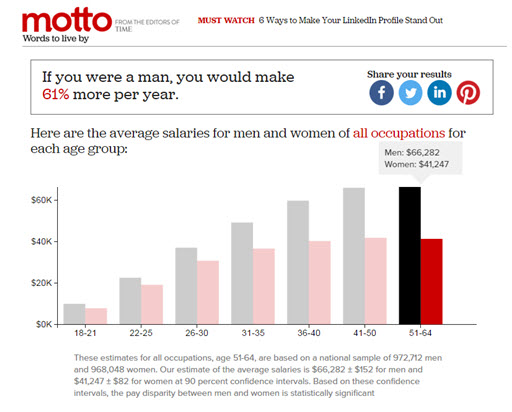 Surprised? Appalled? Furious?
As an important point of reference, CNN Money tells us average American household income in 2015 is $53,657.
Now imagine a single female head of household trying to raise kids. Let's take the figures at age 35, and across all occupations, men earn $49,129 while women earn $36,564. That's nearly $13,000 less a year.
Surprised? Appalled? Furious?
Height, Weight, Ethnicity. Think Looks Don't Matter?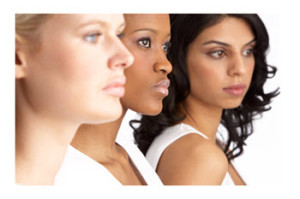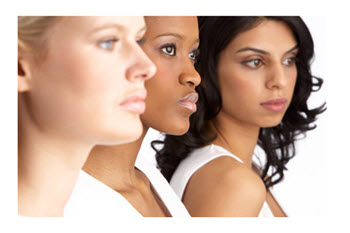 And let's not forget that these averages do not reflect the discriminatory pay practices that persist when it comes to appearance. For example, tall men are paid more than their shorter counterparts; thinner women are paid more than those who are significantly overweight; and statistics on female pay for women of color reflect this comparison to the male dollar:
… Asian women earn 87 cents; White women earn 78 cents; African-American women earn 64 cents; Latina women earn 53 cents.
Surprised? Appalled? Furious?
And none of this includes the millions of workers in America who do not enjoy an employment relationship — in other words, 1099 workers in a growing "freelance" economy, with some estimates at 34% of the workforce, a figure that is expected to continue growing.
Yes, of course. There are exceptions. This is not about motivation; this is about systemic discrimination… and complacency.
I encourage you to visit the Time Motto Pay Gap Calculator. It's an illuminating exercise. But how can we make it more than that? And shouldn't men be just as irate, if not for themselves, for their daughters, their wives, their sisters, their mothers, their girlfriends?
So what do we do with this knowledge?
How do we turn indignation into meaningful action?
If we aren't indignant, why not?
And how do we shrink that hundred year span to achieve global gender equity?
I welcome your thoughts.
You May Also Enjoy