This Psych Central post by Linda Sapadin, PhD, Talk Therapy: It's Not Just Talk, reframes talk therapy by suggesting a revision to its name. While many alternatives to the word 'talk' are options, the doctor's preference would be insight.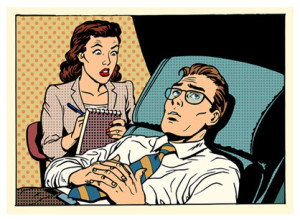 'Insight Therapy.' I'd say that has a very nice ring. And… it's right on point.
After all, a good therapist helps us gain new ways of perceiving our behaviors and motivations, and similarly, those of others.
Ideally, insights can lead to positive change.
So why does Dr. Sapadin recommend a sort of rebranding for this tried-and-true therapeutic approach?
As she says:
… it's because of the name. Talk, talk, talk. Talk is cheap in our society. Everybody's yakking away about something. So what do we need more talk for?
And of course, how could simply "talking" be useful, especially if we don't feel as if we're getting answers?
When Do We Need to Talk?
Most of us feel relief when we let out our worries and challenges. Sure, we can talk to friends, but as I know all too well, that may be an overwhelming experience for them. Furthermore, they aren't trained to deal with the issues we may bring to the table. A therapist — and yes, there are many types — is explicitly educated, skilled, credentialed and practiced at delivering what we need on the other side of the talking equation.
That, in my opinion, is not only about meticulous listening, but appropriate responses and ongoing interaction.
So what sends us to that theoretical psychotherapeutic or counseling couch, that's more apt to be a comfy chair?
Stress, confusion, depression. Worry over our jobs, our relationships, our kids, our aging parents. Addiction issues, abuse issues, or the desire to find clarity and strength to lead a more fulfilling life.
And all that "insight?"
Dr. Sapadin explains:
In a supportive, nonjudgmental environment, you'll learn to clarify your thoughts, strengthen your speech patterns and expand your repertoire of behavior. You'll learn how to calm yourself down via meditative practice and reduce your fear incrementally.
Therapy. Say What?
Curious about the original meaning of the word therapy, I sought its roots and found this: the etymology of the word therapy:
… curing, healing, ministering to the sick… delivery of a healing service.
That, too, seems on point. What could be more healing than insight — whether sharply focused or in sweeping, illuminating brushstrokes?
A slight digression: As I've been undergoing physical therapy for my back for a number of months, and as I consider the breadth of techniques and exercises used for 'increased mobility and strength,' I liken this to those broad brushstrokes in talk therapy — those that might sing on several registers.
As more detailed tests provided more information, I consider the specific exercises I now engage in daily — resulting from a far greater understanding of what's happening in my body. My goals are explicit, and progress is accelerating, though not without occasional setbacks.
Healing is not a linear process. Not necessarily for the body, and certainly not for the mind.
Moreover, I've been to physical therapists before. They don't always listen. Skill levels and techniques vary. The "chemistry" may not be there. And that chemistry between the person who "delivers a healing service" and the patient is vital to the success of your experience.
Insight Into "Insight"
In a comment on Dr. Sapadin's post, a reader expresses the irritation that many feel after a less than optimal experience, or precisely because of the reputation that plagues talk therapy, which the doctor's reframing is designed to address.
The commenter says:
… Every therapist I've been to just sits there and stares at you while you tell them what's been going on since you saw them last… the idea of having to try to explain the people and situations in my life in detail ALL OVER AGAIN to another person just bores me.

… I can't change any of the people who have caused me to feel the way I do so how is therapy going to help me?
Let's get back to that notion of relationship. In therapy, whatever you call it, the ease and flow of the relationship is critical. There is chemistry between therapist and patient, or counselor and 'client' — just as there is between lovers, colleagues, and friends.
The chemistry may hum, it may falter, it may fall anywhere between the two extremes. One therapist's personality may suit you at 23, but someone with a very different approach may be the best 'insight partner' for you 20 years later.
I welcome your thoughts.
You May Also Enjoy