While I may not typically follow trends, I adore the arrival of the August issues of my favorite fashion magazines. And of course, I avail myself of the online versions that allow us to view runway clips, slide shows and more. I may have no plans to "make over" my wardrobe, but I couldn't resist sharing some of my weekend (style) reading.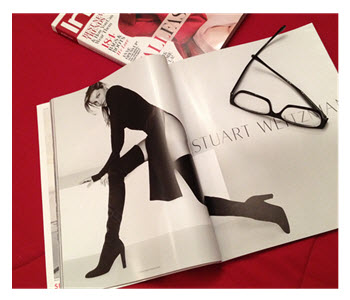 I took great pleasure in The New York Times T Magazine, which, in addition to wonderful articles (Cate Blanchett!) was chock full of elegant ads. That includes this gorgeous spread… literally… of over-the-knee boots from Stuart Weitzman.
My Taste, Your Taste
Naturally, we have preconceived notions of what we think looks good on us. We may be right or we may be too narrow in our assumptions. We may be bolder older! Or, we may find we're holding back, thinking we don't dare to bare or that we should no longer call attention to ourselves. But isn't fashion about identity? Shouldn't it also be fun?
These thigh-high boots from Stuart Weitzman? I'm guessing they're the length of my legs in their entirety, so this certainly isn't workable for a woman of my (Lilliputian) stature. But I do find them beautiful if you can carry this look off.
Speaking of what you can carry off — yes, the "dress your age" topic — most of us agree that some women can pull off a bold, audacious look and do so with great gusto. Others are more comfortable with classic — from a tailored look to the girl next door.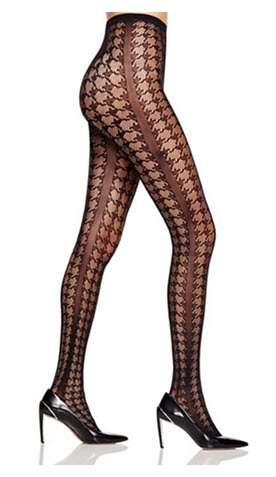 But who says we can only have one look? Why not more than one style if it makes us feel good — one for the office, another for the weekends out, perhaps a third when we're in the mood to push a few boundaries?
Age and Attitude
A quick note on attitude, and specifically confidence. I've always believed that we carry off what we feel confident carrying off — from public speaking to forward-facing fashions. Yes, we need to remember that being appropriate is important. But aren't we mature enough to know that already?
If you've got the self-assurance to wear any "trendy" style, and you feel that it's you, then I say… why not?
Trend Tidbits
Glancing through my magazines and favorite sites, I'm drawn to a little of this and a little of that, and an ample selection of classics with a textural twist. And then there's what I think of as "luxe Bohemian." Among the trends I can't help but comment on:
black, black and more black, with glorious reds
mixing patterns of all sorts
pleats and slits
faux fur details – gloves, sleeves, cuffs, collars
over-the-knee boots, fewer platforms, some chunkier heels
laces on boots, booties, heels and flats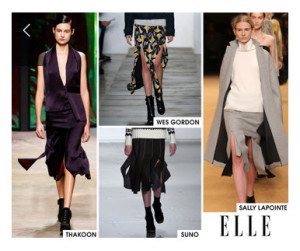 I adore all the options in black, from lace on solids to elaborate but small all-over details that add texture and interest. Speaking of which, patchworks, prints and patterns including plaids are everywhere I look, and we're encouraged to mix. If you know what you're doing, the result can be sumptuous.
Kate Spade's Fall Preview, for example, includes an exuberant statement on plaids — skirts, coats, ponchos and of course handbags — all seem to energize black, gray and white.
Elle.com Shows Trends
I love Elle's report on Fall trends, one of which is the car wash pleat, which I am fond of for both its playful quality and its comfort. Much as I'm at home in a pencil skirt, any kind of pleat or slit makes movement (and sitting) more comfortable. When you effectively have multiple slits — as long as you aren't revealing too much — this swingy style is both flirty and flattering.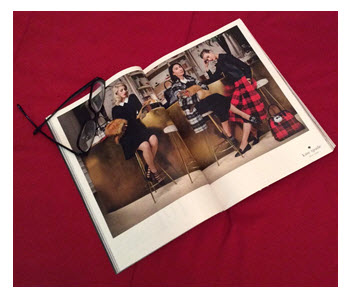 In fact, one of my favorite skirts picked up years ago at White House Black Market has carwash pleats. It's one of the prettiest (and sexiest) skirts I own, I wear it when I go out, but I always wear it with (black) stockings given that it may show a little more than you realize.
Grey Suits, Plaids, Patterned Stockings
Elle's slide show also features gray suits, along with faux fur, great gloves and elaborate patterns not only in fabrics but in stockings. Some are fabulous, but I don't think too many of us will opt for the more outré among them. But if you're a lucky lady with long legs and you're tempted by some of the more audacious examples?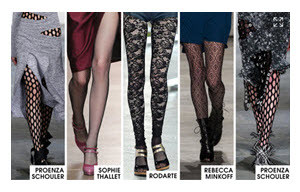 If you can pull it off with confidence (and the occasion is right), why not? That said, I do believe that less is more for many of us, and a touch of "trendy" is better than too much. I would definitely wear the Rebecca Minkoff tights, but the others? Not for me.
Now the Houndstooth Net tights from DKNY shown above… I would pair them with a cute high heel ankle bootie, and they could be a lot of fun! But proportion is always critical, no more so than for those of us who aren't leggy to start with. (This is why Minkoff might be a better choice for a little woman.)
HarpersBazaar.com on Trends
Fabulous bags, anyone? (You know I think you need luscious lingerie first…) Harper's Bazaar has wonderful fall 2015 features online, including this slide show on handbags with some ideas I like and others I could live without.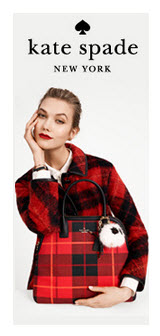 Among the "musts" listed are these:
a basic (classic) black bag
a multipurpose neutral bag
a good "weekender" bag
a pop of bright color
Many of us have black and neutral bags already, and while they may not be Chanel, Prada or Marc Jacobs, I'm guessing we know that sticking to classics makes our bags a better investment. As for weekender bags, I prefer a practical (soft) tote, myself. I love the idea of a pop of color — Bazaar shows a small, gorgeous green bag — but I have also been seeing cerulean blues — shades I'm crazy about, and they look good on so many skin tones. But if I had to choose just one handbag?
I'd go red!
I've seen some lovey Kate Spade options that tempt me, and this Michael Kors satchel (below) is a heavenly hue. I'm such a fan of red as it is (you no doubt noticed the color of my comforter), I can imagine this selection suiting nicely for years to come.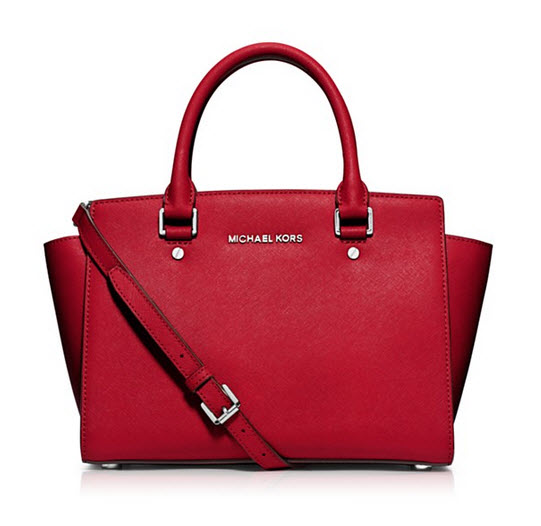 You may also recall that Tish Jett (of A Femme d'un Certain Age) suggests a pop of color in an investment handbag in her style recommendations for women over 40.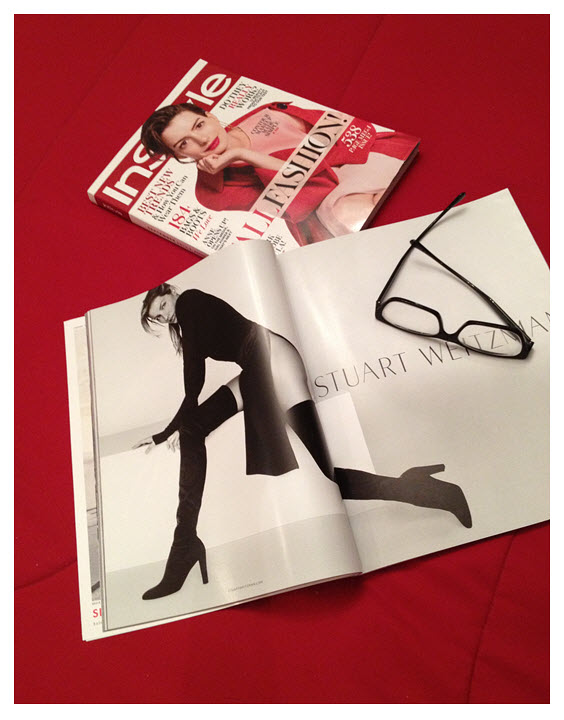 What trends are you considering trying out for Fall? Any new colors you just might dabble in? How do you feel about mixing patterns? Would you go for over-the-knee boots and skirts with slits? If money were no object, what wardrobe staple or accessory would you try this coming season?


Michael Kors handbags and DKNY tights, courtesy Bloomingdales; click images to access merchandise on the Bloomingdale's site. Small images from Elle, click to access full images and slide show at Elle.com.
Please note: I am not receiving compensation for any of these brand, merchandise or store mentions. If I were, I would tell you!
You May Also Enjoy