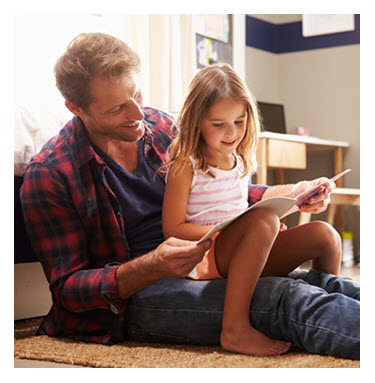 by Andrea Clement
Recently I read an article on About.com addressing ways to honor your deceased Dad on Father's Day. There were several great ideas, some of which I already put into practice. For example, I now have a Father's Day tradition that involves running a 5k race at Atlanta's Turner Field – my dad loved baseball and loved the Braves, and he was also a jogger. This seems like a perfect way to honor his memory on this special weekend.
Thinking about our parents' gifts to us one day a year is hardly sufficient, and I got to wondering what we can do in honor of a deceased parent all the other days of the year.
When my Dad passed away in 1982, he left behind a legacy of love and lessons that still help me through life's many challenges. I wish I could say that I've always heeded the examples he provided, but it wasn't always easy to follow his lead, especially since he was no longer around to help guide and encourage me.
That said, here are a few of the values that I try to carry on, and ways that he lives through me, his youngest daughter.
1. Faith and spirituality. My Dad incorporated his Catholic faith into virtually every aspect of his life. He was involved in his parish and spent a lot of time volunteering, as well as donating money to the church, which was an integral part of his life from spiritual growth to social events. His beloved pastor counted my dad among his best friends, which was an honor and privilege for my dad, I'm sure. He and my mother made financial sacrifices to send all four of their children to Catholic school. Although I haven't really been involved with the Catholic church, I try to carry on that spiritual energy, love, and gratitude that Dad exemplified.
2. Family values. It's difficult to summarize Dad's commitment to his family, but I'll try. People still approach me occasionally and tell me that they miss my father and what a great man he was. I had hoped to one day to carry on Dad's family values with a family of my own, but children were not to be, for me. However, I try to be there for my other family members as much as possible, including my siblings as well as my nieces and nephews. I hope Dad would be proud of us, how we care for one another, and what we've all accomplished.
3. Love for animals. Every time I come home to my two fur-babies, Ella and Rocky Road, I think of my Dad. From adding to my stuffed animal collection, to helping me draw silly cartoon animals, to sneaking a puppy home hidden in his jacket to surprise us, my Dad had a soft spot for animals that lives on through me. I am a dog-mom of two, and I saved the last stuffed animal my father ever bought me – Garfield the Cat. Rumor has it that we might have kept horses and other farm animals in the yard, had the neighborhood allowed!
4. Entrepreneurial work ethic. Dad put his heart and soul into everything he did, building a business of his own in commercial roofing and construction. But there's more. He was an inventor, and held two US patents. Those who knew my Dad in the 1930s as the little Hungarian-speaking boy from the wrong side of the tracks in East St. Louis could never have imagined he'd one day be a military officer, civil engineer, college graduate, and eventually, a business-owner. My Dad was proof that you can be anything you want through hard work, drive, commitment and determination. Although I'm not completely self-employed as he was, I try to tap into my creative and entrepreneurial side often. In addition to my full-time career in PR for a healthcare company, I have a side business as a freelancer that I hope to grow over time.
5. The value of education. Dad emphasized the importance of learning and doing well in school. He loved to read books to me, and I still have an old recording he made of me reading a book back to him in my 4-year old voice. Though his parents were poor immigrants who didn't speak any English and couldn't afford his college tuition, Dad worked his way through school by joining the Army and becoming an officer in order to earn tuition reimbursement. The fact that he worked so hard to fund his own college education made an impression on me.
6. Communication and affection for loved ones. One thing I learned from Dad's life and his death is to tell loved ones how you feel about them, and do it often. From what I remember, my Dad was an expressive and affectionate parent. In addition to his affection for his children and friends, he didn't hide his affection for my Mom, even when they'd been married more than 20 years. My parents left behind a box full of love letters that my Dad wrote while he served during the Korean War, and I have many photos of him gazing adoringly into my mother's eyes.
7. Gratitude. I try to count my blessings every day. When I think about how quickly Dad's life came to an end, I feel both the fragility of our lives and how precious they are. A massive heart attack took Dad from us in a matter of minutes. I think my Mom felt guilty that she took him for granted, or spent too much time stressing about minor issues like feeling devastated over a milestone birthday, shortly before my father passed away. Had she known when she turned 50 in November that a few months later her husband would be gone, she wouldn't have wasted negative energy on a number, and instead would have enjoyed what they shared.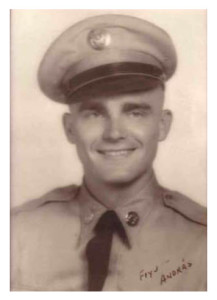 8. Laughter and Fun. My dad loved corny jokes, comedy shows, movies and word play. He loved to ham it up in front of a camera, too. He and Mom loved to entertain, and I remember parties at the house and fun times with friends. Dad's sense of humor and fun was contagious. This is just one of the aspects of life with him in it that I miss, but I hang on to the lesson that playfulness and fun are a must.
People seem to remember my Dad. They still speak fondly of him. Once, in the 1990s, I wanted to see where he grew up and I returned to his childhood home outside of St. Louis. I knocked on the door. His old neighbors, now in their 90s, welcomed me when I said I was his daughter. They showed me around his tiny home and then reminisced about what a good kid Andy was.
If my Dad sounds like a fantastic man, he was. He was faithful, family-oriented, hard-working, intelligent, affectionate, funny, creative – and quite handsome. If it sounds like I'm describing someone too good to be true, perhaps I am. But that's all I know of him – childhood memories, faded over time, but still tangible. And what Dad isn't a superhero to his ten year old daughter?
I'm sure he had faults. None of us is perfect. But he never tarnished his Super-Dad image with me, and I'm very thankful for that. For ten wonderful years I had the very best Dad a little girl could have. I hope and pray each day that my actions honor him, and that my life does justice to his legacy.

© Andrea Clement

Andrea Clement Santiago is a career advice columnist, writer, and communications professional with a background in medical sales, training, and healthcare recruiting. She is the Guide to Health Careers for About.com. She has contributed to books, journals, websites and has made media appearances on television and radio. Visit her blog, No Parents No Problem. Follow Andrea on Twitter at @AndreaSantiago, or connect with her on LinkedIn.
You May Also Enjoy