Choices. We all want them, don't we? But what if we feel that our choices are limited as we grow older and our lives become more time and budget-constrained? What if we are assuming fewer choices, and we have more options than we think?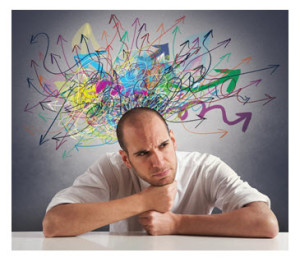 I don't just mean the freedom to choose what we do for an afternoon, or where we'll go on vacation, or whether we'll take on a new project at the office — or maybe position ourselves for a promotion. I mean options that are pertinent to the way we spend our days, especially if over time, we begin to feel trapped — juggling madly to chauffeur the kids to school and ourselves to work, or managing the caretaking of an elder parent along with all the other household and bread-winning tasks.
Sometimes, we're so busy and caught up in our perceptions of ourselves and our worlds and our responsibilities, that we're convinced we have little alternative but to keep on keeping on… continuing to do whatever we are and have been doing… even if it is slowly draining us of energy, enthusiasm, creativity, optimism.
We find ourselves doing what we can to think positive, but we're mired in the same schedules, same jobs, same relationships, same locations… same old same old until we feel old as a result.
Are You Narrowing Your Options Without Knowing It?
At times, I'm aware that I am narrowing my choices; this may be out of fatigue or an unanticipated time crunch, or it may be a habit that I need to examine.
At times, I'm too isolated to realize that I can reach out and ask someone else for an opinion or a hand. Isolation can breed more isolation.
At times, I simply don't recognize that if I take steps back and view a situation from a different angle, that process might reveal an expanded set of possibilities.
In a recent discussion over options, how much we do (and don't) control in our lives, and how we respond to the patchwork of real world choices that exist, I found myself revisiting the way I approach problem-solving. I am also looking at the way I approach good happenings in my life, and how I might use them more powerfully and yet — realistically.
Ah, Balance…
While I am a believer in visualizing what you want, I am also pragmatic about the sort of practicalities we all must deal with. For example, at 5 feet tall I'm not likely to be a basketball player or an astronaut. Then again, I don't want to be either.
Another example? At the half-century mark, I'm not going to be comfortable dating a 20-something. A 40-something? Different story.
But what if I think I'm stuck in a particular job situation, an ambiguous relationship, or even in a health quandary where the best path isn't clear? What if I feel like I can't get out? How much is real and how much is assumed? Are there obstacles that I am creating for myself? Are the obstacles real? If all I see is that I cannot go straight through, and nor can I navigate around to the right or to the left, might dealing with obstacles seem easier if I enlist some help?
Could a different perspective allow me to see that I can fly over or burrow under, or possibly turn my back on the obstacle and take a different path? What if I can melt the obstacle with a realization that it isn't an obstacle at all?
What if we all have more options then we see when we're stressed or tired or isolated, and especially when we don't ask for an assist?
Too Many Choices? Help!
Of course, too many choices can be paralyzing. These days, I find myself traumatized in the dairy aisle! I am in a state of annoyed befuddlement at the supermarket every time I want to buy yogurt. The options are mind-boggling. No fat? Low fat? Greek? Icelandic? Whose organic should I choose? What cultures should I be focused on?
When presented with an overwhelming set of options — Yoplait, Chobani, Stonybrook, 365, Oikos, Dannon… eek! I can feel my brain bordering on a short circuit!
Then again, when presented with six options for where to go to college (and they're all good), might the relieved student secretly wish there were fewer to choose from? Or for that matter, if trying to decide among four great job offers? Wouldn't we all like to have those problems?
As for the optimal number of options for each of us, clearly that depends on context and individual. If it's something life-altering like staying in an unsatisfying job, an unhappy marriage, a city where you don't feel like you fit — it's helpful to weigh the pros and cons. In writing them down, we often discover we have a greater number of alternatives than we thought, including gathering more information, making smaller incremental changes (easier to reverse), or identifying those possible "collaborators" in our efforts to look at challenges with fresh insight.
You May Also Enjoy