Fromage. Isn't that a fabulous word? It's the delicious, elongated "aaaah" in the second syllable that adds to the yum factor.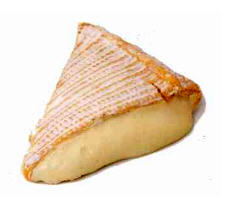 So. Have you enjoyed any fromage lately? And yes. It is French for cheese. Last night I caught The Truth About Cats and Dogs on cable, in which there is an amusing scene where our heroine proclaims herself a cheese maker, and then says: "fromage, really."
I suddenly found myself very hungry. I scrounged for camembert, gouda, a nice spreadable… something.
Nada.
So I was left to dream of a great slice of oozy brie. Or better yet – a soft, pungent, slightly spicy époisse – a fabulous milk cheese you can find in France, and if you're lucky, poking around in your local gourmet shop.
Say Cheese!
This morning, not only have I woken still longing for cheese, but pondering our many references to the word. And speaking of which, where does the expression "cheesy" come from, anyway? And what about the origin of the photog's attempts to elicit smiles?
A little sleuthing on the internet reveals:
English-speaking photographers utilize "say cheese" simply because it forces a smile as we pronounce it
In Bulgaria, the corresponding request translates to cabbage
In China, it's eggplant!
The cheese stands alone?
There seem to be a multitude of expressions involving cheese. Naturally, I felt compelled to explore further.
In contemporary usage, "cheesy" is derogatory or second-rate, but in contrast, the Big Cheese is someone important. According to Phrases.org.UK, in the 19th century, cheese or cheesy indicated:
Anything good, first-rate in quality, genuine, pleasant or advantageous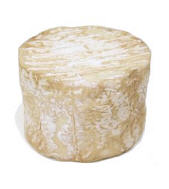 American usage of "big cheese" apparently arrived in the 1920s, and the reference cited above offers an elaborate explanation of how it crossed the Atlantic and began appearing in literary and common parlance.
How cheesy came to mean less than up-to-snuff remains, for me, a bit hazy.
Other expressions?
As for the origin of "the cheese stands alone," that expression seems to derive from the child's song and game of Farmer in the Dell, and presumably a reference to one of the more pungent cheeses of the sort requiring nose pinching and bodily recoiling.
Bloomy? Mushroomy?
I can't say that I know a great deal about cheese. I know I don't care for blue cheese, and I do favor soft and semi-soft cheeses. But did you realize there are delectable descriptors pertaining to cheese just as there are for wines?
I found one site which described cheese as bloomy – and provides a great deal of other information about types  of cheese and oh, the adjectives are so poetic and evocative! Earthy, mushroomy, buttery. Mmm. Cheesy is sounding better all the time. Perhaps I have some milk gone bad in the back of the fridge, which has turned into fromage all on its own?
How many types of cheese are there?
Did you know that some sources say there are 365 cheeses in France – one for every day? (A cheese a day keeps the doctor away?)
That number is most certainly too low. According to Wiki Answers, there are approximately 400 types of cheese, but with hundreds of independent producers in France alone, even the 400 figure doesn't represent the breadth of cheesy cheer to present to the precocious palate.
But lest you think my francophile tendencies render this musing less than fair, let me add that some incredible cheeses are made all over the world. Who doesn't adore Mozzarella, Parmigiana, Gouda, Cheddar, Jack?
Fun facts on cheese
Thank you Cheese.com for a few fun facts:
There is evidence that cheese dates back to prehistoric times
Cheese varies not only by type of milk (raw, pasteurized, etc.) but by animal of course – cow, goat, sheep. But did you know there is horse cheese? Buffalo cheese? Camel cheese?
Cheese is made all over the world. And there are plenty of amazing cheeses produced in the US, including Colby, Muenster, Sonoma Jack, Idaho Goatster, and more – some bearing regional names that suggest the need for a US cheese tour!
Toe cheese? Green cheese?

I couldn't help myself. Inquiring minds need to know!
Toe cheese? Ask.com was kind enough to point me to an altogether too descriptive definition of this one. I'll leave you to pursue that on your own…
The moon is made of green cheese? Ask.com provides interpretations of this phrase, in terms of its early origins as well as contemporary usage placing it firmly in the sarcastic "you'll believe anything" category.
Cheesy lines – Dating dish?

Who hasn't heard their share of cheesy pickup lines? (You didn't really think I'd skip these, did you?)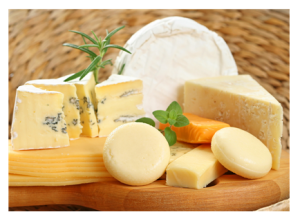 You know the sort – those old standbys that leave you rolling your eyes and trying not to laugh in your Lemondrop – and wondering how any potential date might think these would do the trick. Among the standards:
Do you come here often?
Where have you been all my life?
Pass me a broom and I'll sweep you off your feet –
Did the skies part because I've just spotted an angel –
Of course, I've had my own (milky?) experience with flawed and failed pickups. Ah yes, the breast-fed boomer boy. Tsk, tsk.
Still, sometimes, those cheesy pickup lines are so bad they're almost good. Here's one I found compliments of Romancestuck: Let's go behind that rock and get a little boulder.
Come on. Admit it. You're either grinning or shaking your head. (Or headed out to buy cheese!) So? What's your favorite cheese? Or your favorite cheesy expression?

Cheese images courtesy Foodsubs.com and Bigstock.