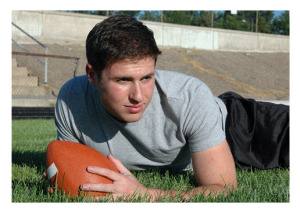 We were drawn together by a circle of mutual friends during a hot, Midwestern summer that I remember as full of energy and wonder: lights, music, and freedom from the usual routine. The impression of unending possibilities creates the perfect stage for young people to become close in a short time.
My first experience of love was a wonderful one. Companionship and shared ideals provided safety for genuine friendship that prompted the hope of more. First touches, hands held, the kiss, which was even then so innocent, paved the way for our relationship to deepen.
Loving him was easy and natural. He was the football player and I was the cheerleader. He pursued me and my heart eagerly responded. He was open and loyal, and I trusted him.
He was three years older, so he seemed very mature, as I was a recent high school graduate. I was proud to be wanted and proud to be chosen. And I'll never forget what it felt like to be the object of a man's affection demonstrated so openly. In his eyes, I was not ordinary. I was adored. It felt as if we were the characters in the romantic novels that my heart craved.
While our love was real, it was also very pure – more companionship than passion.
Looking back, what I loved most was the security I experienced in his care, and the way he made me feel. I liked myself better in his eyes. Unlike other guys who always seemed to want to sample all their dating options, he was content to focus his attention on me. Even when I expressed my need to remain unattached, he was supportive and encouraging. He waited for me to decide what I wanted and needed, willing to be my cheerleader as I stepped into adulthood by entering college.
My parents wholeheartedly approved. My friends were enthusiastic. Everyone assumed we would be together and stay together. But I was looking for something more. I was determined not to live a life of least resistance, and this determination was the greatest factor in our demise as a couple.
It was too easy to follow the script, too simple to just go along, too predictable to stay with my first love. And that was what I feared – that my life would snowball into predictability.
The man I loved was studying to be in the same profession as my father. I could already envision exactly what life with him would look like. I was scared of the path that was unfolding, scared of never taking a risk, and scared of wondering what I might be missing.
As time passed, things changed. Pet names became bothersome. Total devotion lacked challenge. Flowers wilted into sappy sentiment. He offered transparency and trust at a time in life when I wanted mystery and intrigue.
I never felt smothered, but after a couple of years, I began to feel selfish. Surely he loved me more than I loved him. Surely I didn't earn such devotion. I never wanted to intentionally hurt him, but I had to be firm in order to quell his hope for the future. I needed to create distance so I wouldn't lead him on.
Eventually, we went our separate ways. My only regret from our time together is that I left him wounded.
Because our circles have always been connected, I am still aware of the happenings of my first love. After I transferred from one college to another, he and a friend of mine got together. She was at the place in her life to respond and commit in a way that I was not, and they have been happily married all these years and I'm pleased to know that they seem to be sharing a good life together. While I remember all that we shared – ideas and conversation, passions that motivated us and adventures for which we hoped – he has found many of these things, and my heart is happy for his joy.
The memories that remain are treasures, even though it has been decades since we have seen each other face to face. The qualities he possessed – sweetness, kindness, capacity for genuine friendship – are often not valued when we are very young. After searching for adventure, mystery, and that idealized wow-factor, I now understand that trust, compassion, consistency and unabashed devotion are an amazing foundation on which passion can grow.

© Missy Robinson

Surprised to find herself in the role of single mother, Missy was even more shocked to become a remarried stepmother in a blended family of seven! She is a hard-working optimist doing her best to enjoy life, and demonstrate joy and faith in this not-so-perfect world. Missy hopes that sharing a bit of her journey will empower others to shun the mask of perfection and to open themselves to authentic living. Visit Missy at her blog, Far From Flawless.

Part 2 of an essay series on First Love.
You May Also Enjoy