Good taste. How do you define it? Is it an absolute or will you hear as many different definitions as there are people in a room?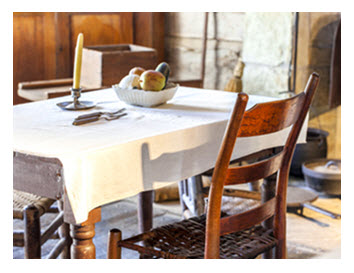 While we have many arbiters of good taste, the styles that suit us are extremely personal, wildly divergent, and evolve with experience – and, as we expose the eye to a wider range of influences.
Having grown up in an old New England home surrounded by 18th century furnishings my mother picked up at antique shows, I was grounded in a certain style. We'll call it… eclectic.
The reality is – our interiors included everything from period Queen Anne, Shaker, Chippendale, and early Federal to vintage "whatever" – that my mother happened to like.
Isn't that grand? Shouldn't our environments reflect who we are, what we love, and our adventures in life?
Personal Taste Starts at Home
As in so many other areas of life, our early exposures to "good taste" may well begin in the home. I am no exception to that rule.
In addition to filling our spaces with lovingly worn, nicked, and honey-hued antiques, my mother was also a collector of modern and contemporary painting and sculpture, something she managed on a tiny budget. All of it was at home among the antiques as if it were the most natural thing in the world. Equally so, books everywhere!
As for me?
This was my "normal" and I suppose it still is, no doubt the reason that I love the contrast of clean, contemporary design side by side with period antiques, as well as brilliantly colored, strangely intricate, or wondrously weird works of art. And yes, a happy abundance of reading material.
Your Seating Style?
My mother was also fond of chairs. (Moi aussi.) Let's hear it for zig-zag and Barcelona chairs! (Well, the affordable reproductions of these modern masterpieces, anyway: The Gerrit Rietveld Zig-Zag dates to 1934; Mies van der Rohe's Barcelona chair, 1929.)
When you add to that an early experience of France and the French – not only did I travel abroad to Paris at a young age, but my grandmother adored all things français – I imagine that explains the third layer of what appeals to me, and consequently, my personal style when it comes to interiors.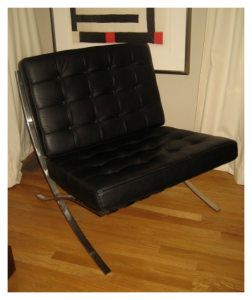 Moving away from interiors and into couture, my style is also a mix, but equally, a function of practicality: my diminutive size. Were I a statuesque 5'6″ to 5'10" and reed thin (as opposed to curvy and barely hitting five feet), my wardrobe would reflect a much edgier style, or range of styles. Perhaps this is one of the reasons I love to dabble in the decorative arts and interior design, as I am not constrained by height.
Holiday Site (Style) Suggestions
Given that it's the holiday season and so many sites and blogs are featuring gifts as well as gorgeous design and decorating for every taste, I would like to share some of my favorite finds and places I'm fond of visiting. Some may be your taste – they are certainly mine, or elements of my range of tastes – but mostly, this is for you to explore and I hope, to enjoy.
Check out From the House of Edward for terrific book selections for your holiday shopping. Most recently, recommendations for children's books as well as recommendations for the Anglophile in your life.
Stop by one of my favorite fashionistas, Une Femme, because her choices are always tasteful, wearable, and offer panache. Be sure to cruise through her posts. There's so much to love!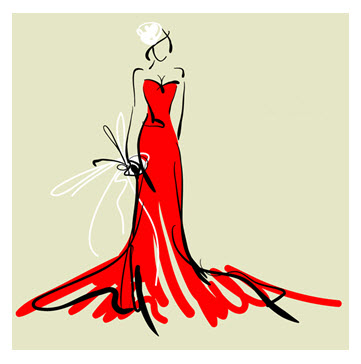 Forget les "musts de Cartier" – but do not skip a visit to Vicki Archer's elegant blog, French Essence, which truly is a must if you're looking for exceptional good taste in all things fashion.
On my daily viewing list, always, is Tish Jett's A Femme d'un Certain Age, of course. Tish is a source of witty (at times wicked) commentary on French style and beauty, direct from her home in France.
Contemporary and Traditional Style
I am madly in love with contemporary architecture, though I doubt I would ever be organized enough to live this way. Still, there is so much I adore about the clean lines and textured, natural materials. (And my son, the architecture student, has promised to build me a little contemporary home one day. My fingers are crossed…)
I am a huge fan of Architecture Daily, and find many of the homes on its pages to be marvels. Not necessarily where I would want to live, but visit? Or as a second home? You bet.
I recently discovered Material Girls Blog, which has examples of mixing modern and contemporary with more traditional objets, which puts it right up my alley. Do stop by and take a look around.
Speaking of traditional, you might enjoy Design Shuffle. I had fun peeking through the traditional décor, but I admit, I longed to see something that would remind me of home.
Colonial Conjures a Cozy Christmas
I found my way to this fantastic Pinterest board, Colonial Design & Decor, which makes my Massachusetts heart sing!
If you enjoy 18th and early 19th century American antiques and interiors, as I do, you will find yourself lingering on that board and very happily so.
I consider myself extremely fortunate to have grown up in a home filled with objects that tell a story, or inspire creativity. And I'm happy to gaze at my mother's 18th century cupboard that holds my contemporary china as well as my grandmother's glassware.
Carve out a few minutes during these next busy weeks, and take some time to savor these sites and blogs.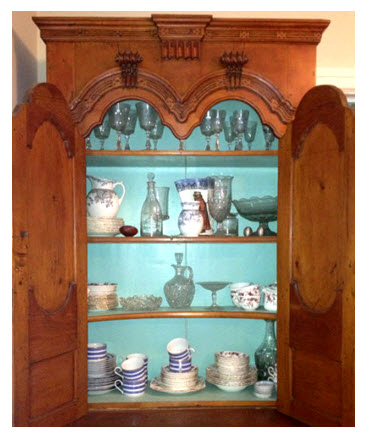 You May Also Enjoy