Heavy on the lipstick and dark shadows – minus Barnabus Collins.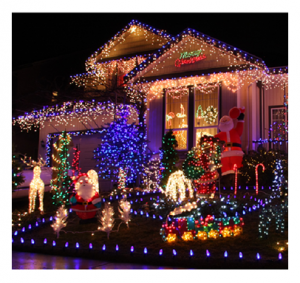 Heavy on the perfume – as you might imagine Gloria Swanson in pursuit of William Holden.
Heavy on the salt, the pepper, the chili powder – with little awareness of the palate of your invited guests.
And outrageously over the top when it comes to holiday decorating – not only on the inside, but blindingly bedecked exteriors – complete with the traditional (Santa, Frosty, reindeer), the tasty (candy canes dangling from the trees), and the quirky (pink pigs in red hats).
(Un)naturally, a rainbow assortment of blinking lights is de rigueur – strewn or wrapped over every available surface.
'Tis the season to overdo to the point of overwhelm!
'Tis the season to opt for opulent, fete the fantastical, tout the tacky – and apparently adore it.
If that's your thing – go for it! Millions do, along with one of my neighbors who is just getting started with the pigs, the flamingos, the aliens (ET and friends) and oh-so-much-more to come.
"Less is More" Holiday Decorating
May I offer a contrast?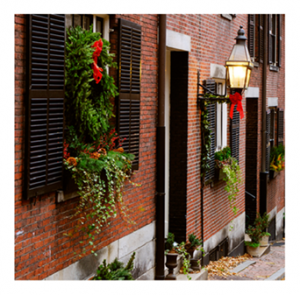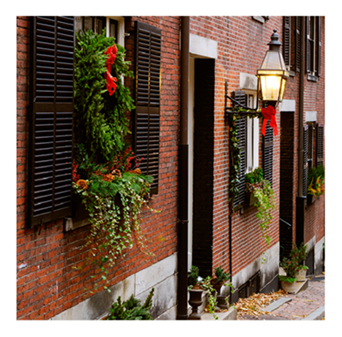 Recently I drove through an older neighborhood in my city of residence, with its rambling Victorians, restored but essentially unaltered. Instead of visual vexation, I experienced the charm of the unadorned wreath on worn front doors, red bows tied on iron lampposts, and the sparkle of clear white lights in sparse and subtle usage.
The overall impression was "simply" enchanting.
I was reminded of my Bostonian upbringing, not to mention other parts of the world where I have lived and visited. In those much loved locales, savoring simplicity is the norm, and what I would call lauding the lavish – not even a consideration.
Though I admit to a staggering excess of books, I'm otherwise of the "less is more" variety when it comes to decor. I know some of you are as well – with warm and welcoming interiors that you edit carefully. You rely on white, silver, fresh greenery and specific touches of color. You are purposely restrained, and in so doing, the people, the conversation, the food, the general ambiance – all are allowed to take center stage.
Still, I'm fully aware that when there are children in the house – all bets are off! Isn't that when we're most susceptible to creating a Winter Wonderland that gets, well… carried away?
Sentimental Season
I confess that I am especially sentimental at this time of year. I turn to my grandmother's dishes and one silver plate platter for desserts. There are a few favorite ornaments and rituals my children will remember, provided of course that they assist in locating the right box for the required "stuff" – likely to be on the uppermost shelf in the farthest reaches of the cluttered closet.
And yes, my ornaments include hand-sewn items (from 20 years ago) along with little high-heeled shoes.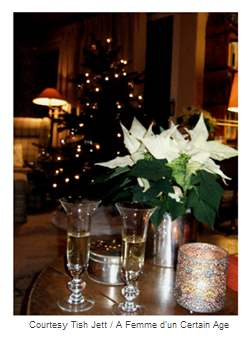 Otherwise, it's simple simple simple: pine cones scavenged from the back yard, a few ribbons on the tree with white lights and mercury glass balls, vintage ornaments in an antique bowl, and greenery on the mantel with touches of red.
Not only is less more to deal with in December; it's less headache to undo in January.
Holiday Overwhelm
Your heavy makeup isn't my heavy makeup. In fact, you may think that I overdo it.
Your heavy perfume isn't my heavy perfume. You may not like my choice of fragrance; you may wish I abstained altogether.
Your spicy is surely not mine – in cuisine or in life. I dislike your Cayenne pepper; you're weary of my shameless chaussures.
Tastes vary, and that's part of the pleasure of individuals – our preferences, our peccadilloes, and our personal as well as cultural differences. Yet I'm particularly sensitive to "overwhelm" at holiday time. I do everything I can to reduce holiday stress. Life is overwhelming enough; must overdoing the decor be part of the package?
My seasonal style aside, everyone I know secretly marvels at the celebratory eccentricities of our neighbor's over the top holiday happiness – with a constantly expanding menagerie, lovingly lit and displayed well beyond the new year.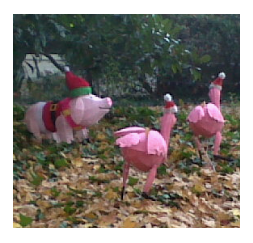 Must I clarify that I'm nonetheless glad that I don't live next door to the aforementioned character?
I'm no Scroogette, but I'll stick to my little white lights on the tree, my edited ornaments, and garden greenery with a dash of red. Keeping it simple keeps me sane – in an otherwise over the top time of year.
You May Also Enjoy