I've always liked the expression "nicely appointed," though it's comme ci comme ça in complimentary oomph, and vague when you consider its ubiquitous usage.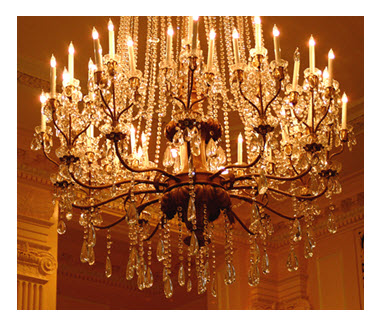 How do I mean that?
We have nicely appointed model homes, nicely appointed furnished suites, nicely appointed accommodations. (Have you ever heard of a cozy cottage described as nicely appointed? What about a chandelier-filled banquet room with federal detailing and period antiques?)
Surely you begin to get the picture. The well-appointed space is one that is generically appealing or at the very least, will not offend. A more proper definition might explain that its lighting, carpeting, and general arrangement of furnishings are neatly accomplished and overall, attractive.
While nicely appointed is, well… nice… I much prefer a place with pizzazz, personalization, not to mention… chutzpah. Not that I'm a fan of decorating with gnomes, mind you, but at least it tells me something about who you are and what you like, and probably, that you enjoy your humor!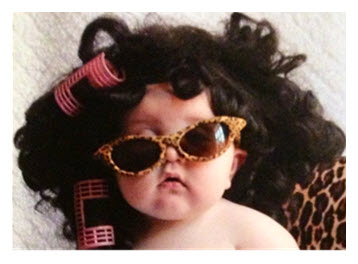 As it is (after all) the morning after – the morning after a holiday when you may be shopping (and I'm following my own Stop Stressing Advice), I thought I would share a few images that wouldn't generally qualify as "nicely appointed."
Instead, two from my Thanksgiving (make of them what you wish), and a few others from a very quick, very pleasant stay some months back in the City of Brotherly Love.
There, on a brief business trip, I was treated to a beautiful, well-known hotel. And the lobby décor?
Great fun! It was elegant, whimsical, and right up my modernist-contrasted-with-traditional alley. The hotel, in case you're wondering, is the Radisson Blu Warwick in Philadelphia.
Gorgeous. Comfortable. Fantastic location.  
Forgive my less than adequate photography, everything was quickly snapped on my smartphone as I was dashing out to meetings.
But don't you love love love the playful, graphic quality of writing on the walls combined with the brilliantly colored upholstery? Isn't the ambiance delightful?
Quality interiors make me feel energized and upbeat. Don't they do the same for you?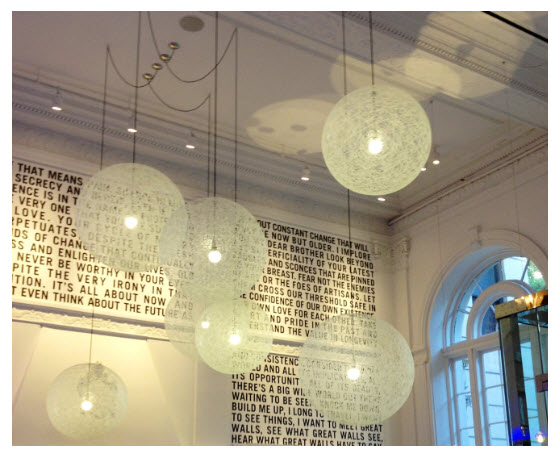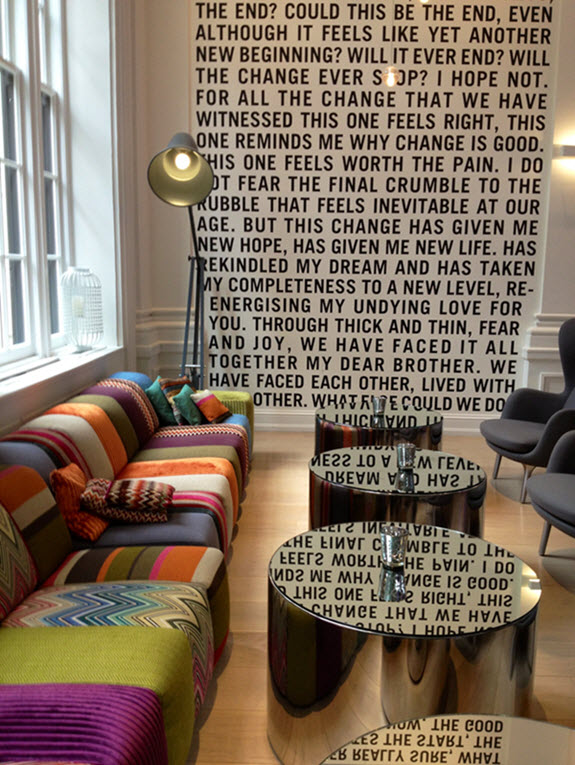 As you can see, my interiors look nothing like this scrumptious lobby. My simple setting (below), similar even when there are more gathered around, is comprised of our well-worn kitchen table and a mix of chairs. We have no formal dining room, and we don't miss it. Everyone hangs out in the kitchen anyway, right?
This year was all about no muss, no fuss, and no stress. Nothing fancy, not even my serving style. But everything… so good.
Enjoy these quick pics. Rest. Eat leftovers.
Call a far-off friend and catch up.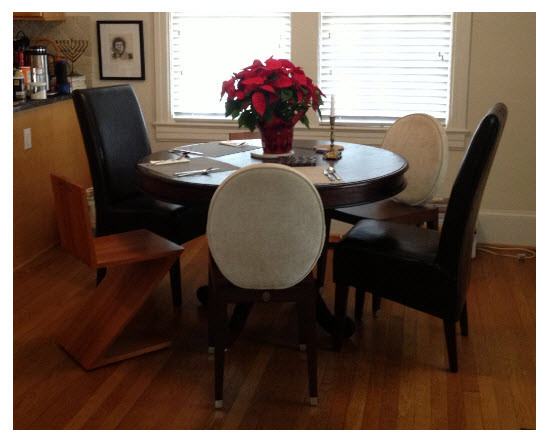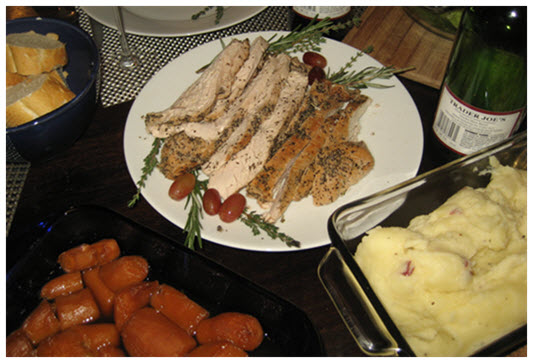 On a final note – My thumbs up to Whole Foods for their superb herb-roasted turkey, already cooked, that I only had to warm in the oven. Theoretically their serving size was to feed four, but I would say "feeds eight" is closer to the reality.
We also enjoyed their sides of creamed mashed potatoes (delicious) and cranberry-orange sauce (exceptional – with a hint of ginger). We added candied yams (made by yours truly; not exactly difficult), salad, and French bread.
Eh oui – there were biscotti for dessert, accompanied by strong black coffee and French films on Youtube.
Care to share your holiday fare? Or are you headed out to shop until you drop?

Image of baby girl in curlers, photograph of a greeting card, cropped.
You May Also Enjoy