Joan Rivers, legendary comedienne, died on Thursday, September 4, 2014. She was 81 years young.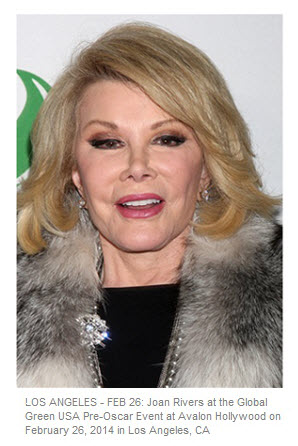 Millions are mourning the passing of this trailblazing woman who kept so many of us laughing for so many years. And since hearing the news, I find myself deeply affected for a number of reasons.
Naturally, as we grow older, we tend to shift our views on age as we realize the ways in which we remain unchanged inside, though our bodies reflect the passage of time. "Old" becomes a moving target.
81 no longer seems over-the-hill to me, and certainly not in the case of the razor-sharp and energetic Joan Rivers.
Frankly, Joan Rivers has always struck me as a powerhouse – a woman who refused to recede from the world when it was expected. She picked herself up after the devastating suicide of her husband, she reinvented her career at an age when many are tempted to surrender, and she said what she thought (however controversial).
She was wildly talented. She never failed to make me laugh. She was formidable.
It is the "formidable" quality that makes death difficult to accept, and more so when it comes with no warning. And here is the other reason that I am affected. I am reminded of my own formidable mother who passed away in her late seventies. All of us who knew her were convinced she would live (noisily) to 100. Instead, she was "there" one day – in all her prickly glory – and gone the next, quietly. There was no preparation, no time for goodbyes much less amends. In the wake of that loss, I was painfully aware of life's ultimate fragility and our tenuous relationship with time.
Each and every day matters.
Beyond enjoying Joan Rivers' humor – outrageous, self-deprecating – it is the relationship with her daughter, Melissa, that has also long held my attention. In particular, I watched their reality series with great interest, frequently channeling my mother and myself, while marveling that this famous duo had managed to mend fences that had been broken years before. That they loved each other enormously was evident. What they achieved, though likely a work in progress, is the necessary respect for boundaries, something my mother could never grasp.
Relationships are often about boundaries – knowing just how close to get without overstepping. Mothers in particular may struggle with where to draw the line; mothers and daughters especially.
Certainly, millions of people who never knew this remarkable woman personally will grieve her loss. In the past few weeks, we have had to say goodbye to luminous performers who touched hearts and gave pleasure: Lauren Bacall on August 12, just shy of 90 years old; Robin Williams, tragically taking his own life at 63, the day before.
Why and how certain larger-than-life individuals insinuate themselves in our lives has much to do with our personal stories. In Joan and Melissa, I see my mother and myself. A vein is opened. I am saddened for those who knew Joan Rivers, and for her family. I am saddened for myself, revisiting my own loss.
I especially like this profile of Joan Rivers on NPR. You may, too.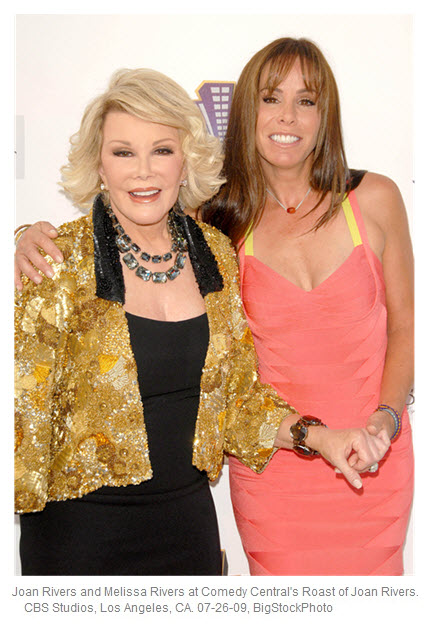 Images of Joan and Melissa Rivers, BigStockPhoto. Joan Rivers at the Global Green USA Pre-Oscar Event at Avalon Hollywood on February 26, 2014 in Los Angeles, CA; Joan Rivers and Melissa Rivers at Comedy Central's Roast of Joan Rivers. CBS Studios, Los Angeles, CA. 07-26-09.
You May Also Enjoy