It doesn't matter who my father was; it matters who I remember he was.
– Anne Sexton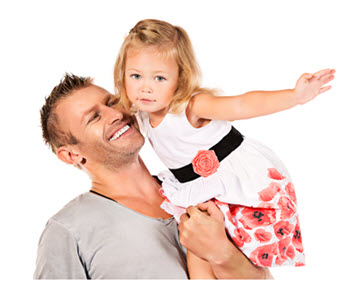 I came across the above quote by a Pulitzer Prize-winning American writer and poet, and I beg to differ, with all due respect.
It does matter who my father was. I've spent many years wondering who he was. Since my dad didn't live to see my 11th birthday, my memories of him are limited, as not many 10-year old girls see their father as anything other than a superhero.
I remember my dad as the ultimate back-scratcher, breakfast cooker, bug squisher and my biggest fan. He was my bedtime story-reading, tune-whistling, bow-tie wearing, cartoon-watching dad. He was my surprise-puppy-hiding, firefly-catching, funny-voice-talking goofy dad. He was my riddle-telling, church-going, Hungarian-speaking, clock-collecting, silly song-singing dad.
That's about the extent of my memories of the man who was my father. And for many years I was content to remember him that way, through the eyes of a very young girl. But as I grew older, I longed to know more about him as a person, beyond my child's view of him. I never even experienced rebellious teenage years with him. (Not that I was all that rebellious.) But to me, my dad was super-human, perfect, and unmatched. That is how his memory lives on in me forever.
To remember him at all, I have to go back in time to being 10 years old – that's all I have to go on. People have told me over the years that he was a very good man. Usually described as the "life of the party", his sense of humor is often recalled as people talk about him, as well as his genuine love and regard for other people. Some most remember his unwavering Catholic faith, and family members simply tell me that I was the apple of his eye.
I don't know how true the stories are about my father that people have told me over the years. But I hope that they are mostly the truth, because it is comforting to hear that the man I naturally idolized and viewed as one of the greatest people in the world, was also special to his friends, colleagues, and fellow parishioners.
Hopefully, people didn't just say nice things about my dad out of pity or sympathy. I'd like to think that the sentiments are sincere, and the memories shared are real.
Today, because my dad's been gone for so long, it's not very often that I'm with people who knew him very well, if at all. But, occasionally when I run into an old neighbor or someone from our church, they'll talk about my dad and how he touched their lives in some way. And I can't begin to describe in words how much I appreciate it. Those memories shared with me provide an invaluable, otherwise impossible glimpse into an important part of me that was abruptly taken from me over 30 years ago.
I was unable to know my father as a "regular person", as most people eventually get to know their parents from an adult perspective. Losing my dad while I was still a child left so many unanswered questions not only about who he was, but also who I am and my background. When others filled in some of those blanks with stories and memories of my father, it helped me to feel that much closer to him, even though it has been decades since he has been with us.
So I would have to add one caveat to Ms. Sexton's statement that especially applies to those of us who lost a parent when we were children:
"It doesn't matter who my father was; it matters who I remember he was… and who others remember he was." — A. C. S.

© Andrea Clement Santiago

Andrea Clement Santiago is a career advice columnist, writer, and communications professional. Her background in medical sales, training, and healthcare recruiting led to her role as the Guide to Health Careers for About.com, an IAC company. She has contributed to books, journals, websites and has made media appearances on television and radio in her capacity as a healthcare career expert. She writes about her experience as an adult orphan on her blog, No Parents No Problem. Learn more about Andrea here. Follow Andrea on Twitter at @AndreaSantiago, or connect with her on LinkedIn.
You May Also Enjoy