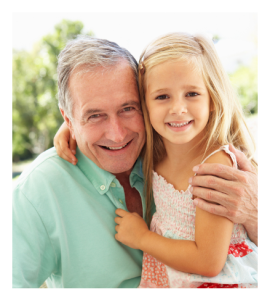 By Andrea Clement Santiago Even after thirty years without him, there are still days when I really wish I had a dad. Over the years there were all the happy milestones I could have shared with my father – such as high school graduation, college graduation, wedding day, holidays, moving into my first home, and more. But the times I most miss having a dad? The tough times. Last month, for example, I packed up my house to move out on my own, after twelve years of marriage. Although I know it's ultimately for the best, it was still one of the most difficult things I've ever done. I couldn't help but feel that gaping hole – that dark empty space where my dad should be in my life. As I boxed up each room and every closet, mostly by myself, I thought, this would be a great time to have a dad – from looking at old photos together to helping with the move, and maybe even crying on his shoulder. Having a dad would have been a welcome comfort during a hard time.
Fatherless Father's Day
As Father's Day approaches, so does another day that makes me really miss having a dad. Then again, after more than thirty Father's Days without him, this is the norm for me, and I've learned to focus on the positives, drawing knowledge from my dad's life, and perhaps even from his death. One of the fortunate aspects of the very short time I had a dad is that my father was older when I was born. He was a later-in-life dad, though not a "second-time-around" situation in his case, having all four children with the same woman. I'm convinced that becoming a dad for the fourth time at age 42, after a nine year break, was life-changing for him. Or at least I feel like it was, based on what I remember and what I've been told about his perspective on having a young child during mid-life, which as it turns out became the end stage of his life.
Parenting Time: Quality vs. Quantity
In the 2000s, men fathering children in their 40s and later is very common. In the 1970s, it wasn't quite as common. It was kind of a big deal, especially to my siblings, ages 17, 15, and 9, who certainly thought another sibling was out of the question. So I think my dad cherished having a new baby around at his age, and if not, he made it feel that way to me. It seemed like, due to his age and stage in life, he had more time and thank goodness he did, because his time was running short. My dad's business was already established. His other kids were older and more independent. He was comfortable and at ease with parenting, after nearly 20 years of experience. People tell me I was the apple of his eye, and like many little girls, I felt that I was, for the ten years we had. Because I came along later in his life, he had time to make me breakfast, to take me to swim meets, to watch cartoons with me, to buy me a puppy, and to build things for me. He had time to teach me to ride a bike, to write me letters at camp, and to read books and the comics to me. I cherish those memories with my later-in-life dad. What we lacked in quantity of life together, I think we compensated for in the quality of our time together, not only because of his age, but also due to the fact that he was a great dad.
Stay Healthy: The Most Important Rule for Dads
As Father's Day approaches, countless articles and posts about dads will make the rounds on the internet via social media. I've already seen one being passed around Facebook entitled "50 Rules for Dads of Daughters", and it's attributed to Michael Mitchell. The list of rules for dads is filled with sweet, poignant wisdom for fathers of girls. While there are many excellent ideas on the list, two things struck me. First, I am fortunate that I had a great dad, even if for a short time. Secondly, one VERY important rule is missing. In fact, if dads fail to obey this rule, they won't be able to do any of the other things on the list. This missing rule is one my dad neglected, which is why I feel so strongly about adding it here. Rule #51 (or, Rule #1) of dads with daughters (and sons too!) should be:
Take care of your health, even if it means seeing a doctor.
Or, in other words, "Do everything within your power to live past your child's 10th birthday."
Take Care of Your Heart
My dad's life was cut short by a fatal heart attack, which I witnessed at the age of ten. Can you imagine? I watched my father's life slip away before my very eyes. Several family members later recalled my dad having mentioned some pain and other signs prior to his death, but he failed to get checked out by a physician. Perhaps my father's death could have been prevented if he had. Each year, about 715,000 Americans suffer a heart attack. Over half of the 600,000 people who die each year in the US of heart disease are men, and I imagine many of them are dads. 1 in 4 of all male deaths is attributed to heart disease, according to the Centers for Disease Control. So, while the list of 50 things to do is wonderful, in order to do all those terrific father-daughter or father-son activities your child is counting on, you must be here. You must stay healthy. Protect your heart to protect your child's. My dad was not alone in his apathy (or anxiety) about his own symptoms. It's well known that men are stubborn about seeing a doctor. In fact, June is Men's Health Month – so dads, you have no excuse NOT to go to the doctor this month. No one can ever replace a dad. Give your family the gift of your life.
© Andrea Clement Santiago
Andrea Clement Santiago is a career advice columnist, writer, and communications professional. She has contributed to books, journals, websites and has made media appearances on television and radio in her capacity as a healthcare career expert. She writes about her experience as an adult orphan on her blog, No Parents No Problem. Learn more about Andrea here. Follow Andrea on Twitter at @AndreaSantiago, or connect with her on LinkedIn.

You May Also Enjoy