I was delighted when I saw a musing on the hand-written letter a few days back.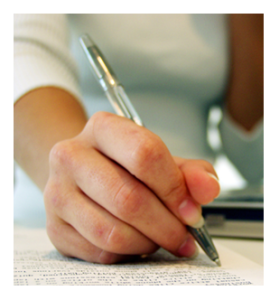 Chez Vicki, one finds all kinds of pleasures in which to indulge, but I was especially pleased to be reminded of the qualities of the newsy, spare, or romantic missives we take the time to pen.
When is the last time you sat down with your Bic or Waterman between your fingers, and allowed the ball point or fountain tip to flow, enjoying the movement of your arm and possibly, the ink on your thumb and index?
I used to be an avid and enthusiastic letter writer – letters, not emails. I used note cards and pretty stationery, and no doubt my energy or humeur could be read not only in my cursive but in the choice of papers.
Letters and Cards are Tangible
I have cards and letters written by my mother to me over the years, and some that I wrote to her as a teen when I was living in France, which she kept. All are remarkably poignant reminders of her youth – and my own – as well as the many challenges we faced in our relationship. As I'm now the age she was when she wrote some of those letters, the contrasts and similarities in our lives are illuminating.
I remember viewing letters exchanged between my maternal grandparents, meticulously penned during World War II. I also have a small stash of love letters from someone now gone, and recently I found a short letter from 15 years ago, written by a great aunt whom I adored.
I couldn't be more appreciative of these words on their slightly stained and yellowed pages. They've become treasured objects, tangible connections to those I've loved.
Is Letter Writing a Lost Art?
For years I wrote once every month or two – long, chatty letters – to a very dear college friend. After some decades of doing so, my efforts dwindled, and eventually came to a halt. She still sends a letter once a year to a selected group of friends, her version of the holiday letter, which she prefers to write at Easter.
It's a pleasure to receive, not only because she's a wonderfully interesting writer and she includes images of the prior year, but there's always a little personal note, which she jots by hand, making the "whole" more of a treasure.
I wonder why we stopped communicating more, though as I say as much, I know the answer.
Time is the culprit. And technology aids and abets our using time as an excuse. Email is more expedient, and Face Time or Skype is more immediate. Still, we lose the ability to cherish the carefully arranged language, the effusive sharing, the hesitant expression of growing affection.
Thank You Notes and Love Letters
I still prefer to write thank you notes by hand, but I admit I've grown lax about doing so. I have no excuse.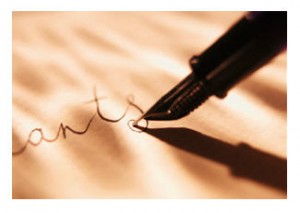 Like most women, I adore receiving a love letter. Then again, the last time I wrote one, myself? Perhaps something abbreviated in a card, on a particular occasion.
Why haven't I done more of this? Has growing older made me lazier, or more circumspect in my "permanent" declarations of love?
That we're all pressed and stressed is clear. That we've shed the habit of writing by hand – at least to those we care for – seems like a loss of something sweet, personal, and to some degree, historical.
I also think of the physical aspects of writing by hand rather than by email or text. For myself, I know that I slow down, my shoulders unknot, I cease hunching over a machine or squinting at a tiny screen. I sit back, I unwind, I feel the relaxing effects as I take my time to compose my thoughts and move my hand across the paper's surface.
Pick Up the Pen and Paper
Vicki's rumination on the art of the letter reminds me again, today, that a hand-written note is very special.
I can't recall the last time I wrote a letter. What about you?
The art of constructing our message, depending on purpose – an introduction on behalf of a friend, a thank you for a gift or special event, a reflection on a milestone moment, a love letter – is a source of ongoing satisfaction. The intended recipient can take pleasure in it for years to come, and we who put pen to paper can savor the process.
You May Also Enjoy