January 13, 1995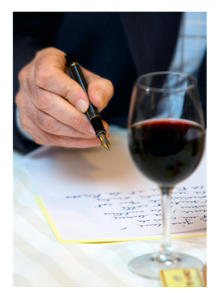 Dear D,
You have a very beautiful family. I truly enjoyed seeing the picture that you sent with your holiday greeting. You look happy and gorgeous as ever.
He calls me beautiful in New York, in San Francisco, in Philadelphia, in Boston. 
When he tells me he loves the way I think, I believe at once. Then, I begin to believe the rest. The mind is adaptive; flesh is fickle.

It's interesting that you ended up with three handsome men in your life. You didn't see yourself with a family and knowing your mother even a little bit, I understood. But you see what the future had waiting for you.
She rises in a rage or inexplicably preoccupied. She vacillates between chattering incessantly and the most frightening silence. It is mystifying, so I do what I can.
I take to closing myself in with books and writing, or leaving the house to walk for miles.

Enjoy every minute no matter how hectic things seem to be because they grow up so fast. I always enjoyed children in their terrible two's and you are dealing with a pair of them in that age more or less but I know you'll manage just fine. Maybe I like that age because I never really got much beyond it myself.
He is the least childish man I have ever encountered and remarkable in his introspection.

My mother dislikes him and it is mutual. I consider this an encouraging sign.
Things are going well in New York except for two feet of snow that we have on the ground outside the city. This is weather that makes you count the days to spring and the first flowers.
He sends arrangements to my office throughout our courtship: birds of paradise, phalaenopsis, periwinkle delphinium, long stem roses delivered in a large box.
At times the arrivals are so lavish that I'm embarrassed in front of my colleagues, though this is the 80s and luxury is in vogue.

It may be winter but I have a nice tan. I can imagine you're envious when I tell you that. I just returned from a vacation in Martinique and believe it or not I can't keep up the pace that I worked in the past. Now I need to take reel time. Yes you read that right – reel time off to go fishing and snorkeling and sailing. Clothing optional beaches make it more fun I might add.
He tells me for years of these indulgences which are never enough to undo the agita, never enough to undo the remorse he feels about the divorce, never enough to entice me to accompany him.

Though I love him and he wants to marry, I cannot bring myself to say yes.

Anyway, it was a restful vacation all in all. I need it after the long periods of negotiations. I really need it in these cold months. I know you love the heat, too. I hope your winter has not been too terrible.
There are stormy breakups and passionate makeups. There are weeks of nothing and then a flurry of phone messages. Letters soften my resolve with the angular elbow of his cursive y. Some of our pauses are lengthy and I wonder if there are other women.

I do not mention the appearance of Jean-Marc. As that river begins to carry me downstream, I know this end is imminent.

My younger daughter is now 18 and I find it hard to believe sometimes. She's in school not more than an hour away from where you live I think. She has a boyfriend, a nice Jewish guy, and she's too young for anything serious but there's no telling her that. She's so grown up now and in charge of her own life, but we're closer than we've ever been. Sometimes it makes me feel old but most of the time it just keeps me warm.
My older daughter will be a teacher in a 6-week program this summer and guess where. Wellesley College. I knew you would like that. It's strange how life's turns bring us together and pull us apart and then our children take up paths in proximity to ours, or at least where we might have been.
He speaks of his children when we park on neutral territory. He will not admit this is the punctuation between us that can never be sorted out.
At the time I only sense the weight of his issues. I know I am not equipped to understand.
The new business is thriving, and while the first two years were a struggle the economy is strong and the year is starting off well. It's not like the 80s when revenues were rolling in so easily, but I continue to be optimistic and think less about the possibilities of ending up homeless.
He is a builder of trusts, a maker of money, a supporter of teams. I wonder if it is the father in him that wishes for engagement and feedback. Perhaps it is the boy who grew up poor.
You're smiling at that I hope. Our beginnings never desert us entirely.
Our beginning is at Laguardia, and another in San Francisco. There is a third and then a fourth.
Our ending takes place in parts, while he eventually returns to his earliest commitments to reconstruct them with due diligence.

If you're wondering, I'm very healthy. I'm feeling great about that. All in all I'm happy and it looks like you are, too. Some things work out for the best.
There is a scar and he dismisses it, even while we count the years. When he reaches five, we let it go. Five is good, ten will be better.

Even if I don't write or call, and though we haven't seen each other in ages, I think of you often.
I bury him once in that long period in the 80s. He brings us back briefly. I bury him a second time when I marry and move away. He remains a friend for two decades, then passes, unobtrusively.
I do not feel his departure, perhaps because he visits me in dream.

Fondly.