The Ugly Selfie. Why not?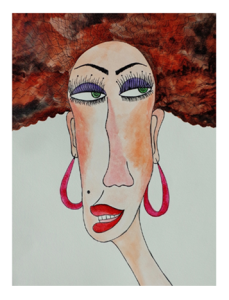 Welcome to the Selfie Nation, where it's hardly surprising that teenagers are contorting their mouths, wrinkling their brows, and sending their undeniably un-pretty visuals to each other through their phones.
The notion of "pretty-ugly" isn't new. We have only to look at our fashion models to see the scowling or stony gaze. Then there's the bizarre styling of makeup and hair to present a theoretically artistic juxtaposition of high fashion attire with an indifferent (or creepy) facial mask.
Jessica Bennett, writing in the New York Times, describes a trend in which "young women are rebelling against the pressure to be pretty by exaggerating odd facial expressions."
To that, I say… maybe yes, maybe no – and let's consider if we've made any progress at all in expectations for our young girls and the relative importance of their appearance.
Women, Selfies, and Self-Image
Do our girls and women care what they look like? Naturally. So do our adolescent boys and our men, though by adulthood, with less concern than their female counterparts.
Do selfies allow us to have a little fun with friends – and also reassure ourselves that we're "acceptable" in a visually judgmental world? That, too. And I daresay, a few good selfies – like any string of reasonably attractive photographs – may bring a sigh of relief to those women who are more preoccupied with appearance than others, or for whom self-image is shakier at a given point in time.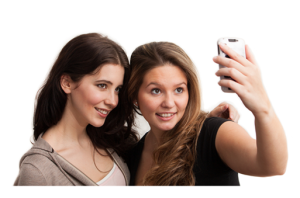 Still, I don't personally put enormous store in a teenage trend of this nature. And while I would hardly say that my sons and their adolescent antics with friends constitute "data," they, too, made faces into their phones and before that, their webcams. They posted what most parents might consider ridiculous pictures to Facebook or Tumblr, which surely wasn't a protest against expectations to be "pretty." Rather, it's an extension of childhood and an exploration of the rapidly changing physical self that occurs between 12 and 16.
Besides – what kid doesn't love to make a goofy face in a photograph, especially if it garners him or her a little attention?
Photoshop Perfection Fatigue: If Only…
In "With Some Selfies, the Uglier the Better," Ms. Bennett offers a quote from Pamela Grossman, director of visual trends at Getty Images. It is the following:
I think we're collectively rebounding from perfection fatigue… Everyone knows what Photoshop is now… And we're gravitating toward people, images and experiences that we deem to be authentic, unvarnished and real.
Ms. Bennett cites other sources, some of which are compelling, but she contrasts "expressiveness" or even the use of funny faces with "prettiness." This comparison is apples to oranges. We may indeed resist seeing certain emotions on our girls and women, but that's not the same phenomenon as requiring them to be pretty – or more challenging still – beautiful.
May we turn to a few statistics to remind ourselves of the lengths to which young women are going to achieve "improvements" in attractiveness? No girl or woman that I know would intentionally wish to be the ugly duckling – and remain so. Case in point: some 219,000 cosmetic surgeries were performed in the 13 to 19 age group, according to the American Society of Plastic Surgeons (ASPS), in 2010.* There were some 236,000 procedures in this same age group in 2012.*
Ms. Bennett also reminds us that:
… [the] beauty ideal can still be crippling. It's been estimated that girls 11 to 14 are subjected to some 500 advertisements a day… staring at air-brushed images for just one to three minutes can have a negative impact on girls' self-esteem.
Media Images: Reflections on Reflections
If we consider the fact that media reflects society and also exerts its influence upon it, let's look even briefly at stock art we're all accustomed to seeing online.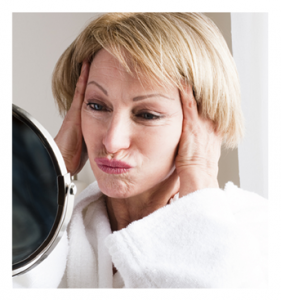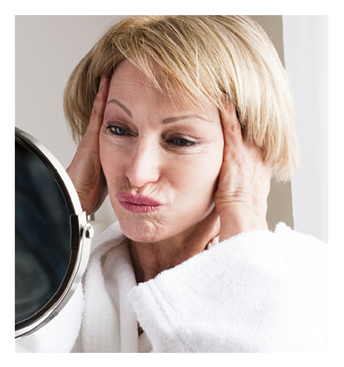 Returning to the Getty Image reference, I executed a quick little experiment of my own – again, hardly scientific. Using BigStockPhoto, my stock art supplier, I searched on "ugly woman." The results returned 1459 images, which I scanned quickly. Generally speaking, these were pretty women snarling, screaming, or wearing odd makeup. In addition, there were zombies, older women (still attractive), fat women (looking sad), and a variety of skin conditions isolated on parts of the body.
Then I searched on "pretty woman," which yields 1,257,545 results – 862 times more images.
Did you get that? For every one so-called "ugly woman" image, there are 862 "pretty woman" images.
Given that the images of ugly women are generally comprised of attractive women making faces, and the number of pretty women dwarfs these faux-uglies, can we really conclude that a backlash is brewing toward the requirement for women to be physically attractive? And what are we to make of the "fat" as ugly and "older" as ugly – except the obvious?
Sexy Selfie, Playful Pushback
I am not claiming that my sons (and friends) scrunching their foreheads and jutting out their chins offers "data." Nor does my quick search on photo images. And, I may even agree – hopefully – as Ms. Bennett writes:
… the ugly selfie, then, is a kind of playful slice of authenticity in an age where everything seems airbrushed to perfection.
If this is pushback by teen girls against the "sexy selfie," then I'm all for it, as we grow inured to selfies of all sorts. And we expect our adolescents to seek ways to understand how the world perceives them; this is no doubt preferable to primping and Photoshopping, not to mention carelessly flashing body parts.
But sadly, I remain unconvinced that the pressure is off our women or girls to live within a certain set of appearance norms, whatever their age may be. Certainly, our online world and smartphones offer unprecedented avenues for comparison – and distortion of self-image – both literal and psychological. Would that it were true that a female whose face is "expressive" is not perceived as ugly, and that we were genuinely wearying of the unattainable and falsified views of female perfection as highly prized and potentially necessary.


*The originating source, statistics from the American Society for Plastic Surgery, breaks down procedures by gender and by age range separately, so we do not know the percentage by gender for each age group.  
You May Also Enjoy