By Cathy Meyer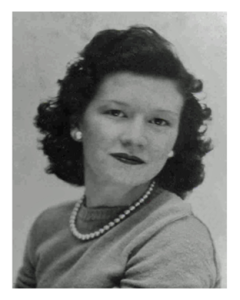 My childhood was spent with a mother who was a full tank of fun. I remember many, many splendid afternoons on the beach, children running with sand in their cracks, while she and her friends laughed and talked in whispered tones. My sister and I often took impromptu shopping sprees with a mother who was perfectly coiffed, always in cashmere and pearls, with no limits when it came to "dolling up" her girls.
We were, after all, a reflection of her. And "what would people think" if we didn't reflect well?
I love my mother deeply – almost as much as she loves herself. And I have no doubt that she loves me, conditionally.
You see, it is my mother's nature to nurture her own needs above the needs of all others, her children included. As a young girl I would watch her and long to be just like her. I can close my eyes and see her clearly as she was – raven hair, pale skin that glowed with a hint of pink, her head thrown back in laughter. She was striking in her beauty and her command of everyone's attention.
As an adult, like Sidda from "Divine Secrets of the Ya Ya Sisterhood," I spent a lot of time "trying to add up the thousands of dollars I spent on trying to figure out what the hell I'd done wrong." Because nothing is more destructive to a young girl's self-esteem than always coming up short in the eyes of a beautiful mother, especially one who believes she is the center of the universe.
Little has changed.
My mother and I had a brief encounter the other day – she wanted to go to a department store because there was a Dooney & Bourke purse she planned to purchase as a Christmas gift for my sister. So we went. I catch myself with her in situations – she does things that irritate me – and every negative feeling I've ever had about her surfaces. And, in most cases, negative feelings about myself, too. It's her way of putting me in my place.
On Christmas morning, I watched my sister unwrap her $300 Dooney & Bourke, while I unwrapped my $90 Nine West – a not so subtle message from my mother that I'm of less value. It's a message I no longer buy into.
The little girl in me sneaks out of that corner where I keep her tucked away and she wants to say, "I'm as good, I'm as worthy, I'm of value, too." I soothe the little girl, tuck her away again, and smile at how well I've learned to mother and nurture myself. Something I would never have learned to do if not for the mother who failed to do that for me.
I am of two minds when it comes to my relationship with my mother. I am clear on growing up not being loved well enough and not being nurtured. But she's elderly now, our roles have reversed, and I want to be sure that I love her well enough and that I'm able to give her what she wasn't able to give me.
I'm not sure if I do it for her or for myself.
Does she appreciate my efforts?
I think she does, but she's very aware of my feelings about her and we have a tendency to keep each other at arm's length. Though I live two miles away from her, I see her every 10 days because I have no faith or trust in her to do what's right for me – so I keep her emotionally separate from my life. To bring her too close feels dangerous.
I don't owe my mother anything. She has been intrusive and overbearing in her relationship with my children, and she does it in the name of love for them when in reality it is all about her. She played roles during and after my divorce that devastated me emotionally and exacerbated the conflict between my ex and me.
My mother has never missed an opportunity to show me that I'm discounted goods in her eyes. It's who she is. It's how she relates to me.
Today, being with my mother, I can say I feel both love and resentment. I want her to be happy and healthy, but my relationship with her is one that isn't based on any kind of expectations. If I ever needed anything, it wouldn't occur to me to call her because she wouldn't have anything to give.  And if she did – she would have strings attached.
No unconditional love. Not anything like it. What do you think that does to a child?
When my ex-husband and I were first dating and I would call him on the phone, I used to say "It's just Cathy." He asked me once, "Why do you introduce yourself as "just" so-and-so?" I realized that it was the result of my mother's attitude toward me… "just Cathy."
It was diminishing.
My husband said: "Don't ever refer to yourself as "just Cathy" again." It's a lesson I paid attention to. I had never known anyone to love me and nurture me the way he did.
After decades of working hard to change my standing in her eyes, I no longer covet what my mother doesn't have to give me. I no longer define myself by her reaction to me or actions toward me. When it comes to her, I know where I stand and it's a secure feeling to have reached this point.
It may not have been her intent, but I learned from my mother how to stand up for myself, to take care of my own needs and be reasonable in my expectations of others. Her most valuable lesson to me was how to mother my own children – how to love without conditions, to encourage, to influence, to feed their self-esteem and let them know they are the most valuable people in my life.
As hurtful and irritating and aggravating as she can be, I have moments when I look across a room and see her, and feel such tenderness. Once 5'8" tall, she is now a frail 5'4" and I want to wrap her up, envelop her, and protect her. I want to keep her happy and safe. I still see the woman I once so longed to be, though the raven hair has been replaced by thinning gray strands, the pink pearly cheeks now have age spots, and there are no more sunny afternoons on the beach. She is still very easy to adore.
She is who she is. If not for who she is, I would not be who I am. As it turns out, in the end my mother did play a role in teaching me to love and value myself, even if we took a rather circuitous route getting here.
© Cathy Meyer

Cathy Meyer is a Master Certified Relationship Coach, certified Marriage Educator, and the Founding Editor of DivorcedMoms.com. She is also the About.com Expert to Divorce Support where she covers all aspects of the divorce process, and she blogs for the Divorce vertical of The Huffington Post. Before turning to writing and editing as a career, Cathy specialized in consulting with and educating/coaching clients before, during and after divorce, and facilitating seminars and workshops for couples who are serious about building a healthy relationship. You can learn more at CathyWMeyer.com.

Part 10 in a series on mother-daughter relationships.

You May Also Enjoy