By Rudri Patel
You cannot tell anyone. His disease. His instructions.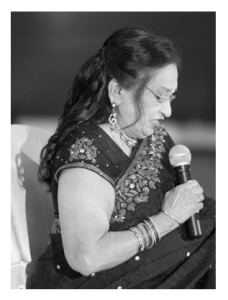 For almost five years, my father mandated that we stay silent about the cancer that took his life. But this story is not about him. It is about my mother.
My mother became a prisoner of his secret. As much as I understood my father's desire to exact a small piece of control over his illness – her voice, her needs, her happiness faded, as we pressed mute on her story. For the duration of his disease, my mother took on multiple roles: wife, caregiver, nurse, and confidante. She never missed an appointment to the oncologist or a hospital stay or a trip to the lab for "routine" blood work. Always by his side, her concerns became litter on the road. No one wanted to pick them up because his needs took precedence. She complied with the unwritten rules.
How could she talk about her fears and sadness when he was the one who was dying?
I knew that she suffered. In random moments – in the line at the grocery store, in the middle of the waiting room, and in our living room – she shed tears when my father slept or could not hear her. I witnessed her grief and in my mind, I saw myself extending my hands to comfort her. But as she cried, I stood back and only said, "We will get through it, Mom."
Inside, my guts were churning and I was yelling, "Walk over and put your arms around her." Instead, I stared at the wall, paralyzed with the collapse of both of my parents.
I wondered if my father ever realized the toll his disease was taking on my mother. Did he notice how she experienced her own depression? Often times when I visited, I caught her spending hours in front of the television. It was her only escape, yet this single act grated on my father. He thought television was mindless and annoying. I could hear him from his room, his voice raised: "Turn the television off. That's enough."
Without hesitation, my mother reached for the remote and did as she was told. My father denied her the only coping mechanism she had to deal with his disease.
My mother was accustomed to limited choices. Her East Indian background had decided her destiny: She grew up in a conservative household in Chembur, India, "choices" did not appear in her vocabulary, and it was her own father who determined her schooling and selected the man she married. At age twenty-one my mother entered an arranged marriage and spent the next forty-eight years living in her husband's home and in accordance with his opinions.
For the duration of his illness, my mother kept her emotions close to her chest. And then it happened. My father died. Although she had ample warning of what was to come, the bullet from wife to widow was quick. For almost two years after my father's passing, my mother cried the same way – in the quiet and in the dark. Although the secret of his illness was no longer a concern, my mother struggled to find a place for her voice and her grief.
How would my mother begin again?
****
I am in my office sorting through some paperwork and I hear my cell phone ring. My mom is calling. I pick up and she begins with this:
"Rudri, I went to the local YMCA and saw something I'd never seen. Line dancing."
I laugh at her words.
"So Mom, did you dance too?" I ask her with a smile on my face.
"Oh, no. I didn't dance, but it was so much fun to watch."
We end our conversation and tears fall for my mother. I feel a jolt of pride. I contemplate the breakthroughs she's made and for the first time, I see my mother as a woman with emotions, opinions, and the ability to make choices. She exhibits wonder at her discoveries as she looks at life through a lens that she can call her own.
Her path hasn't been easy. For two years after my father's death, she bounced from my home in Arizona to my sister's apartment in Dallas. Desperately trying to find her footing, I sensed she wasn't completely happy with either option. She started talking about living on her own and I dismissed her intentions. I couldn't imagine it, but she's proved me wrong in so many ways.
For the last eighteen months, she's lived alone in her apartment. This may not seem like an extraordinary feat, but I doubt she ever contemplated a life without my father in it. And I didn't either.
Each day, when I speak with her, I hear the voice of a different woman, one who shares the rhythm of her new life with a broader circle than ever before. Just last month she invited new friends over for coffee and cake. Her world had always been exclusively Indian, but now she has friends that span the globe, from Brazil to Japan. When I hear her voice, the excitement I haven't heard for years is remarkable.
I am certain there are moments when my mother misses my father. But what I also know is that my mother's taught me not to dwell on what is not. She's maneuvering a terrain not as a widow, but as a woman with a new voice. The one that says she is strong, independent, and able to make decisions.
Her voice. Her life. Sometimes she stumbles, but at last, she climbed out of his secret.


© Rudri Patel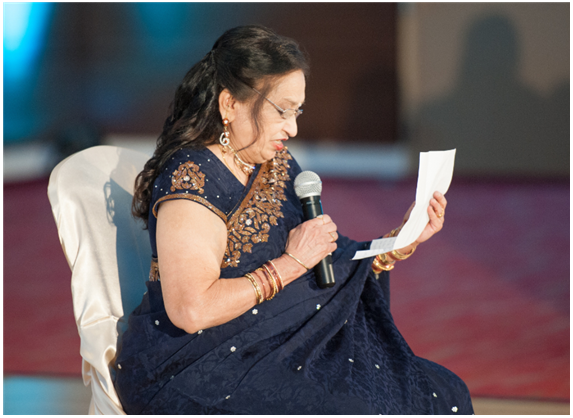 Rudri Bhatt Patel is a former lawyer turned writer. She spends her days balancing motherhood and writing about culture, grief, and parenting. She is a freelance writer for parenting and cultural sites and is also at work on a memoir about grief and life's ordinary graces.  You can find more of her musings on her blog, Being Rudri.
Read more from the Mother Daughter Series here.

You May Also Enjoy