I've been invited to a fantasy holiday cocktail party. Naturally, I haven't a thing to wear!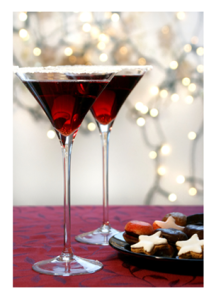 But wait. I've been invited to imagine a fantasy holiday cocktail party, complete with the drinks, the décor, and what to slip into as I welcome my guests, who may number as few as one other person (for a cozy evening), or as many as 200 should I have a mind to rent out a ballroom…
As the former is far more likely a scenario than the latter, I've perused my sources and considered my resources. I've rifled through photos and smiled nostalgically at a few holiday gatherings I've planned in the past and very much enjoyed. I considered whether to go casual or dressy, and I've noticed how consistently I wear black, yet adore surrounding myself in red!
These days, I'd be in the mood for an intimate gathering – six or eight at most, and it goes without saying that they would be fascinating "global" types, with stories to share and never any need to be anyone but exactly who they are.
And must I add that if I am entertaining as part of a duo, I do not adhere to the notion that there can only be couples?
Send me your poets, your artists, your philosophers… Great company and putting them at ease are all that's required to make for a lovely evening.
Holiday Cocktails
As for the drinks, I'd go for classics – variations on champagne, eggnog for those who wish to go traditional, perhaps a little mulled cider. I found some wonderful suggestions here, in these holiday cocktail recipes from the Beauty Bean. (Guess which drinks I'm drawn to. Yes, they're red! And may I say that the recipe for Red Velvet Slipper martinis sounds divine?)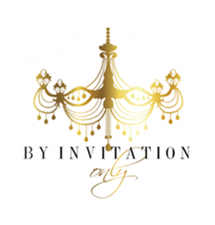 On the subject of what to nibble on while sipping your cocktail, as is typical around my home, we mix "high and low" along with old and new, and other juxtapositions.
I'd serve a few savories – bite size hors d'oeuvres (all kinds), along with homemade cookies and petits fours. Strange mix? Maybe!
Since we're talking fantasy, might I invite the Top Chefs to stop by and whip up all of the above?
I am just as likely to mix newish blue and white plates with old china, and my grandmother's small silver serving trays with simple white dishes from Crate & Barrel.
Incidentally, while this is a Christmas Cocktail By Invitation Only, should friends drop by, they would of course be more than welcome.
Holiday Decorating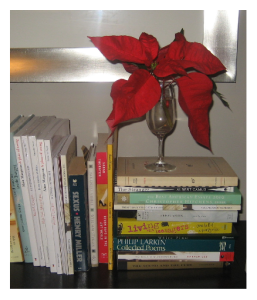 At holiday time I tend to keep things simple. I love to deck the mantel of the fireplace with greenery that grows in my backyard, add a few pine cones (also from the backyard), and bright, cascading red berries picked from bushes that grow along the side of the house.
I add a few candles, some of my favorite objects, always with patina or texture – eh voilà – and with small poinsettias here and there, the occasional stem of red added where it is unexpected, a favorite bowl filled with old ornaments, and I'm done!
A little color, a little sparkle, and the beauty of nature.
Yes, there's a tree.
Yes, there have been known to be a few shoes on the tree, though rarely under it…
Holiday Cocktail Party Dresses? Or Jeans?
I dress by mood, by circumstance, and from time to time, I dress from the shoes up! I decide on the pumps, the peep-toes, the strappy sandals… and then I take it from there.
Naturally, black is involved! (Must I really clarify that at least half my wardrobe is black, perhaps more?)
But I may go for great shoes, jeans, and some sort of black fitted top and funky earrings. Or, I may go for a dressier look.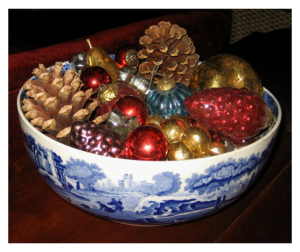 Now seeing as we're in fantasy land here, could I ignore the irritation of a sprained ankle and the reduced options when one comes in at a hair's breath under five feet tall?
I wouldn't say no to a few holiday dresses from Nordstrom. (Hello? 6 petite, anyone, and a four inch heel, preferably a Manolo or a Choo?)
Fantasy, After All
It's fantasy, right?
In that case…
Of course I went in search of the perfect LBD, the Little Black Dress. It's harder to find than you would think!
I paged through some LBD options at Nordstrom – a few simple looks from St. John were appealing – and then I played for awhile among the more glittering gowns.
This number from Kay Unger? When you look at the detailing up close, it's not too much. I love the steely gray – flattering on so many skin tones and hair colors. The three quarter length sleeves are very appealing, and the high neck in front still allows a bit of collar bone to show, which is a very pretty area on most women – and then you turn…
Oh, the back. Quelle belle surprise!
Sexy, but not too much. Of course, this would be a more likely candidate were it black… Now, now. You can never have too many black dresses. And I would also have more occasion to wear it shorter, as I typically never put on anything long. Might I have this knee length please?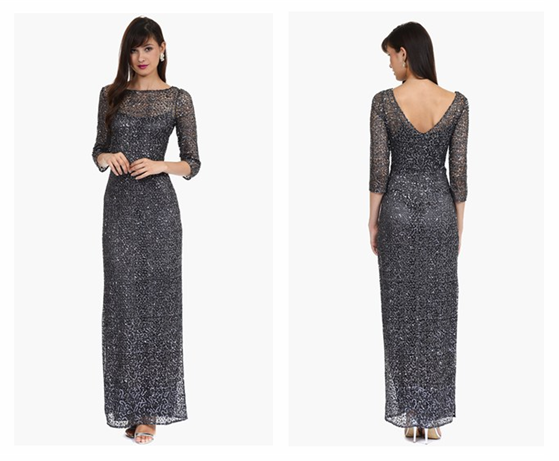 In Real Life
Naturally, I like my fantasy stirred and my reality, well… these days, I'll take that reality unshaken, thank you.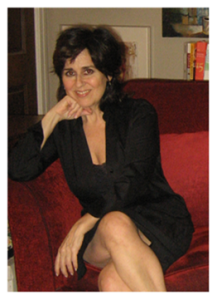 The fact is, I'm not the gown type and I am the little black dress type. Here I am, in one of my separates versions of the little black dress, and more along the lines of how I would actually put myself together for the sort of holiday gathering I would throw or attend.
I'm wearing a Tahari pencil skirt I've had for years, a lacy fitted top, and a silky black button down shirt, which I'm wearing as a jacket. My variations include pencil skirts with a bit of sparkle or camisole tops with a sequined detail or two. Generally, I believe less is more, and this is particularly true when you are small in stature.
Somehow, the classic nature of these separates calls for equally classic accessories. Small pearl drop earrings, and I should add a double strand at the neck… More pearls, but little else.
Normally I would  be wearing black hose with a black heel of any sort. (Sprained ankle however, remember?) I would also be tempted to go for an elegant boot, something like the Jimmy Choo high heel "Galen" boot. It's absolutely my style, and perfect when you're a petite!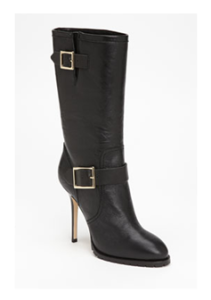 As for appropriate chaussures – as I'm in the mood to choose Choos, how about those stunning cranberry-colored pointy-toe Choos I mentioned recently? They would look lovely with the chair, don't you think? And divine on my little feet.
Santa, are you listening?
Relaxed Guests, Wonderful Party!
As for the guests, I'd want them to feel comfortable sitting on my red chairs, leaning against my red pillows, enjoying their red drinks, enlivened by colorful art and relaxed conversation, and I might end up changing into my jeans as the hour grows late.
We just may find ourselves settling on the rug in front of the hearth, nibbling petits fours and sipping our cocktails, engrossed in a serious game of multilingual scrabble and surrounded by my stacks of books… everywhere.
And should they have enjoyed a bit too much to drive home?
We all know that happens from time to time.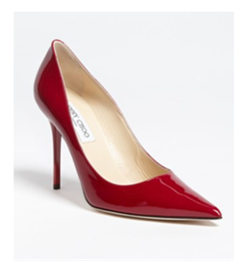 The solution is simple. I'd make room for anyone who needed to stay the night. And there would be plenty of café au lait and bagels in the morning!
Your holiday fantasy gathering?

Please join the cocktail party, this month's "By Invitation Only," here, and whatever and whenever you celebrate seasonal festivities, happy holidays!
Click here for shoes. Click images of boots and gown to access Nordstrom. Thank you, Nordstrom!
You May Also Enjoy