The fact that we have so few examples of adults 50 or over on television is concerning. Or rather, our portrayal of those adults tends toward the unflattering, and even the idiotic.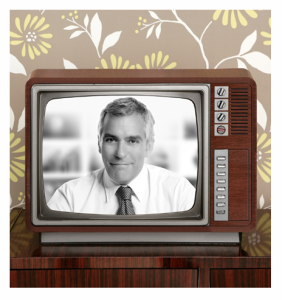 So says this mention of "Television's Problematic Portrayal of Aging" in The New York Times, which caught my eye.
I'm considering the shows I routinely tune into – Mad Men, The Good Wife, Scandal, Downton Abbey – and generally, the "older" adults are not represented as idiots.
I know. These are quality programs, right?
Exactly. And quality makes a difference.
Then again, quality is in the eye of the beholder, or the audience that's putting its feet up on the ottoman hoping to tune in and zone out.
I also recognize that my list includes dramas. Our expectations of comedy (or reality fare) are very different. Still, as I run through the productions that make my list, I give positive reviews to the depiction of adults, regardless of generation.
Mad Men's Middle-Age Magician
Mad Men's characters are young lions in the era of young lions, though plenty of 50-somethings and 60-somethings held positions of power in those days. We do see some of the old guard as appropriate, and the agency's elder statesmen – Burt Cooper, along with its middle-aged magician, the sly Roger Sterling – are anything but unworthy of our attention.
Of course, in 60s terms, Don Draper is bordering on middle-age, now that he's officially over 40. Go figure.
The Good Wife? Good Stuff
As for The Good Wife, most of the characters are in their late twenties to forties, possibly early fifties. To me, they represent a variety of personality types, though all with the sharp minds we expect of attorneys, which you can evaluate any way you'd like.
Ah, but wait. We do have the white haired embarrassment of a partner at Lockhart-Gardener. He is bumbling and sexist. Then again, that makes for some interesting story lines.
The Delights of Scandal
Scandal is about a young and vital D. C. administration. Of course the "bad guy" – Olivia's father – is presumably in his fifties or early sixties, and likewise, the President's adviser, Cyrus. So Scandal passes the Older Idiot test with a thumbs up for its portrayals.
And I dare say that Scandal is a delicious offering on so many levels, that I've come to expect nothing less.
Downton Abbey: Do Period Pieces Serve Up Better Older Characters?
Downton Abbey gets a thumbs up as well, but it's Masterpiece Theater. Would we expect anything but exceptional quality?
Not only do we have Hugh Bonneville and Elizabeth McGovern, but the glorious Maggie Smith as the Dowager Countess is a pleasure to watch, and no one's fool.
But I do wonder, are we more likely to enjoy an intermingling of the generations when watching a period piece, as there was no doubt more intermingling of the generations in other eras?
Age, Stereotypes, and What We Absorb on TV
I can't speak to the many other shows reflected in the Times article. But I find it sad that we cannot mix generations in ways that more closely resemble the reality of our interactions. Sadder still (and I suspect, likely) is the possibility that these shows are reflective of a change in trends – more segmentation by age in the real world and the real workplace.
I suppose we could discuss the chicken and the egg: television is reflecting reality, and equally, reshaping it. I might say the same of film, and can't help but recall Kristin Scott Thomas's remarks about being invisible at 50.
I remain concerned with the vast number of stereotypes we continue to perpetuate. We may have made progress in some areas relative to ethnicity and sexual orientation, but as the Times article suggests, when it comes to age – not so much.

You May Also Enjoy