When an Oscar-nominated actress says she feels invisible, where does that leave the rest of us?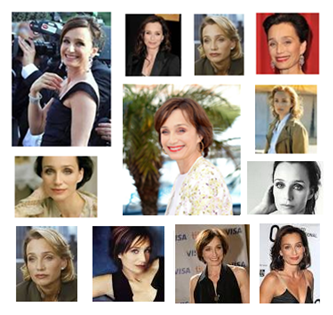 An interesting series of articles quotes Kristin Scott Thomas, one of my favorite screen actors, reflecting on growing older and lamenting the reality of being a 53-year old woman in an industry that worships youth.
And let's not forget, once a leading lady hits her forties, she's likely to be paired with a much older leading man.
A 50-something woman with a love interest of her own approximate age?
Unlikely.
In the role of anything other than a supporting character?
Equally unlikely, certainly for the American movie-going audience.
Mature Women in Film… Invisible?
Where are the roles for the millions of women 50 and over? What few roles there are – don't they go to Streep, Mirren, or Densch? I adore all three, but surely we have room for more! (Did anyone else notice that Jack Nicholson just "retired" at 76? When do women get that option?)
The multiply award-winning, bilingual actress speaks to issues of the "woman of a certain age," and as quoted in The Telegraph (UK) in July 2013, according to Ms. Scott Thomas:
… she had started to feel "invisible" as a result of her age…

"… when you're walking down the street, you get bumped into, people slam doors in your face – they just don't notice you. Somehow, you just vanish. It's a cliché, but men grow in gravitas as they get older, while women just disappear."
In the same interview at the Cannes Film Festival (2013), she notes that her peers seem to look more fresh (no doubt having had a little work done), and the thought of cosmetic surgery has crossed her mind.
Long a fan of Ms. Scott Thomas's films, in both English and French, I find myself repelled at the idea of seeing her extraordinary face – one of the more interesting, versatile, and real – touched in any way by the scalpel or the needle.
But the shiver that runs through you when you feel that invisibility? I get it. And the pressure she feels? I can only begin to imagine. How many women whose lives aren't lived out under public scrutiny are compelled to do everything they can to stay as young in appearance as possible? The hair, the face, the body, the clothing?
Kristin Scott Thomas, Invisible? Rebuttal and Reality
An article that insists that Kristin Scott Thomas is anything but an "invisible woman," You're Not Invisible, Kristin Scott Thomas, You're Best in Class" lays it out:
Now, to you and me, the Four Weddings and a Funeral actress looks peerlessly classy; the epitome of mature soignée elegance…

… we have Jennifer Aniston, 44, having to explain away a tummy tiny enough to fit on Polly Pocket; whippet-slim Gwyneth Paltrow, 44, battling to conquer her outer thigh crisis…

It's a tough old gig being a female celeb these days, and the desperate, tortured need to stay young and beautiful if they want to be loved is horribly, unhealthily infectious. Whether or not we admit it, an awful lot of us are on task 24/7 drawing up a mental inventory – age, dimensions, signs of recent weight gain (hurrah!) or loss (boo!), hair (colour, style, volume) and stylishness – of every other woman in sight…
Hello, "Not Good Enough" Syndrome?
And I repeat – If Kristen Scott Thomas feels invisible, where does that leave the rest of us?
Damned if I'm going to slink away quietly, grow older without a voice, or act as others think I should based on their interpretation of my appearance. Silver-haired, face fading, or otherwise – color me catatonic at the very thought!
You?
You May Also Enjoy