Ah, memories of Saturday Night Live. Classic Saturday Night Live at that. You know. Land shark. Akroyd as Julia Child. Those wonderful snarly weekend updates.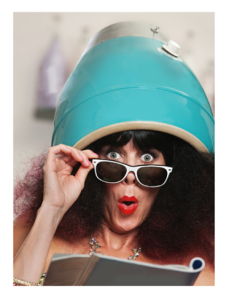 Jane Curtin.
Well, no snarling from yours truly, but I would like to comment on a few things I have encountered on the web, as well as other odds and ends.
And no, there's no relevance to the woman under the retro hair dryer. But don't you love that image?
Ready?
Okay. Great. Here goes.
Item One. Miley Cyrus. Enough Already!
I'm weary of seeing Miley Cyrus plastered all over the media. All those equally tired of twerking and the barely-more-than-teen twerker, please raise your hand. Or, if you must, shake that bootie.
Yes, bootie. I much prefer it over the jiggled ass cheeks, thank you very much.
Item Two. Prepare Your Chuckle.
This cracked me up. Liz Henry wrote a very funny piece at The Broad Side.  Do check it out: "These Tea Party Brats Need a Backpack Leash." You'll laugh, you'll cry, you'll think of cats… Well, you'll remember what raising your toddlers was like.
Item Three. From North of the Border.
Yes, this is along similar lines. In his own inimitable style, Mr. William Quincy Belle also offers us a few thoughts on American Politics in his recent rumination on the shut-down, here. I dare say not only Mr. Belle is shaking his head north of the border… and within these borders as well.
Item Four. Pop Culture Observations and Admissions.
I'm ready for more Downton Abbey. I'm counting down until I can indulge. Must we really wait until January 5, 2014? It's bad enough I've run out of Swedish Wallanders to watch… And Scandal was fabulous the other night. So addictive.
And now a confession. I've only recently become familiar with Say Yes To The Dress. (Where have I been living? Under a rock? Oh wait, glued to my laptop and deadlines…) But here's the thing. What fascinates me most of all are the mothers. Astonishing antics.
Item Five. More Wolf on the Web.
A few other links of my own around the web, and no not all, and sheesh… no wonder I'm tired!
Last But Not Least. Get Off Your Devices!
I hope you find merit or mirth in my Saturday morning mentions. And now, I have a little work to catch up on, a stack of magazines (yes, print) to go through, and maybe, just maybe, I'll get outside on a gorgeous autumn day.
So… glance at what interests you, bookmark to come back at a future time, but be sure to get off your smartphones and iPads and laptops and engage with real people and nature if you can. Moderation in all things, right? Including our online entertainment!