Getting organized. It can be a lifelong struggle for some of us. And just when you think everything is under control – files neatly stacked or ordered in labeled folders, the most current, readily accessible – you realize you can't find something you need.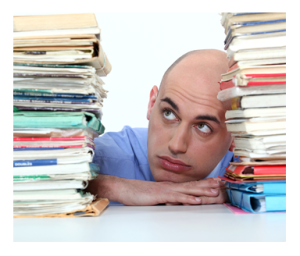 It isn't about work; it's personal. The request comes out of left field, and now it's a preoccupation you can't shake as you search through every drawer, on every shelf, between the folders you stack and re-stack in order to locate some elusive "it."
And you can't.
Worse, you can picture it precisely: the paper or brochure or envelope or photograph – its color, its glossy surface, its dimensions, its print or handwriting.
Yet it simply isn't where your mind's eye stored it long ago, though everything you encounter along the way seems to be – from your children's elementary school report cards to photographs from a class trip when you were in second grade.
So you drive yourself crazy because you have your own organizational style and 99% of the time it yields exactly what you need, despite the cluttered appearance of your home. But that 1% of the time that leaves you stuck and stymied?
It's right here, right now, and you can't let it go.
Hoarder? No. "Keeper."
Eegads, but this is déjà vu!
I've lived through this particular place of self-examination before, in fact, too many times. Am I Bill Murray in cute shoes, waking up to Groundhog Day over and over? Am I wrong to think of myself as a "keeper" of too much, though I don't qualify as a hoarder?
Now, now. We've run through the technicalities of that little definition before as well. Hoarding is an anxiety disorder affecting some 1.4 million Americans, according to PsychCentral, and I don't make the cut. (Phew!)
As for rummaging through "stuff" to find that one something I'm searching for, this isn't the first time and I doubt it will be the last. But after two hours of turning my interiors upside down last evening (and another hour very early this morning), I'm setting aside more time this week to attack another corner of a small room, another rarely used filing cabinet, and to continue the hunt.
Meanwhile, I am reviewing my organizing principles, or more specifically, the ways in which I seek to be organized not only for myself, but as "Keeper of All Things Important" for my children.
How to Be (Better?) Organized
WikiHow offers "7 Ways to Be Organized," which takes a straightforward approach to better organizing skills, using a highschooler's backpack as an initial example.
While the fundamentals proposed are sound – lay everything out so you can see it, sort into piles of "keep" and "throw away," categorize then label and then put away – the scope of my organizing issues is more extensive, of course. I imagine yours is, too, especially after a few years of accumulating child-related paraphernalia.
But that doesn't mean the basic approach is flawed. It isn't. It's logical: see what you have, group it, label it, put it away. Basic, right? Moreover, WikiHow provides additional detail as to the steps to go through in order to better sort and discard.
Still, when dealing with a home that is also an office, and multiple projects over the course of many years, a somewhat more sophisticated system is required. That system may use color coding, prioritizing of most frequently used files and materials so they're readily accessible, and so on. Naturally, this is more of a challenge in a small space.
But I'm also excellent at making excuses for why I possess an excess of stacks, folders, labeled boxes, and mountains of junk mail. It doesn't help that I loathe cleaning, and it's easier to pack things up and label, not to mention – to procrastinate – than to make the time and emotional energy to "discard."
Small Space Challenge… The Search is On!
So now what?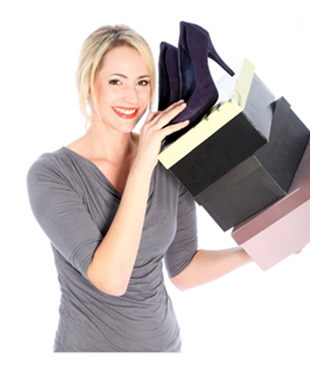 Must I stare myself down in the mirror? Wag my finger at the scowling reflection? Lecture on the benefits of regular reorganizing?
My house is small, (my shoes are many), my storage "creativity" is already taxed and my options are few other than tossing out more. While my office area nonetheless allows me to lay my hands on files in short order, that office area has displaced many other household and personal storage systems – which is why I'm back to rifling through drawers (and finding report cards, drawings, old photographs and so on).
One of my friends looks at my shelves and boxes, and he shakes his head. While he exempts the photographs, he thinks I should toss anything that is more than five years out of date. I'm wondering if he's right.
Tips, Tricks, Insights on Organizing?
While I recognize that the state of my environment is far better than it was two or three years ago, and I've made considerable strides in my closet – woman pats herself on the back, though only briefly – I still have organizing challenges on my hands.
Frankly, I'm tired of finding myself here. I want sleeker, more livable interiors. I've been working on shedding. And I'm weary of feeling like the Bill Murray character in these periodic rounds of rummaging and reconnaissance…
Do you ever get to critical mass where you can't find what you need?
What systems or organizing principles have you found to help?
Do you throw away anything five years or older?
Do you store up and label, and possibly place things in a basement or attic?
Naturally… I don't seem to have these issues when it comes to finding the footwear I seek… And if this latest search-and-rescue mission hadn't come at the request of one of my kids, I'd let it go.
And in the meantime, any organizing tips, tricks, or insights are welcome!
You May Also Enjoy