The boy appeared to be eight or nine years old, his father, in his mid to late fifties. The child sat across from him at an outdoor café, intermittently popping up from his seat and playfully laying his head on his dad's shoulder.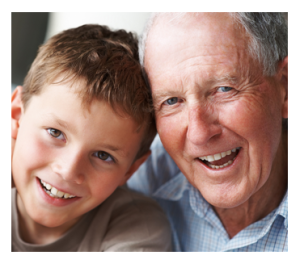 The man fiddled with his keys, his glasses, and left his iPhone untouched on the table. His expression was warm, his silver hair plentiful, and his smile bright.
His demeanor? Calm and relaxed.
Judging by the time of day and proximity to a nearby private school, these were shared minutes following pick-up. Was this a regular or occasional gig? Was this a Second Time Around Dad?
I didn't see a wedding band on the man's finger, so I have no inkling of his marital status.
One thing was clear: the child was his, was overtly affectionate, and the dynamic between them seemed natural and easy.
Older Fathers, Better Parents?
So what do we think, really, of the Second Time Around Father who has a child in his fifties or older?
My impression is that we think nothing of it, or him: we assume he is on Marriage Number Two (or Three), with a younger woman (who wanted children), and the opportunity to take on fatherhood again is a given, if he wishes.
The Dad I mention? He was a well-heeled man, who may or may not have already raised a first set of children when younger. Like many men, he may have poured the greatest percentage of his energies into his job.
That is indeed a generalization, and based on my experience and assumptions. That is not, incidentally, intended as a criticism. Rather, it is recognition of the sacrifices and time it takes to build a career, knowing there are no guarantees should life intervene with medical challenges, family problems, economic downturns, or for that matter, a venture that simply doesn't pay off.
Was the man seated near me a first time older dad?
That's also possible. And even in the few minutes I observed this pair, what I saw was the seamless exchange of affection, comfort, listening, and teaching – what we all hope to bring to our days with our kids.
The Second Time Dad: Celebrities, Etc.
Naturally, we have our Hollywood examples of older, remarried dads: 54-year old Alec Baldwin is expecting a child with his new 28-year old wife; 68-year old Michael Douglas has a second family with Catherine Zeta-Jones; and most of us would be hard-pressed to forget Kelsey Grammer's very public marital breakup, splashed across the media in 2011. The 58-year old actor is on his fourth marriage and fifth child (10 months old), the first for his current (much younger) wife.
But celebrities have little to do with the rest of us, in my opinion. And I was curious to confirm or dispute my impressions about those I think of as "Round 2 Dads."
Having dated a few of these men – divorced or widowed more than once, and with a second set of children – some were decidedly for more kids if it happened, and others were equally vociferous about being against. I might add that when dating well-heeled "mature" men, i.e. men of my own age, some were biding their time while looking for younger women, knowing a second family was likely in the cards.
Second Time Around Fathers Say…
Curious about these issues of second time dads, I found this February 2013 article, referencing older dads who express regrets that they didn't spend more time with children. They view the second shot as a way to get it right, and as older dads, they enjoy
the patience and perspective of maturity…
I gather from reading this article (and others), these second time dads were pursuing their careers during their twenties and thirties. Once established and older, they shifted their priorities and attention more toward family – in part because they could – financially, logistically, and biologically.
Other articles from various sources (and countries) address similar trends in older fatherhood (whether for the first time or not), including the downside and apparent male biological clock. But that's not where my mind travels when I consider parenting older for either sex. I can't help thinking that a healthy adult of 55 or 60 may be able to deal with a youngster, but it's a different scenario when a Medicare recipient is arguing with his teenagers.
Advantages of Older Parents
Patience and maturity when you're an older parent?
As an "older mom," I'll agree with that, though the trade-offs may include persistent physical fatigue. And I had my kids before 40! Naturally, there are factors that can assist an older parent of either gender – money, family, good health – and managing one child rather than a houseful.
Other advantages? In theory, careers are established, finances more secure, and we ourselves are more comfortable with who we are.
Once upon a time, I was seriously involved with a man who was devoted to the children of his first marriage. Fearing the "baggage" that could mean for us as a couple, I declined his proposal. I was about 30, and inexperienced in the tenderness and wisdom that many bring to parenting a second time around.
When it comes to my 15 minutes of observation, and this one older dad and his son, clearly, I know nothing of their circumstances and can draw no conclusions. They were a lovely duo to watch, and I noted a touch of my own heartache. As a divorced mother who carried the far greater proportion of child-rearing duties, I wonder what it would have been like to share parenting responsibilities – and joys – with an active and engaged partner.
You May Also Enjoy