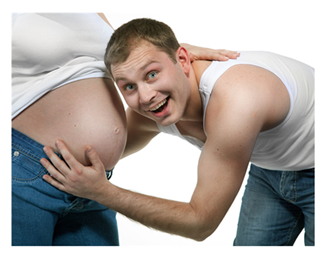 It was a typical romantic comedy in some respects, despite its odd absence of sexual chemistry. Still, the concept of being pregnant and dating was an amusing premise in "The Back-Up Plan."
Far-fetched?
I thought so. How many of us encounter hunky Alex O'Loughlin clones, who handily deal with romancing an expectant mom?
But apparently, pregnant dating is coming to the small screen, as I note in this reference from NPR.
Commenting on the birth of this latest "reality" offering, the WE-TV show is described as follows.
The basic premise of Pregnant & Dating is that it's hard to date while you're pregnant, because believe it or not, there are men… who think that getting involved with a pregnant woman — sometimes a woman a few weeks from giving birth — seems perhaps unnecessarily complicated.
Um, right.
Pregnant and… Sexy?
Those last weeks before giving birth? I recall it was challenging to do much of anything – a "stretch" to make it through the regular day – eight hours of work, the usual commute, whipping up a meal when Hubby was home. And it was a bitch to manage moods, much less a little daddy dirty dancing.
Date through the nausea? Flirt through the mood swings? Feel sexy with a new man as you're busting out at the seams? Are you kidding?
Then again, perhaps the subjects of this reality show suffer limited inconvenience, or what there is will be played for humor. Here's hoping they're also statuesque women. You know the sort. With God-given hips that make carriage and delivery easy-peasy.
Mating While Waiting…
Though I fess up to wearing 3″ heels right up until each Big Day (a woman has her pride), I'm struggling with a "reality" concept wherein the combo package of pregnancy and dating
 … is treated like a sort of whimsically funny barrier to finding Mr. Right, kind of like the stuff the gals dealt with in Sex And The City.
Sex and the City. Right. One of my cultural touchstones and (taken-with-a-grain-of-salt) sources of life lessons – many of which revolve around female friendship more than romantic relationships.
Yet I'm curious as the airing of episode one is on the horizon, wondering how this could be anything but disconcerting or sad to watch – unless of course it is heavily scripted.
Don't most of us face difficulty finding someone to fill our dance card? Isn't that true without a pregnancy in process?
How Does a Man React to Dating a Woman Who is Pregnant?
Of course, this is just me – musing from the female perspective and my years as a single/solo mother. What would a man think – really – if informed on a date that the woman is carrying her own Plus One? Will he greet the news with a stiff upper lip? Pull off a cheery "wow, that's great?"
NPR provides additional observations on that score:
… while it initially seems like this is going to be some sort of breezy, "you go girl" piece of television… it quickly devolves into an oversharing, guilt-inducing carnival of awkwardness. Because quite honestly, when a man is out on a date with a woman and there are cameras there and she suddenly announces that she's pregnant, watching him try to keep a straight face and give her a nice, smooth-as-silk, "Ahhhh … oh …. huh, reeeeeally " is a tiny bit funny…
And in my mind, a tiny bit tawdry. Not because pregnancy isn't joyful, but because we've come to this in our voyeuristic tendencies.
How About That Village?
Naturally, I wish these women well – not only for themselves, but for the sake of their soon-to-be bouncing babies. But solo motherhood isn't the stuff of fairy tales or formulaic comedies. Nor is it, in my experience, ever to be taken lightly.
In fact, I might find more appeal to this show if we are privy to blossoming female friendships – exactly the sort we came to love on Sex and the City. This is the support of a "village" that is essential to parenting – whether you have the good fortune to share it with a partner, or instead, a circle of friends and caring community.
You May Also Enjoy