I love a good wedding. Don't you? But I admit, it's been a few years since I've attended one.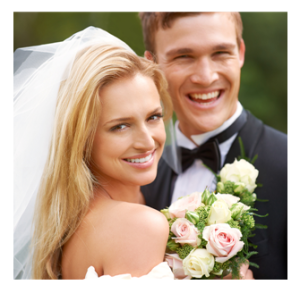 My sons are too young (thankfully!), my friends are already hitched, and those who have divorced are not rushing to the altar.
But that doesn't mean there isn't pressure to do exactly that. Rush to the altar that is, after six or 12 months have passed in some sort of committed relationship.
We're a marriage-minded culture, and that's hardly news. We like our conventions. We adore our celebrations. And even as alternative arrangements abound, marriage – it seems – is going strong. And I admit, given the divorce rates, I wonder why — especially when it comes to remarriage.
The Wedding Biz
Do you know the size of the U. S. wedding industry?
Some estimates put it at $72 billion a year.
Do you know how many weddings take place each day?
One source I read puts the number at roughly 6,200. Yes, that was more than 6,000 weddings… daily.
Do you know the most popular month for weddings in the U.S.?
If you guessed June, you'd be correct. But in fact, wedding season begins with the month of May, and continues through the summer. And as we roll into these romantic rites of spring, Andrew Cherlin, writing in the New York Times, explores the question of why we still bother to marry.
Citing data from Pew Research as well as the National Marriage Project at the University of Virginia, Mr. Cherlin points out:
… demographers project that at least 80 percent of Americans will marry at some point in their lives.
Then he asks… Why?
Why Do We Marry? Why Do We Keep Marrying?
Noting all the ways in which marriage and living arrangements have changed in the past 30+ years – we marry older, we marry for more "hedonic" reasons, cohabitation as well as childbirth outside of marriage are more acceptable – Mr. Cherlin nonetheless concludes:
Marriage has become a status symbol — a highly regarded marker of a successful personal life.
This one made me think, and I agree with the opinion expressed.
Marriage is a milestone, a "success" marker, an element of personal status.
Of course, I agree in light of my personal experience, reflecting on differences between my single years, my married years, and the decade or so since I divorced.
The contrasts are striking – in how I've been perceived, and the subtle doors that opened… or closed.
Spouse as Safe Haven?
Whatever happens in our professional lives, our family lives, with our health – it's assumed that our spouses will stand by us, and likewise, we'll be their rock, their support, their safe haven.
I remember my mother teaching me that the Buddy System was a good idea. Excellent in life, and especially important if you're headed into treacherous waters.
Is that part of the appeal of marriage? Someone to hang onto? The fear of going it alone?
Oh, I'm not so cynical as to think that's all there is to it. Like most of us, I love being in love, and knowing I have someone to share my life with. But I confess my feelings on connubial bliss are battered, especially when I read that while roughly half of all first marriages end in divorce, some 67% of second marriages fail, and that figure rises to 73% of third marriages.
The reasons for remarriage failure are many – insufficient time to heal, conflicts in blending families, and more – but that doesn't change my furrowed brow at these figures.
Why We Love Weddings
Lest you think I'm an unromantic curmudgeon, I admit to loving a good wedding as much as the next person.
There's the overall atmosphere, which is generally joyful. There's the pleasure of seeing the dress, the flowers, and the style signature expressed by the couple. There's silly dancing, there are entertaining toasts, and those with misty eyes from family members whom we never expect to see tear up.
As for the premise of feeling so strongly about another person that you make him or her your family? It's either a sizable dose of delusion, or a remarkable testament to faith in another human being.
To Commit Or Not?
I'm not against the rituals that bond us – and bind us – especially if we enter these covenants with our eyes wide open. But like Mr. Cherlin, I'm surprised that we marry and remarry with what I view as innocent idealism. I'm especially astonished at the pressure to remarry, but the staggering statistics on remarriage and divorce leave me raw when I consider them, and surprised when so many seem unconcerned.
That said, I'm uncertain as to what living arrangement is best for myself. Moreover, what I wanted at 35 was different from 25; what I want at the half century mark is something else again. What feels fitting at one stage may be ill-advised at another.
Clearly, there are cohabiting couples who are deeply committed, and couples who live separately and are equally devoted. Whatever our choices – including marriage or some variation – I remain a fan of commitment when it suits, and some form of a workable Buddy System.

You May Also Enjoy