Pop culture wisdom? Marital advice from a former model?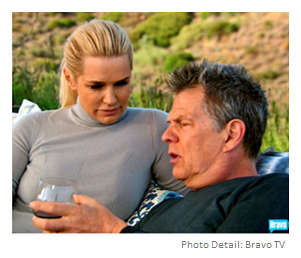 A week or two back, a character on television (Reality TV, believe it or not) mentioned something about how to keep a husband happy. This is her second husband and she is his third (or maybe fourth) wife.
Her love lessons? Along with little notes, signs of affection, and not too much time spent apart, this new Real Housewife of Beverly Hills offers observations (and recommendations) on the male of the species.
Yolanda Foster, former model (and still a stunner), says:
I think that men are really simple beings if you really think about it. The most important thing is that they're acknowledged as a man. The sex is very important. And feeding them. You know, cook them a dinner once in a while…
I'll also refer you to a classic Season 1 Episode of Sex and the City. Samantha is coaching Carrie on her relationship issues with Big, wherein she compares men to plants, making it clear that all they require is ample (sexual) care and feeding.
Not unlike a good deal of what I see on television these days – what passes for entertainment (but seeps into our psyches) – we're hit over and over with messages that tell us men are simpler creatures than women, and we keep them happy through sex and food.
Shall I call in Father Knows Best? Shall I channel the wisdom of Leave It to Beaver? Must I consult my old Ms. Magazines? Or is the fact that we still read, see, hear (and respond to) these messages enough to tell us they bear some truth?
Or does this advice belong in the same circular file as "happy wife, happy life," which I consider utterly ridiculous?
A Hot Heel, a Great Meal
I grew up hearing about the importance of pleasing a man. It was part of the feminine upbringing of the 60s and early 70s. I also heard that the way to a man's heart was through his stomach. (Even as a kid, that seemed silly to me.)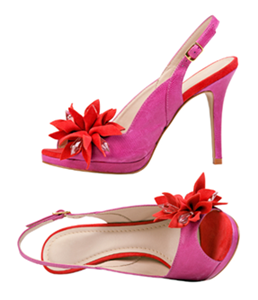 Reflecting on my relationship and what makes it very sweet, sex and food certainly play their part. A big part in fact – as we enjoy both, in a manner that is about savoring. But there's so much more, and without that "more," we absolutely wouldn't work.
There's pleasure in language. There are shared values. There's comfort when we're keeping company and that company involves reading, walking, talking, laughing, socializing, and seeing movies. And often, we cook together, or take turns, lovingly serving the other a meal.
Sex and food?
How could they not be vitally important? Sex – if we're of like desire (and energies), and food – because we all need it to live, and it's divinely sensual? And aren't both a sort of art form? Don't both enhance our quality of life?
Shared Pleasures of the Mind
And what about the joys of curiosity? Of learning, laughing, creating, contributing? When it comes to feeling good about our lives, these are also vital factors for some of us – and we need to share them.
Happy in bed – on its own? Not enough. Splendidly fed – on its own? Not enough.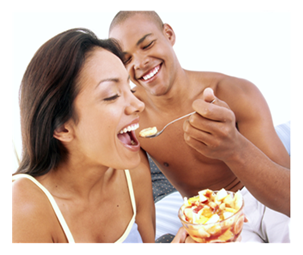 The acknowledgment – another story. That, I view as the many small acts of seeing and accepting the one you're with, and paying attention to interacting in caring and respectful ways. Sexuality is one of them. Enjoying food together is another. But these are pieces of a pie that is far more sophisticated in its recipe and enjoyment.
As for deeming men simple creatures or as easy as "plants?" Is that any different than concluding that women are entirely ruled by emotions?
Personally, I'm not interested in men who don't "meet me" fully and challenge my thought process. I can't "dumb down." Or rather, I won't.
So what do you think? Are men "simpler" than women? Or is this nothing more than another sweeping generalization in a culture quick to label and dismiss?

You May Also Enjoy