I love this piece in the New York Times: "Talking, Walking Objects."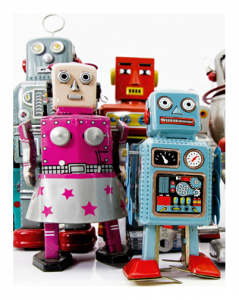 It describes our brave new world of gadgetry gone gallant – moving far beyond keeping us from getting lost or reminding us what's on the day's schedule. There's so much more that's within our grasp – quite literally.
Why not our everyday functional objects, telling us what to do? Informing, advising, even cajoling if necessary?
Talking heads? Why not talking beds to ensure that we put away the book and catch some zzzs?
Oh wait. Make that "set down the Kindle," clap your hands to turn out the lights, then close your eyes.
The talking bed may not have been among the examples in this thought-provoking article, but the vibrating fork (to get us to slow down while we eat), the whistling raincoat (to forewarn us of soggy weather on the horizon), and the robotic vacuum (shall we rumba to your Roomba?) are among the pulsing, sensing, service-oriented aids coming to a kitchen near you – at least, imaginable – if they aren't already present.
Move Over Rosie
While some of us may remember Rosie the robotic maid of Jetsons fame – might the jukebox suggest a tune based on time of day or read of our blood pressure? – robotics haven't caught on in our daily lives the way some of us once thought (feared?) they might.
Given our seeming dependence on digital devices, perhaps that's a good thing. Or, I'm dangerously retro (and resistant) to technological change.
All skepticism aside, the Times describes robots that incorporate language and social skills in order to ensure:
intuitive ways for people and machines to live and work alongside one another…
What's not to love about that, not to mention the fact that our Future Robotic Regulars are being programmed with personality? (Oh dear. Does that mean that personality disorders are also a possibility? Will we be searching out comely and compatible characters even in this?)
Technology (In)Dependence
And yet, as delightful as the prospect of voice activated This and nagging-but-helpful That may be, I find myself hesitant when it comes to the concept of incorporating robotics into daily life.
Yes, yes, I know. We have timers on our coffee machines. The ubiquitous GPS. The Google as oracle, as background check, as Validation That We Exist.
Is my reluctance philosophical? Emotional? Based on budgetary considerations? Am I not an early adopter in this area, whereas I may be in others more along the lines of ideas and ideologies? Is it a matter of degree and purpose?
Pointing out that these technology advances are intended to be unobtrusive, the article continues:
… robots are entering our homes in subtle ways, through countertop appliances, hand-held tools and wearable gadgets that display specialized and isolated robotic behaviors… the next generation of products will be only more sophisticated..
Talking Fridge?
As I grow older (and health concerns not to mention physical constraints will invariably crop up), will I be more amenable to the talking fridge that tracks what I've eaten and tells me which way to steer my hand – toward calcium-rich products and more fiber, with a little B-12-happy beef in the mix?
My personal preference, domestically speaking, would be an I Dream of Jeannie blink to take care of the household chores, or even better – the wiggle of Samantha's bewitching nose. But magic aside, could robotic devices be the next best thing?
I suspect if it involves cleaning, I'd be favorably inclined. If it has anything to do with reinforcing learning for my children, again, I'd be favorably inclined. Then again, you'd have to convince me that any educational aid is encouraging thinking, not simply memorizing.
Still, as consumers, won't we be able to pick and choose what works for us, without handing our lives over to rampant robotics?
What's your take when it comes to amiable "mechanical creatures?"
 Will you adapt – and adopt – the friendly robot?
Are you concerned about technology dependence?