Find yourself turning into a robot? So much to do, it's the only way to get by?
These days we move at a frantic pace,  hardly ever slowing down, much less allowing for the possibility of breaking down. Singles, couples, families, single parents – even our kids – we're all running ourselves ragged with schedules that seem to be running us, instead of the other way around.
The Robot Zone
Sometimes, I feel like a mechanized, millennial version of a mid-century wind-up toy; I'm going through the motions, with my increasingly creaky nuts, bolts and frazzled circuitry – a weary, one-woman production line.
Sound familiar?
The amazing thing is – usually, everything functions just fine. We master our own rampant robotics and GPS-generated gyrations. But sometimes, not only do I wind down, I break down. And I'm not the only one. It's everywhere – tears, angry outbursts, exhaustion, forgetfulness… I see it in friends, in other single parents, in teenagers, and certainly – in the mirror.
What's going on?
We're dwelling in the Robot Zone – over-committed, overwrought, and overtired.
The Motion and Commotion Zone
It's the Motion and Commotion Zone that nudges us into the Robot Zone. We're dropping little ones at day care, dashing to the office, to the supermarket, the pharmacy, the bank, carpool, a night class, an interview, the gym, the bookstore, even hurrying through sex… The list seems endless – because it is!
When do we sleep? When do we talk? Or listen?
Call me retro but…
Wait!!! Did I actually just admit that I don't do my banking online? Or my shopping?
Call me quaint, but I do some things online, and many things in person, including running to three different markets for the best prices, banking at my local branch, and purchasing books in bookstores – I often put on my (stiletto) sneaks, and even walk – it's my cardio!
And last I heard, short of mucho moolah to pay for domestic help – chauffeuring duty, cleaning duty, cooking duty, teen driving lesson duty, homework duty, and picking up the dog's doody are all part of my duties – as a single parent.
Robotic Kids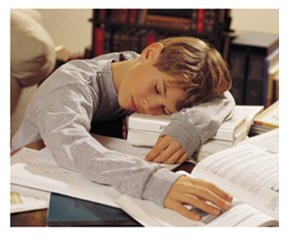 My kids?
I strive for a No Robot Zone – though it isn't always possible. But their job description has always been – to be kids. And that means:
To learn responsibility (yes, they've always been given plenty)
To excel in school (average has not been acceptable)
To think for themselves (including disagreeing with me)
And to play, even as teenagers.
They've had their robotic moments – tough academic programs, demanding extracurricular schedules. And often, a tight budget that adds to the stress.
It's bad enough when parents are raging robots. Slowing the pace down for my teens, when I can, helps me slow down, too.
The E-motion Zone
Sometimes e-commerce, e-mail, and e-everything are e-motionally draining! And I just have to turn eeet all off!
Disconnecting from communication is necessary occasionally. Our own constant use of technology bombards us and assists us – with the latest tricks, treats, and trends that are part of parenting and any profession. But sometimes, I just say no to the e-zone. I unplug, eeeeeease up, and take a breath.
Usually that means a walk, a book, my journal and a pen. Maybe just for a few hours – long enough for returning to e-ssentials like conversation, creativity, or just petting the dog and feeling her heartbeat beneath my palm.
Robotic reality (for fun)
I know. Life is nuts. We have too much to do with too few heads, hands, hearts, hours and dollars. So we manage as best we can.
But lest you think I am not a proponent of advances in science and technology – and in particular – personal products that are delightfully domestic – here are a few I just found on the Internet.
Worried that your new lover might be two timing you when he says he's cooking for his mother? Think your babysitter is dipping into the Jim Beam then playing Tetris on her cell rather than reading to your four-year old?
Be a fly on the wall!
Granted, I have powers of invisibility that provide me fly fly fly-on-the-wall advantages, but a little gizmo like this could be fun in a pinch. It's a listening device that actually looks like a fly!
Domestic delights?
In need of a domestic god or goddess to serve you café au lait in bed, or at the very least, take care of the laundry?
Check this out – Assistant Robot maid from gadgetophilia.com – a mechanical maid in America to make you smile!   
But my favorite find is the result of a PhD project at MIT – a fascinating construction (named Domo) that leads me to ponder its educational equipment.
Is your man having trouble finding your G-spot? Or any other letter of the alphabet you may be reaching for?
Most likely not the originating purpose of this inspiring invention, the fact that he comes described as an "upper torso humanoid robot" does fill me with awe and pride – that engineers at our leading research institutions are fostering philanthropic robotic erections. Perhaps Domo is designed to help out a harried single mom in a tight spot?
STOP, laugh, and listen
Because most of us don't have servants – human or robotic – or scads of free time, or freedom from worries, we need to make a point of STOPPING, laughing, and listening. We need to periodically disconnect so we may reconnect in human and spontaneous ways.
Women, especially, forget the need to recharge.
Rampant robotics are helpful, but they're tools, behaviors, and coping mechanisms in a stressful world. Not a replacement for living in it. That's something I need to remind myself, on a regular basis.

Big Little Wolf's Daily Plate of Crazy