Did the Jetsons have a jukebox? Did they ever cut the rug? Dance cheek-to-cheek? If not Jane and George, then daughter Judy, or their boy Elroy?
Mosh Pit?
Don't ask me what prompted thoughts of Jane Jetson, mid-century visions of the future, or spontaneous fits of dancing.
But here we are, memories triggered by who knows what – of childhood, adolescence, and my twenties. And where does that lead me? To picturing my teenagers flailing about in mosh pits. Frankly, I think I'd rather ponder the Jetsons and their jukebox. My former vision of the millennium. The mix of past and present, in formulating that vision. And it begs the question – how do we imagine the future for our children?
Jetsons web cam, Star Trek cell phone
I was a kid at the time of the Jetsons. I did think videoconferencing would come, but a slab of metal the size of a notebook with a keyboard? The ability to map locations in another hemisphere? A tiny lens through which you chat with friends across the Atlantic? Today's laptop? Skype?
I certainly didn't imagine the ease with which we'd talk to one another, or have access to information, though I was familiar with France's Minitel. (Extraordinary!)
As for the all-purpose communicator of Star Trek? Our cell phones that go beyond what Captain Kirk whipped out of his tool belt – so much technology we take for granted that was the stuff of science fiction and cartoons. Certainly not a future I envisioned in my lifetime.
Why we shouldn't imagine the future



So did the Jetsons have an "antique" jukebox? Date night with samba lessons? A mix of their present and past in our past vision of the future?
Let's face it – thirty-something George spent his days pushing a single button on a computer. Wouldn't his BMI be shameful given the sedentary, robot-assisted lifestyle of sixties-future-chic?
Did George's love life need some juice? Disagreements with a teen in the house (Judy) and a mischievous seven-year old (Elroy), even though Rosie dealt with the domestic duties? Surely there were sleepless nights and turbulent talks over adolescent rebellion, arguments over money, Jane wanting to pursue her career goals, and lulls in the marriage that invited injection of a little space-age spice.
However we imagine the future, will human nature stay the same?
21st century mid-century?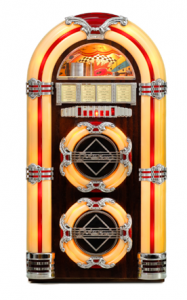 So how might you ground a teenager when you live in the cosmos? Reduce the purple stocking shopping budget? Take away the keys to the hover craft? Scream "turn down the damn music" – whatever its source?

And wouldn't Jane and George need a little rock 'n rollicking romance? And music of their own?
Enter the jukebox! Does anyone remember if the Jetsons had one? No visits to an orbiting diner? Red leather seats, retro dinnerware, and nostalgic access to a little vinyl and tunes beneath the moons?
Dancing to the oldies
Let's bring back the jukebox!
Wouldn't we be a healthier and more energetic nation if we were dancing fools, sock-hopping to our evening mopping, boogieing to our baby-tending, and grooving to our online maneuvering? Even if the slamming gets a bit out of hand, maybe our kids in the mosh pits have the right idea. Do adults need to get up and move spontaneously, wherever and whenever we can, and without a plan?
A little Jumping Jack Flash while texting or sexting?
I used to be a dancing fool
I will cop to shimmying up and down the corridors of Dorm-Land in college (or did I just imagine that?) and hanging with girlfriends in my twenties, feeling fabulous when we'd put on music and dance, dance, dance. As for my past imagined future? It wasn't exactly what I'm living, but it's amazing how many elements of "now" resemble "then" and no doubt more will resemble "future."
So should we imagine that future three decades out? Four? A half-century? I don't mean what our children will be like, but what our "collective" children will be dealing with – the good and the bad, the legacies of past and present and their own controllable and uncontrollable creations? Can we ever picture the elements of the future, other than the immutability of human nature? And maybe, the need to dance?
Visions of the future
And the future, as you dream it?
What sort of world do you envision for the next generation?
What wild gadgetry might become real in the 21st mid-century?
Do you think we shouldn't try to imagine the future?
When's the last time you danced?