It never occurred to me to talk politics with the man I was marrying, though he often got into heated debates with his friends and family over any number of issues. And he felt strongly about politics. But at the time, I didn't.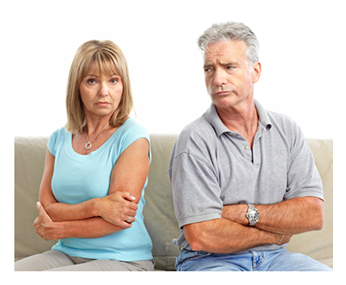 I did feel strongly about him. I knew his shortcomings (as he knew mine), and the fact that our political views lived at opposite ends of the spectrum seemed utterly immaterial.
I was wrong.
I knew just how wrong when our first big fight came, as he insisted that I needed to vote the way he wanted me to, and I refused. So tell me, will you vote like your spouse – because he or she wants you to?
As if it weren't shocking enough (to me) that he thought he had a right to control my vote, it turns out our politics were indicative of our value systems – and the vast gulf between his world view and my own. We aren't talking matters of tax rates or deficit reduction, but social issues and ultimately morality – a sort of "every man for himself" approach versus mine, which is anything but.
And these beliefs were surely infused into our daily lives.
Dating, Mating, and Politics
The occasional political discussion popped up while we were dating and after, but peripherally. I generally kept mum and on the sidelines during these vociferous debates; I was no match for the prosecutorial panache of a man who loved a good argument.
Our divergent opinions tended to rest on social programs like extended maternity leave with the right to return to your job, unemployment insurance that actually meant you didn't drop off a cliff after just weeks, and in general, the plight of the poor. The bottom line for him was money; specifically, paying less taxes. For me, it was about quality of life – and not for the few.
At the time, we were in our 30s, and both working in corporate America in a stable economy. We had babies on board; they were my responsibility. We relied on a host of employer-provided benefits including medical and dental care, life insurance, short term disability, long term disability, and briefly at least – the promise of a pension plan in addition to eventual social security.
That this economic stability might change radically wasn't even a consideration.
Marital Expectations, Parenting Expectations
Looking back – some two decades – I can only say that my simplistic view of marriage and parenting was laughable. When it came to division of labor and mutual professional compromise, I would characterize my expectations as impossibly naïve – and impossible to achieve. I was the caretaker of the children, and though my career continued, it was downshifted to a lower gear which, in part, allowed my spouse to take the opposite route, pursuing his options more freely.
I will add that I was okay with this arrangement at the time, without realizing the repercussions that might come later.
And it never occurred to me that our political differences – which became glaring when we hit the 1992 presidential election – could indicate serious troubles ahead. Politics as a predictor of marital harmony?
I wouldn't have guessed it.
Politics Point to Value Systems
Last year I read a provocative column by journalist Delia Lloyd, "How Diverse Are Your Friends Politically," in which she addresses the issue of politics and friendships. She mentions differences in ideology, and how easily we make assumptions about those we know. That was the first time I connected the dots in my marriage – realizing that if I had paid attention to my future spouse's political positions, I would have questioned our compatibility in ways that proved to be vital during our marriage as well as in the contentious decade after divorce.
I will add that his beliefs are hardly unique in this country. On the contrary. Yet our first big fight was over my decision to vote for Bill Clinton in 1992, and our second big fight was – you guessed it – four years later when I cast my vote in 1996.
Types of Political Differences
We fought rarely; these battles were notable exceptions. But among his opinions at the time were that the unemployed were "losers," and those living in poverty, responsible for their own destiny. He viewed his native (European) country's social programs as excessive.
Simply put, I disagreed.
Vigorous discussion over economic policies? That's one thing. Over fundamental value-based social programs? A world view? Very different indeed.
Incidentally, only a few years later I was one of those "losers," laid off in a corporate restructure as we were separating.  Those precarious finances often associated with gray divorce? I continue to live with the ripple effects even today, a combination of the free fall following the loss of once-upon-a-time secure employment, and constant skirmishes in post-divorce life. My ex, however, went on to Bigger and Better Things, more or less without a hitch.
Pay Attention to Signs; Vote Your Conscience 
Why do I bring this up now?
Marrying the "right" person is about so much more than attraction, than shared interests, than love – though all of these are important. To some extent I'm emphasizing the importance of common values, and politics is one way to measure whether or not they truly exist.
On another level, this is a reminder that married or not, we each own our vote. To be swayed, goaded, or emotionally blackmailed into voting the way a spouse wishes – or parent or employer for that matter – is throwing away a fundamental right.
So I ask again: Will you vote like your spouse? Will you do so to keep the household peace? Will you vote your conscience no matter what?
Politics May Change; So Can Luck
Life experience changes us. Some is the result of our doing that becomes our undoing. Some is a matter of unforeseeable circumstance. Some, dumb luck. As our situations change, so may our politics. Perhaps we grow more conservative in some arenas, and more liberal in others.
Given that the framework of these thoughts is politics and partnership – specifically, marriage – I would be remiss if I didn't address the gender gap, even in passing. What baffles me is that the political gender gap isn't greater given the clear differences in priorities and perspectives. Shall we rattle off a few examples? How about reproductive rights, earnings parity, and health care decisions that threaten to set women and families back half a century?
Think that one sentence sums it up? Not even close. Do check out Nicholas Kristof's detailed opinion piece on how Mitt Romney would treat women, in today's New York Times. It's a frightening prospect, certainly to me.
As for jobs, the economy, energy, national security – we must always balance short-term with long-term goals, but we can never predict where disaster will strike. If the past week of hurricane devastation proved nothing else, surely it has proved that.
You May Also Enjoy