I hate sitting in traffic. I'm a bit claustrophobic, and that "stuck" feeling makes me edgy. Besides, not knowing what's going on ahead unnerves me.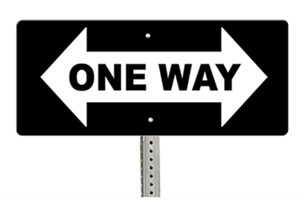 Yesterday, I was sitting in a traffic jam. And let me say, I wasn't thrilled. But I also wasn't stressed or miffed. Instead, I leaned back in my seat and just went with it.
And that's because a half mile before, I was forewarned.
First there was a series of orange signs indicating a work zone, followed by more signs showing merging lanes ahead. Then I saw a large rectangular sign flashing "Expect Delays." And so I did. I expected delays, I stayed calm, and I moved forward slowly but steadily. Just like everyone else.
Almost. 
It was a long, straight stretch of road, and I noticed him coming up from behind – a red Mercedes zipping past everyone on the right – then cutting into the line as far up as he could manage.
Managing Mindset (Flipping the Switch)
I shook my head in disgust. Then I flipped the switch. My switch.
There were dozens of cars in front of me, and dozens in a line behind me. Every other driver was well behaved; no one else was trying to cut in or out of line.
Instead of focusing on the Bad Guy who surely pissed off everyone, I concentrated on all the Good Guys, who were polite and well behaved.
From the onset of the signage, cars had merged without incident, from two lanes down to one. No horns, no hassle.
Squeaky Wheel, Glass Half Full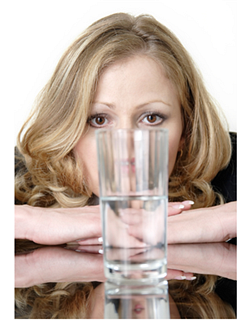 I think about people who insist on being the squeaky wheel. I've been known to play that role a time or two, but only as a last resort, and I don't like it.
I think about people who feel that rules don't apply to them. I've run into my share of those individuals – an experience I don't relish – and I now steer clear.
And I realize, appreciatively, that most people I know play it straight, keep their word, do good, and exercise judgment.
A glass half full approach on my part? A dose of that moderated optimism?
The Value of Signage
Do you pay attention to signs?
(How's that for a leading question?)
I think about the signs and clues we absorb constantly. Some we heed; others we ignore. And then there are explicit warnings: to do with our health, our environment, our food, our economy; warnings that cover our choices of vendors and partners, schools and jobs. There are so many warnings it's hard to separate what's real from a sales pitch or a partisan agenda.
Sometimes signs can be confusing. There may be too many, so we're disoriented. There may be too few, or the signs themselves are contradictory, so we hesitate to make a decision – about a job, a relationship, a direction, even a vote.
Reliable Warnings, Explicit Instructions
But in the case of my recent commute, the instructions were clear, visual, and verbal. They were also specific; the warning was accompanied by dates and times of day.
There's an upside to warnings. We know what's coming. We can prepare. We can reconfigure. But sometimes we dismiss the warnings that we feel rather than articulate – those that are common sense, or generated by our own internal GPS. They're just as valid in reminding us when to speed up, when to slow down, when to accept our bumps in the road.
And metaphorically speaking, is there ever a time in life when some delays or obstacles shouldn't be anticipated?
You May Also Enjoy