Jewelry case, treasure box, and secret objects
Doesn't every kid have a treasure box? Some sort of secret container tucked under a bed or stowed in the back of a closet?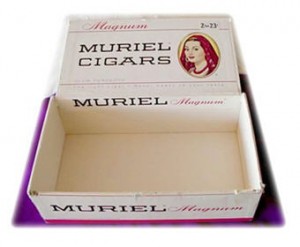 Made out of cardboard or straw, velvet or plastic. Perhaps an old cigar box. Remember those? Or a metal case that held who-knows-what, subsequently rescued and re-purposed.
I knew I had a child's jewelry box somewhere; perhaps more than one. And much as I may have hoped it to be vintage Louis Vuitton (filled with opulent brooches and bangles from the 1950s and 60s), I knew it wasn't that.
I could picture it – a turquoise jewelry case, very small, with a simple divided compartment inside. And this morning, I found it.
The pleasure of treasure



Is it human nature to collect, and then to imbue a trinket with near magical powers? Good luck charms, sentimental letters, the gold beads worn by a beloved grandmother, the pocket watch of a great great uncle?
Doesn't every child pluck up the found penny with glee, no matter how dirty? Or the pigeon's feather stuck in the sewer grate? The smoothest pebble ever, washed up on a sandy beach?
As we grow older, our collections multiply exponentially – and I don't mean expensive possessions. I mean the ephemera and sentimental objects that we hold dear because they connect us to a moment in our lives, to a self we may have lost. We mark our history by saving tangible reminders – the first love letter and thus the first love, the cherished necklace offered as a gift when even a small sum meant great sacrifice. Polaroids of the new baby. Drawings accomplished by a tiny hand.
These are powerful treasures – talismans, tangible proof that we lived a life, that we were loved. That we were born into wonder.
My childhood treasure
Every morning I look around my room and think I must clean this mess. I may start with a particular stack (of books, folders, "stuff") only to get distracted or too tired or tell myself tomorrow. Oh how I love that Scarlet O'Hara influence. Thank you for my mantra, Margaret Mitchell.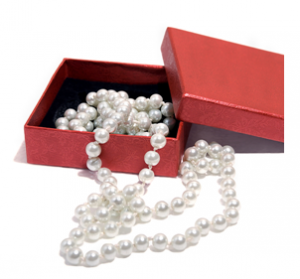 But this morning, when I approached my dresser to clear a space I remembered that buried in one of the drawers was my treasure box, my very first, and I wanted to find it. So I rummaged through envelopes of photographs and a handful of my boys' carefully wrapped "summer projects." And there it was. The small leather box with rounded corners and its tightly snapping hinges. Just where I expected it, although it's been years since I thought of it.
Childhood lost and found

I couldn't recall what was inside (I was hoping for a string of Mikkimoto pearls or a long lost lapis ring), but when I opened the box, the feeling was glorious.
Childhood. The full-blown openness of possibility.
I was transported to a time of gathering objects from nature, adventures dreamed and lived, a projection of my life as an adult from the eyes and heart of a girl of seven, and again, 16.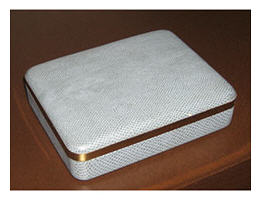 I flashed to my brother's bedroom with its gold chenille drapes and soldier-emblazoned wall paper, his hidden stack of Playboys under the studio bed, and his several cigar boxes, one of which was filled with Matchbox cars and trucks. I can only imagine the others must have held objects he hoarded – army knives and trinkets of his own.
I can picture us as children before life had its way of separating us irrevocably, and I remember tenderly removing my jewelry case from a drawer, fingering the objects inside, then putting them away just as carefully.
Inside the treasure box

What's inside my treasure box? I discovered a delicious mix, both strange and familiar. There was indeed a string of pearls! A small strand of baby pearls, which some believe portend good fortune and longevity. There was a tiny beaded chain, a mesh Victorian purse, and a lilliputian china cat (no doubt from the Five and Ten).
There were also two Kennedy half dollars from the 1960s, a Buffalo nickel and a Liberty dime, none of which are of any value (I looked them up), but each, beautifully worn. There was a silver locket that belonged to my grandfather. It bears the insignia of the US Marines, and I believe he carried it when he fought in the Pacific in World War II. I imagine it held photographs of my grandmother, or of their children.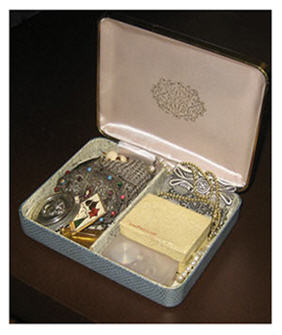 There was also a small transparent container with an odd necklace and a reflective disk as amulet, as well as an award pin from High School, and another pin from my travels in Moscow at 16.
From that same summer, I found the bracelet given to me by a boy I met in Kiev, and remembered a park bench and a lingering kiss. There was one more object – a tiny cardboard box, inside which were two antique jugs for my doll house, and a scrap of note from my mother in perfect condition although it is more than 40 years old. In her lovely cursive, it read: Happy Brownie Flying Up Day. Love.
Inside that leather case are precious mementos; reminders of family history, my innocence, my hopefulness, my once nurtured self. Still intact.
Next generation treasure

My younger son has a green treasure box that sits on a bookshelf. He made it when he was six or seven, and he keeps private things inside. I don't know what, but it remains his place for special objects. I am glad to know it exists.
Why do children create a space for private treasure?
As adults, do we need this as much as we did in childhood?
Do you still have your special case, your treasure drawer, your secret box for memories and magic charms?

Big Little Wolf's Daily Plate of Crazy