I've looked in the mirror today.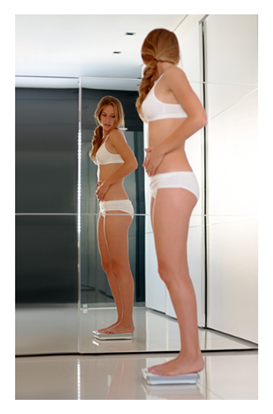 Once.
I was brushing my teeth, then dotting moisturizer under my eyes. I did not look in the mirror the entire time. There was no need. And then I went on about my morning.
Now, if I I'm about to have a photo taken, or if I'm headed out into the world, it's a different story.
And if I've got a date?
Not looking in a mirror to check my makeup, hair, and clothes would be unthinkable. Yet one woman went for a year without looking in a mirror, intentionally, leading up to her wedding day.
How strange is that? Or how courageous?
Having experienced an eating disorder when she was younger – and toughing it out through therapy to make it through, Kjerstin Gruys decided to spend a year without mirrors to divorce herself from the preoccupations of so many brides-to-be. She didn't want to slip into a crazy diet regimen, just to fit into a fantasy dress. She wanted to be sure to focus on the person inside, and not worry about what others thought of her, much less what she thought of herself, purely from the outside looking in.
And here she is, one year later, having succeeded at her objective.
I am fascinated by this story, and impressed with this woman's commitment and extraordinary discipline. What better way to call attention to female obsession over body image, much less that of the media? What better way to exemplify the need to view ourselves as a total package?
Thinking back to the decades I never felt "good enough" or attractive enough, I consider the ways in which I use the mirror. I do feel better when I believe I look good, and I hope my own days of distorted self-image and odd eating patterns are long behind me. I try to judge my physical self by the fit of my clothes and the energy in my limbs, and only occasionally by a number on a scale and, yes, the reflection I see in the mirror.
A friend nonetheless remarked to me, quite recently, that we never see ourselves as others do, and no doubt, I'm no exception.
Still, there are many days when I glance in the mirror for less than a minute or two and only in passing because frankly, I'm so involved in working or writing that I couldn't care less, and I like that this is the case.
But a year without mirrors? No catching a glimpse in a display window or a rear-view mirror? A year of not looking at myself as others do – whether or not I could ever see what they might (and I don't)?
I'm not sure I could manage that. Could you?

Big Little Wolf's Daily Plate of Crazy