Me? Vices? Certainly not!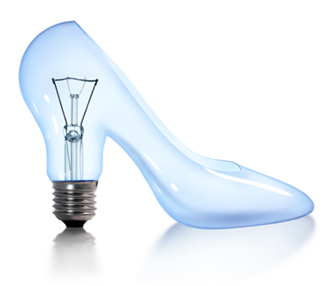 Well, perhaps that's not entirely the case. I do confess to one Achilles Heel… and yes, you can "Guess" it.
Last evening I had the bright idea to entertain myself on Facebook by adding a few pictures of hot heels. I was amused to see how quickly conversation sparked – and sparkled!
Aren't there millions of us who adore our pretty pumps, strappy sandals, and even our sassy sneaks?
Who doesn't love a well-turned ankle set off in elegant style?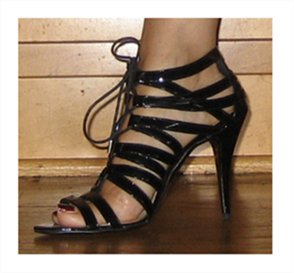 I was especially tickled to read this Huff Post Women article by Barbara and Shannon Kelley, addressing the issue of identity through shoe selection, in other words – what your shoes say about you.
Naturally, I couldn't resist any discussion that might suggest the compatible and comfortable coexistence of feminism and fine footwear!
As for my shoes? Must you really ask? (After all, I've just admitted my faiblesse for fashionable feet, though I make no bones about my feminism-and-femininity advocacy!)
Dream Designers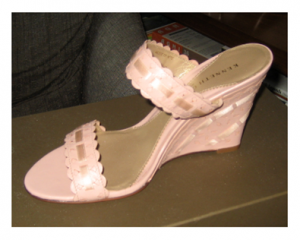 I will also admit to dipping a toe into the wanton waters of dazzling designers in an ongoing matter of enormous import – specifically, a serious and scholarly sampling of sexy styles – in the interest of research for the purposes of future verbal verve.
Thanks to the genteel hospitality of a whirlwind visit through my local Bloomingdales, may I say that I made the pleasurable (re)acquaintance with Kate Spade, Brian Atwood, and other fine friends?
I intentionally avoided the Marvelous Manolo and the Luxurious Louboutin; after all, a woman can only stand so much temptation! (Besides, I'm still waiting to hear back from Monsieur Louboutin and my suggestion that he adopt me.)
Why Do Women Love Shoes?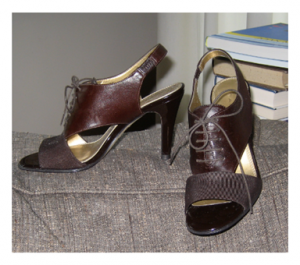 I have my theories on why women love shoes. For some of us who may fluctuate in weight, we're thrilled that shoes always fit!
And I daresay that I consider shoes to be art objects in many instances, not so much intended for wear, but certainly a source of design delight.
So must one have gorgeous gams to pull off precocious platforms? Or big bucks to bite off beautiful booties?
And must we really wear only what is most current and trendy? Aren't classics "classic" – precisely because they're timeless?
Designer Shoes, Real Life Blues?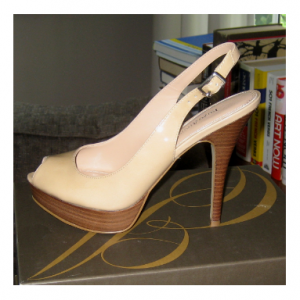 As my workload of late has been fairly unrelenting, I know that fab footwear can perk me right up. May I say that I spent this morning "shopping in my closet" – only to find summery slides and heavenly heels – that now demand that I plan outings to show them off?
May I add that all these shoes were purchased on sale – except one "indulgence" pair which I could leave you to contemplate?
As a woman on a budget (like many of us), I'm very good at delayed gratification when it comes to my passion for footwear fashion, and while occasionally I fall off the wagon, generally I exercise patience – waiting for sales – cruising, perusing, and not abusing.
To High Heel or Not to High Heel
The heights of passion for fashion?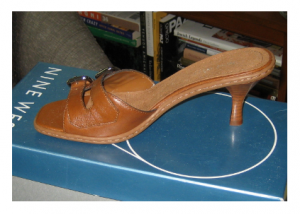 You may think me incapable of a comfortable kittenish heel. But I do believe in comfort, and a low slide is just the ticket for long walks and intimate talks.
And to heel or not to heel?
Isn't that the question for all contemporary women – our "right to choose" and – to quote Sex and the City, "our right to Choos?"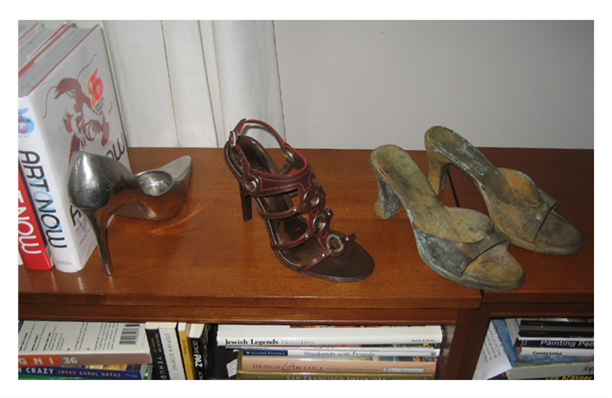 Shoes shown include: Pink wedge (Kenneth Cole), brown lace up "Lenore" (Elie Tahari), brown low-heel slide (Nine West), brown dress shoe with metal and red detail "Battle" (Carlos), platform peep-toe pump Starlite (Enzo Angiolini), black patent strappy evening heel (Bionda Castana, Milano). Strangely – the shoes I grabbed this morning include plenty of browns! Trust me… colorful options abound in the deep recesses of my mysterious closet.

Big Little Wolf's Daily Plate of Crazy