I've long believed that I am supremely flexible when it comes to dealing with life's necessary adjustments of every sort: the monumental, the disconcerting, the niggling that drives you nuts.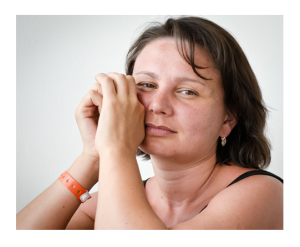 I'm certain of my basic resilience: I refuse to stay down for the count, I am adaptable when it comes to switching cultures, and I am absolutely convinced that people can change – if they want to.
I believe that I am capable of change, that I'm flexible, that I'm open-minded.
But what if I'm wrong?
Am I confusing open-mindedness with flexibility, or for that matter – curiosity with flexibility?
A willingness to change is not the same as executing change. And even with the discipline to allow habits to transform (apparently, something in the range of 66 days are required) – I may be stubbornly clinging to the familiar, and deluding myself that I'm not.
Facing Ourselves (and Our Flawed Perceptions)
Getting used to someone in my space?
It isn't easy, even on a part-time basis. I'm increasingly confronted with my own willfulness, my desire to be accommodating, and yet my struggle when it comes to actually doing it.
This isn't with every aspect of life, mind you. And much concerns scheduling – or more precisely – the reality of insufficient hours in the day for what I need to accomplish.
Specifics?
I struggle with anything that interrupts my writing routine. I struggle with noise (I require quiet to write, though not to edit). I struggle with timing of exercise (to do with peak energy, not to mention my work assignments). I struggle with being even-tempered when my sleeping goes haywire.
Making Time for Relationship
Some time ago I expressed the reality – my reality – that dating after divorce is a matter of time and timing.
Single parent? Solo parent? Don't underestimate how tricky these constraints can be.
At the moment (at last!), the timing is excellent for me. But time? The necessary hours to invest in a relationship? As a long divorced woman raising two kids alone, logistical changes remain exceptionally difficult for me.
I am less flexible about my writing schedule than I thought – if I wish to enjoy the process, much less work at my most efficient hours.
I am less flexible about exercise than I anticipated – as mentioned, to do with physical rhythms and professional commitments. (I assure you, discipline is not a problem!)
I am more flexible when it comes to sleeping – but I know that I cannot constantly steal from sleep in order to "fit everything in." 
I am facing my own realization: I'm not yet willing (or able) to reorganize priorities to the extent that I thought I could or would, and I recognize that some of this is due to hanging on to old routines. But these routines have enabled me to manage through challenging times.
Giving Up and, Giving Up
I've conceded that I need alone time – in considerable quantities. But what if the amount of together time in a couple is too much for one and not enough for the other?
I'm cranky when I'm pulled in too many directions. I'm cranky if I can't write – regularly – which is stating the obvious. I'm cranky when my writing is interrupted by conversation – or attempts at conversation.
(Is this something that only other writers will understand?)
Hell. That's a whole lot of cranky.
In my recognition that I haven't the time for "everything" I've always done and a relationship, if I want the relationship – and it's a good one at that – what do I give up?
I continue to tell myself that I'll find a solution, that it's always crazier (logistically) when my boys are back from school, and giving up sleep (or exercise) or my own writing are unacceptable alternatives.
Do I throw my hands up in the air and resign myself to shared time that is simultaneously pleasant and stress-inducing because I want (or need) to write rather than meandering through the Farmer's Market?
Working Through Discomfort
Theoretically, you can't fix a problem if you don't know what it is.
I'm not sufficiently flexible. There. I said it. Now I need to address it.
Any new routine results in discomfort. I need to  (though arguably, I already am). I need to communicate clearly when I'm trying (including when I'm failing). I need to listen to the other person involved, and not forget that he has his comfort zone as well, that it is surely being stretched and challenged.
Like most women, I am afraid of losing myself to, for, and in another person. I've been there before (too often) and I don't ever want to go there again. I also need to earn a living, to rely on myself because that is the lesson of this past decade, and to write because it nourishes me.
But isn't the joy of a mature, adult relationship worth fighting for, even if the one I'm fighting is myself? Or is that an oversimplification in a complex world?

You May Also Enjoy

Big Little Wolf's Daily Plate of Crazy